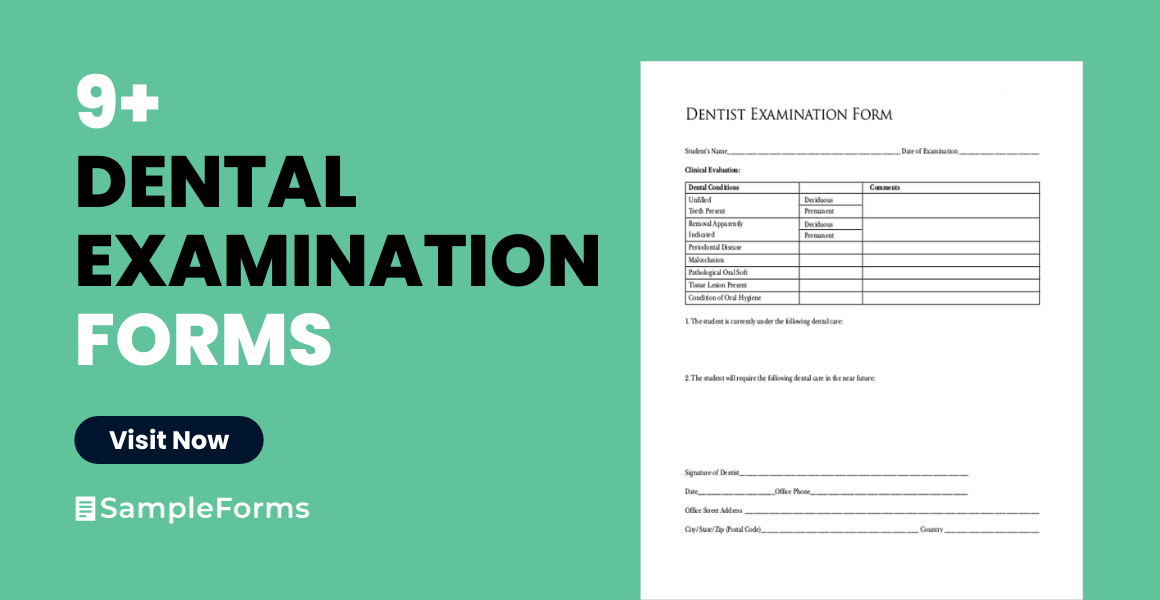 Even if you are a dentist with professional design skills and you have what it takes to create the best dental examination forms, you may not have all the time on your hand to focus on the design job, particularly if you have an array of regular clients who come to your healthcare center for dental services. The best thing to do therefore is to download the best dental examination forms and use them for your dental care business. Following is a list of the best forms.  You may also use Medical Clearance Forms
Proof of School Dental Examination Form
The proof of dental examination form is a document given to a patient to prove that indeed they received dental care services. The form is useful if the patient isn't responsible for the payment of the services.
Dental Screening Examination Form
If a patient requires or urgently needs dental screening, you have to notify them ahead of time to help them decide when to come for the examination. You can use the following form.
Dentist Examination Form
The purpose of the dental examination form is to help patients to understand the condition of their teeth. Regardless the state of a patient's dental formula, they need the details about their teeth.
Dental Examination of Pupil  of School Age Form
A pupil's teeth may take quite a while to examine and treat, depending on the exact medical condition on hand. Use this form to provide parents with accurate dental information.
Child Dental Examination Form
Whether you are examining an adult or just a kid from Kindergarten, you need to provide them the information about the condition of their teeth. You can do that by using this form.
Dental Readiness Class Form
The purpose of this form is to provide the necessary information to a dental patient so that they are aware of when exactly they should come for dental lessons as well as what they should expect to learn.
Clinical Dental Examination Form
As a dentist, you need to provide details about dental operations to a patient. You can use this form to provide sufficient information as needed by a patient.
Navy Dental Examination Form
As a dentist, you must always provide a copy of this form to your navy clients so that they know when to come back to your healthcare premise for further examination.
Dental Examination Record Form
Uses of Dental Care Forms
The dental examination forms are useful documents used by dentists as a communication medium to pass an important message to a patient. The dentist often uses the form to record the dental condition of a patient, after which he or she gives the patient the necessary medical advice depending on the dental condition on the ground. Of course, the exchange of the forms often happens between a patient and the dentist, which means that a patient always stays informed as far as their dental condition is concerned. Useful Medical Waiver Forms
Target Audience of Dental Care Forms
Whether you are a dentist operating in a small office in town or yours an expanding dental business in the city, you will need the dental examination forms. The forms will help you to communicate with your target client with ease. The forms are valuable for writing dental information in summary, usually in a way that a patient is able to understand.
The Benefit of Dental Care Forms
The preliminary benefit of the dental examination forms is they are free to download. That means you don't have to spend time on your computer trying to think of the best design to use; all you have to do is download a model with the click of a mouse, and you are good to get started. You can also see Medical Application Forms
It is important to understand that dental examination forms often contain important details about the dental condition of an individual. In that case, you need to make sure you remind the patient to make reference to the forms from time to time so that they don't miss dental appointments.