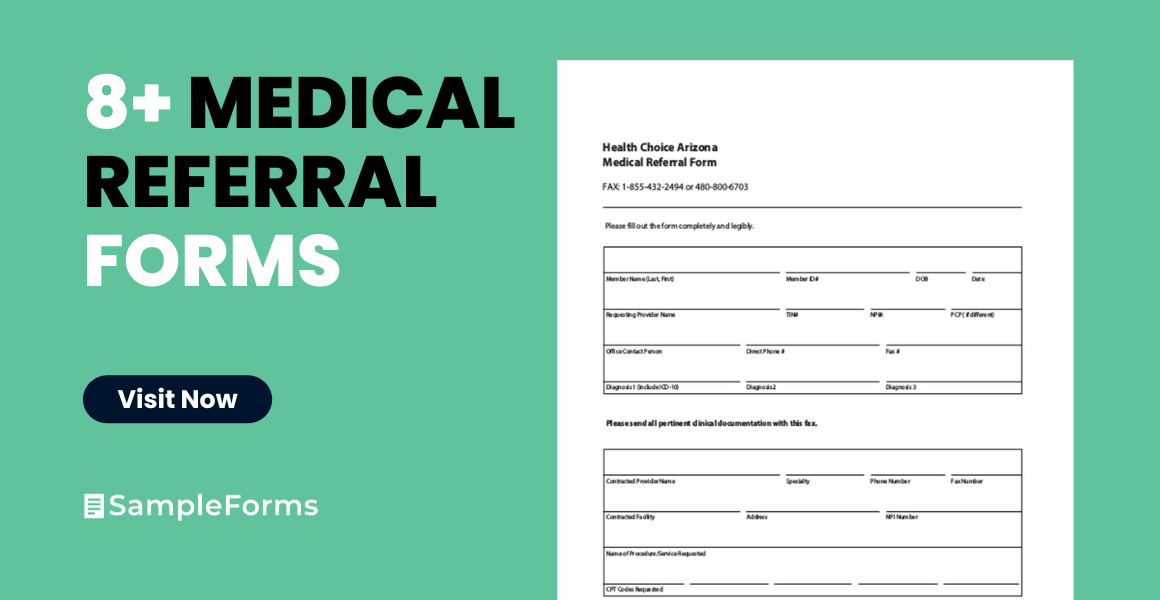 When one is experiencing a medical condition and is admitted to a medical facility, there is a chance that a number of clinicians will be involved. Since a medical release form is signed by the patient, the referred doctor will be able to see the medical information and find a suitable treatment for the patient.
A primary care physician would refer a patient to a clinician who is specializing in a field related to client's condition. For this transfer to happen, the physician would fill up a medical form indicating the reason for referral. This approach ensures that patient will get the best care available.
Medical Foundation Referral Form
Medical Office Referral Form
Medical Genetics Referral
Medical Services Referral
What is a Medical Referral Form?
When visiting your primary physician, they may not be able to give the appropriate treatment for conditions or diseases since they only have general knowledge. In turn, they will refer you to a clinician who specializes in the field related to condition and needed treatment. This process is known as a medical referral.
A medical referral form formally documents the aforementioned  process with the patient's medical history and reason for referral being important details to include. Signed Medical Release Forms may be required since the referred clinician will not be able to have access to the patient's medical information and history without their consent.
How to Get a Medical Referral?
Before obtaining a medical referral, one should make an appointment with their primary care physician. A general check-up has been completed and the individual may voice their health concerns that would require specialize care. Getting in touch with your health insurance provider will give you an idea if the referred physician is covered in the plan.
Your health insurance provider may give you the list of requirements for a referral like a signed Medical Claim Forms for example. When the newly requested health plan has been approved, it is now the appropriate time to schedule an appointment and have a consultation with the specialist.
Medical Panel Referral Form
Medical Assistance Referral
Medical Center Referral Sample
Physician's Referral Form
Formal Medical Referral Form
4 Tips for Getting More Patients Through Referrals?
Primary care doctors have a lot of patients on their list since they are the kind of clinicians a person would go to first. Those clinicians who specialize in a particular field would usually acquire their patients through medical referrals.
Before getting these patients, forms like Medical Clearance Forms, Medical Records Release Forms, and other approval sheets may be required. If you are a specialized clinician who wishes to have an increase in the number of patients, here are four tips to help you out.
Have some time to get to know different physicians. Physicians who are acquainted with you and are familiar with your work are more likely to refer their patients to you compared to someone they do not know
Whether it be a website or an account in social media, having an online presence can give potential patients and idea of who you are, your work, and what you have accomplished.
Having a good reputation and a great sense of professionalism can help your chances in getting more patients since they are more likely to find you reliable and trustworthy.
Have an organized system when these patients finally have their appointments and consultations. This system would help you remember the interval of their visits and improve your communication with them.