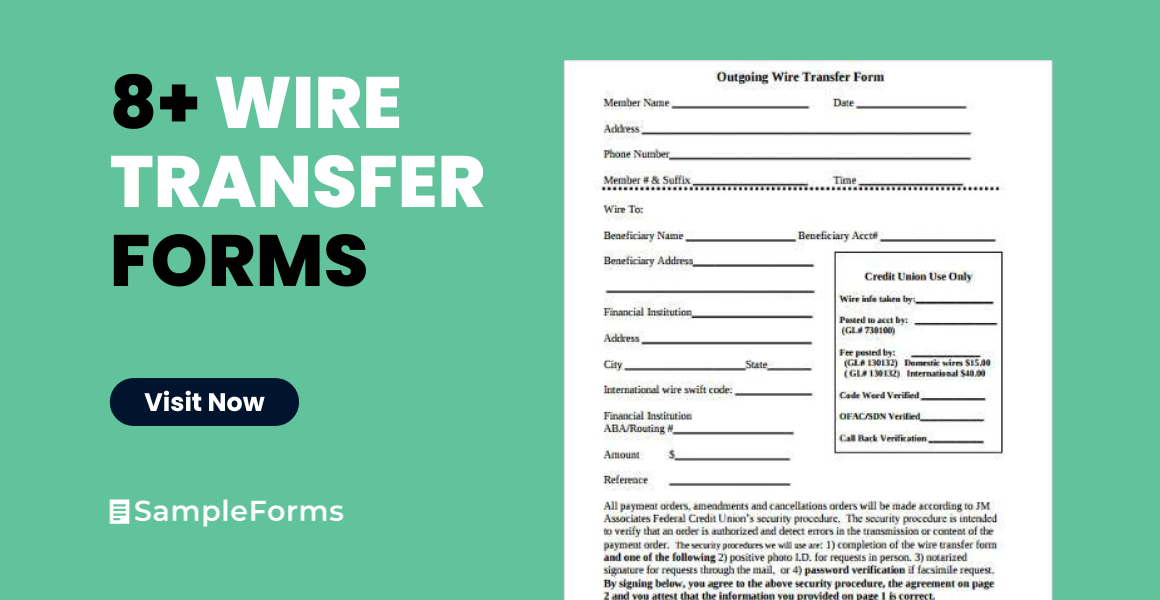 A wire transfer, or better known as a bank transfer or credit transfer, is a method of electronic funds being transferred from one person or entity to another. A wire transfer can be made from one bank account to another, or through a transfer of cash at a cash office.
There are some people or companies that prefer to pay via this method because of its convenience and how amazingly simple it is.
However, before these kinds of transfers can be done, you'll need the proper forms to initiate them. Companies need to make sure that these kinds of monetary transfers are done properly and that they're legal and official.
With the help of Wire Transfer Forms, such an act can be made possible.
Wire Transfer Information Form
Wire Transfer Authorization Form
Wire Transfer Instructions Form
Wire Transfer Request Form
The Various Types of Wire Transfer Forms
There are many different types of Wire Transfer Forms that just about any person can use to guarantee that the exchange of any monetary funds from one person to another is legal. Here are some examples of these types of forms:
Wire Transfer Authorization Forms are the kind of forms that are utilized by employees of companies that need to ask the proper officials for certain kinds of wire transfers. Or it could be used when people wish to purchase something through the means of bank transfers instead of physical payment, and they'll only be able to do that if they have the proper authorization.
Wire Transfer Instructions Forms are used by those who need to know how to properly proceed with a wire transfer. Some people or companies have special instructions as to how some transfers go, and these forms will help them out in explaining every step.
Wire Transfer Request Forms are usually for those companies that need to request money transferred electronically. It can amount to a number of reasons such as the company needing more revenue to keep up, so they ask a sister company overseas to transfer funds via bank transfers.
Domestic Wire Transfer Request Form
Outgoing Wire Transfer Form
Wire Transfer Request Form in PDF
Wire Transfer Request Form Example
Simple Wire Transfer Form
The Importance of Having Wire Transfer Forms
Think of Wire Transfer Forms in the same way you would Title Transfer Forms. They're similar in the sense that without the proper authorization from one party, the transfer cannot be made.
These forms are really important to show proof as to how much of an amount was transferred. These help out people whenever they have certain issues or possible disputes about one side not giving the agreed amount or any other problem.
So if you're someone who's going to do a proper wire transfer with another company or person for business or any other purpose, make sure you have these forms.