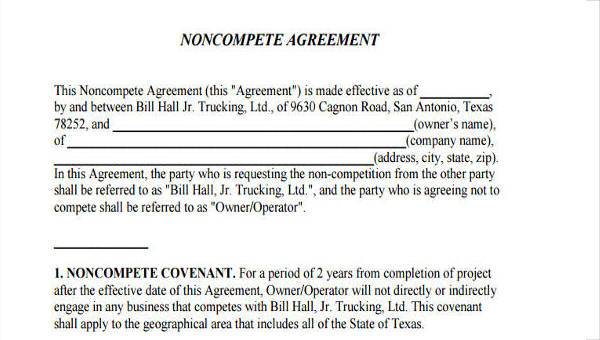 Sharing business practices and ideas with employees, partners, and contractors is a common practice in the business world. However, to make sure that they don't wind up becoming or working for another company operating in the same industry (hence, a competitor), a Non-Compete Agreement Form is drafted. Generally, this form is used when an employer and employee terminate their relationship and the employer desires that the employee will not compete against the employer in a new setting, lest there be a leak in trade secrets whatsoever. Another reason would be between a company and a consultant where upon termination of their contract, the consultant must not compete with that company using valuable information that the consultant may have gotten in the course of their relationship.
Confidentiality Non-Compete Agreement Form
Sample Contract Non-Compete Agreement Form
Employee Non-Compete Agreement Form
Non-Compete Agreement Form Example
Sales Non-Compete Agreement Form
Non-Compete Assignment Agreement Form
Another form that businesses use to protect their proprietary information is called Non Disclosure Agreement Forms. These forms are considered a legal contract between two parties which outlines confidential material, knowledge, or information that the parties wish to share with one another for certain purposes but will deny access from any third party. Information contained in these forms is not to be disclosed by any party, as specified in the agreement. Such documents are commonly signed when two individuals or institutions are considering doing business together and need to understand the processes used by each other but would want such information to be kept away from any other party.
These type of forms can protect any information that is not generally known. However, it may also contain clauses that will protect the person receiving the information so that in any given circumstances that he is coerced into giving the information, such a disclosure will not be considered legal. In other words, the agreement only requires the receiving party to treat the information in confidence when such information has been directly supplied by the disclosing party.
Free Non-Compete Agreement Form Sample
Basic Non-Compete Agreement Form
General Non-Compete Agreement Form Example
Non-Compete & Non-Disclosure Agreement Form
Mutual Non-Compete Agreement Form Sample
Sales Agreement Forms are contracts in which the ownership and possession of a particular type of product or service is transferred from one party to another. These types of forms constitute the terms and conditions covering the agreement between both parties. These terms and conditions specifically include the amount of the transaction, the mode of payment, and when those payments are to be made. All terms and conditions governing the sale must be understood thoroughly by both parties and should be strictly obeyed in the process. This also serve as a pre-requisite prior to the creation of a sale deed.
These forms should also contain all the relevant information of both parties such as names, addresses, phone numbers, and any other co-signers who may be involved in the transaction. It also lists the type of sale, dates of initial agreement, dates when other parts of the contract are to be completed, and the date of the final closing of the contract and the transfer of ownership. It may also contain addenda to the original agreement which may be added by both parties. Addenda may be necessary if more time is needed to complete the agreement.