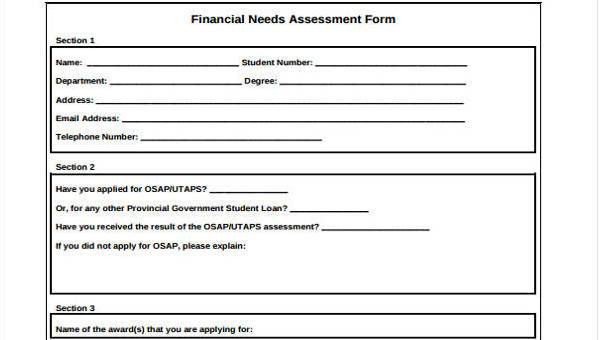 According to recent studies, millennials are a generation whose economic future is uncertain. This is primarily due to poor financial habits, such as irresponsible spending of disposable income, and the failure to regularly conduct financial assessments. Furthermore, Generation Y is said to be one that is materialism-oriented as most millennials are easily pressured into keeping up with what is popular, particularly in terms of fashion, technology, etc.
If you belong to Generation Y and want to deviate from the unhealthy financial path most millennials are carelessly following, there are measures you can take to assure yourself of a bright future. Doing check-ups of your financial health goes beyond answering financial Assessment Forms and creating pecuniary checklists; it will require initiative and discipline.
Financial Risk Assessment Form
Financial Needs Assessment Form
Financial Capacity Assessment Form
Financial Assessment Form Example
Conducting Your Own Financial Assessment as a Millennial
A financial assessment is a process done to evaluate where an individual stands financially. It serves to generate feedback and recommendations that can help in promoting better financial habits. Many people find financial assessments intimidating, thus only those who have genuine concern for their financial health exercise periodic evaluations.
The process can be carried out with the help of an expert, such as a financial planner or consultant. However, there are other means one can use to conduct an effective financial evaluation without having to spend on professional fees. All that may be needed is time, an open mind, and a computer.
For millennials, it is highly possible that the three aforementioned requirements of conducting your own financial assessment are readily accessible to you. Simply take a seat, turn on your computer or laptop, and prepare to take down a few notes.
Here are some tips on how you can effectively self-diagnose your financial health:
Search for Financial Risk Assessment Forms online. Most of these forms serve as surveys or checklists containing key financial data. You will need to be straightforward and precise with your answers as the feedback returned to you by the online determinant depends on your input.
Financial Planning Assessment Form
Adult Social Care Financial Assessment Form
Student Financial Assessment Form
Financial Assessment Form Format
Patient Financial Assessment Form
Business Financial Assessment Form
Evaluate your spending habits. Ask yourself if you could do without your daily fix of fancy coffee or if you really need that smartphone upgrade. You have to remember that smart spending simply begins with being able to candidly distinguish your wants from your needs.
Scrutinize the services you are subscribed to. Unless you're a fitness buff, you may want to ask yourself, "Is that premium gym membership really necessary?" It is simply a matter of weighing out which services are worth your money.
Determine if you are spending more than you are earning. This is especially important if you are living on a fixed income. If it turns out that you have not been living within your means, you may need to start controlling your expenses.
Are you saving? This is a question most millennials avoid having to answer. Yet they fail to realize that this question can also serve as a reminder that can help them manage their money better.
After having answered Financial Self Assessment Forms and gone over your spending habits, an outcome you can expect from the exercise is awareness and the ability to instill that sense of discipline within yourself. Better money management will become easier to do when you know that your financial future is at stake.