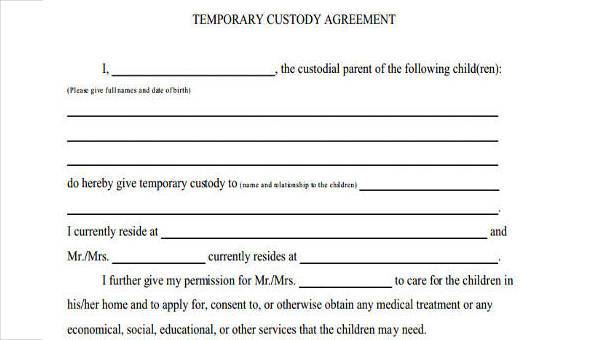 Custody is the protective care or guardianship of someone or something. If a married couple decides to separate due to unfortunate circumstance, then they will need to decide as to which parent is granted custody over the child, assuming that they have one.
Both of these people will need to come up with certain agreements that authorize who the legal guardian may be. They will need to state in the proper documentation as to the kind of agreements that they are willing to make, as well as the consequences that should happen in the event that these agreements are broken. And to help them out with this, there are Custody Agreement Forms that are available for these people to use.
Child Custody Agreement Form
Free Custody Agreement Form Sample
Detailed Custody Agreement Form
Sample Pet Custody Agreement Form
Voluntary Child Custody Agreement Form
The Different Types of Custody Agreement Forms.
These forms are somewhat similar to a Consignment Agreement Form. If a consignment agreement discusses the transfer of goods and how they will be utilized, then a custody agreement negotiates who receives custody of the child and how the child will be raised. Custody Agreement Forms come in many different varieties, so here are some examples of these forms.
Pet Custody Agreement Forms are the kind of forms that are utilized by couples in the event that they need to decide custody over their pet. These forms focus on which of these people have full ownership on any animal that they consider their pet, as well as discussing other terms such as visitation rights and more.
Child Custody Agreement Forms are mainly used by divorced couples to settle as to which of the parents would be the legal guardian, as well as the terms as to what will have to be compensated upon relinquishing all rights of custody.
Joint Custody Agreement Forms are made use of by those separated couples who still wish to share custody of the child. These forms express the conditions as to how both parties will still be the legal guardians, as well as what either party has to comply with in order to remain the legal guardian.
Custody Agreement Form Example
Joint Custody Agreement Form Sample
Temporary Custody Agreement Form
Legal Custody Agreement Form
Custody Agreement Form in Doc
The Importance of Having Custody Agreement Forms
Once a couple decides to use Separation Agreement Forms, they are able to decide on the equal division of all the property rights and ownership. It's an entirely different case if they decide to use Custody Agreement Forms to decide who gets custody of the child after the separation.
These forms really help out couples who, after separation, have the need to settle issues regarding who gets custody over a child, or in some cases, even a pet. In the event that they bring these forms up in court, they must state the full name of the child or pet, and the conditions which indicate who gets custody on either of them. Both parties will need to come to a consensus as to how they will divide custody rights of the child, or they might decide to venture on a joint custody for both of them to retain their legal rights as guardians.
So if you're someone who was just recently divorced, you'll want to make sure that you grab yourself a bunch of these forms to guarantee you're granted custody of your child.