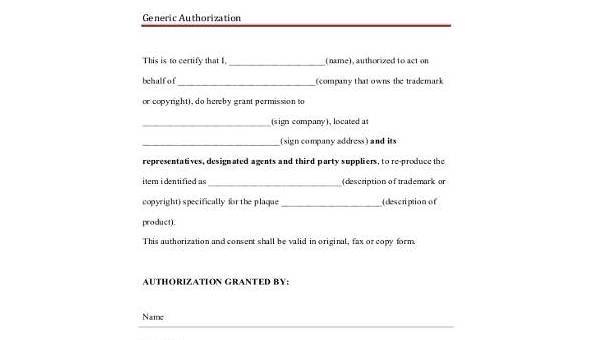 An Authorization Letter is a type of document that gives another person the consent to conduct or to transact business for you in the event you are indisposed and are not able to attend to the matter personally. You can use our Sample Forms to download sample templates for an Authorization Letter.
An example of a situation where an authorization letter is needed is if when a person needs to access funds that are deposited into his personal savings account but is already bed-ridden. An Authorization Letter will allow this person to appoint someone else to access and handle issues pertaining to the account on his behalf just as long as the authenticity of the letter has been proved, such as it being notarized by a notary public. You can download our sample Authorization Forms here.
Generic Credit Card Authorization Form
Generic Third Party Authorization Form
Generic HIPAA Authorization Form
Generic Direct Deposit Authorization Form
Generic Prior Authorization Form
Creating an authorization letter does not really entail following particular rules. There are no standard formatting that should be applied as there are different kinds of transactions where an authorization letter is needed. However, since it is a business letter, it should then be written in a formal tone. Hundreds of Authorization Letter Templates can be downloaded online (you can  also download some of our sample Medical Authorization Forms); however, if you wish to create your own letter of authorization, you may do so by following these:
1. Start with a Header
Since most authorization letters are used in formal and business transactions, you need to make sure that starting the letter will already provide a professional impression. Consider the standard usage of a header which is present in every business letter. Place your name on the initial line of the header followed by your location which should contain your city and its zip code as well as the state where you live.
2. Indicate the Date the Letter Was Made
3. Indicate the Recipient's Name and Address
You should be accurate when it comes to indicating the name of the letter's expected recipient. More so, it is very important for the address to be precise to make sure that there will be no delays in the transaction due to wrong information.
3. Provide Salutations
As a formal document, your authorization letter should have a salutation. Include the appropriate title of the person to whom the letter is form. To be more professional, it is suggested to use the last name or surname of the letter recipient.
4. Make It Clear and Concise
Your authorization letter should be direct to the point. Always make it a point that the items that you will state in the letter are clear and precise. More so, being concise with the purpose of the letter is not enough as you also need to provide details that can back-up the reason why the authorization letter is needed to be made.
Be specific when it comes to the name of the person to whom authorization will be given. You can also provide the details of the authorization's validity and the kind of authorization that you entail a person to have.
5. State the Reason for the Authorization
Your explanation on why an authorization letter is needed can make or break the effectiveness of the document. The recipient of the letter should fully understand why there is a need for you to provide authority to another person rather than be present physically or do the transaction by yourself.
You need to properly state the reason why you have come up with the decision to avoid any ill feelings and misunderstandings to occur between you and the letter recipient. An example of stating this part of the letter can be seen below.
Good day. I am Jean Stoe, one of your loyal clients. I would like to inform you that I will not be able to claim my records in your office as I am under medication. I would like to give authority to my personal assistant, Marco Dume, to get the specified records that I need in relation to my insurance. Please take note that full authority is given to him so feel free to provide him all the information with regards the matter involved in the transaction. Be advised that this authorization is valid until the 13th of August.  
Payroll Deduction Authorization Form
Generic Return Authorization Form
Generic Medical Authorization Form
Generic Authorization Form in PDF
Generic Medication Authorization Form
6. Have a Conclusion
A conclusion is the part where you already end the letter. Your authorization letter should also end professional just as how you started it. Use closing words like "Yours Truly" or "Sincerely Yours". This way, the letter recipient will feel that the letter is truly for a professional process and purpose. Sign the letter for formality.
As we have mentioned on the discussion above, there are different kinds of authorization letters. With this, you need to make sure that you are aware of the purpose or reason on why the letter is needed for a particular transaction. This will help you create the content and format of the letter accordingly. It will also help to use a template to guide you in making the specific authorization letter that you need. May it be a letter of authorization or even a Direct Deposit Authorization Form, we got you covered with a variety of specific templates that can make it an easier job for you to get the document that will be helpful to the situation where you are currently involved in.