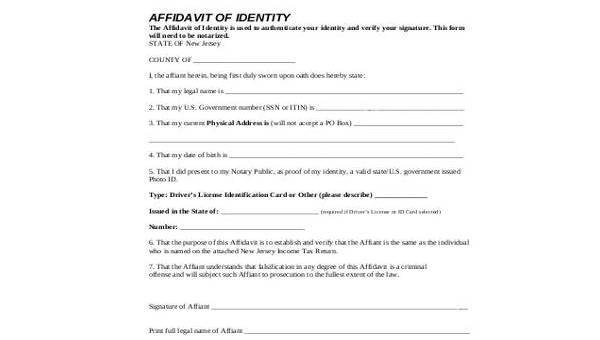 Affidavit Forms are legal forms used to attest the truthfulness of a statement. These are a way to verify the facts or bring forth the statement of an unavailable witness in a manner that will stand up in court. An Affidavit is made under oath and is subject to the penalties of falsehood and dishonesty. In addition, an Affidavit can be signed anywhere as long as there is a notary public who can finalize and verify it.
Here are a few samples of Affidavit Forms that you can download for your own use.
Free Small Estate Affidavit Form
Free Printable Affidavit Form
Free Residency Affidavit Form
Free Affidavit of Support Form
Free Affidavit of Death Form
These Sample Free Affidavit Forms can help you decide the right Affidavit Form for your situation, be it for Affidavit of Support, Financial Affidavit, or Affidavit of Heirship, and many more.
What Is an Affidavit Form Used for?
There are various types of Affidavit Forms, each one depending on the reason of an individual. Some of the most popularly used Affidavit Forms include:
General Affidavit – This form can be used in most situations requiring a statement made under oath
Affidavit of Death – This form is usually handled by an estate administrator to disclose to creditors, the court, and businesses that someone has passed away.
Affidavit of Support – This is commonly used for sponsoring an immigrant to the United States, simply stating that the signer will be financially responsible for the incoming immigrant.
Affidavit of Domicile – Commonly used by estate administrators and will executors when transferring cash, stocks, or investment assets of the deceased.
Affidavit of Residence – This legal document basically allows you to state your place of residence and is often used right after you've moved but haven't submitted any paperwork to government agencies.
ID Theft Affidavit – In the unfortunate event of identity theft, this form is used to inform creditors, banks, and other businesses noting the day you were aware of the theft and swear that the subsequent actions from that date were not performed by you.
Free Affidavit of Truth Form
Free Affidavit Form in Word Format
Free Affidavit of Identity Form
Free Affidavit of Inheritance Form
Free Affidavit Form in PDF
Simple General Affidavit Form
Blank Affidavit Forms are used for you to customize and pre-make affidavit templates to help you provide relevant information to the proper department in the shortest time possible.
Why Is an Affidavit Form Important?
Affidavit Forms must always be notarized in public, meaning you have sworn under oath that the statements provided in the said form is true, the document has been signed, and a notary public has put a seal on the affidavit. Bear in mind that anything stated in an Affidavit that is false and dishonest may cause one to be subject to the corresponding penalties.
Tips When Crafting an Affidavit Form
Tell the truth to the best of your understanding
When in doubt about anything, do not fabricate; include only facts that you have firsthand knowledge of
Don't start sentences with "I believe that" or "I think that" lest they call your credibility into question
Write down the name of persons you quoted and when you heard their statements
We hope that you do not make up any false information in your Affidavit Forms. We are more than happy to provide a few samples and tips on how to furnish Affidavit Forms and their purpose. You can always download our sample forms for future reference.