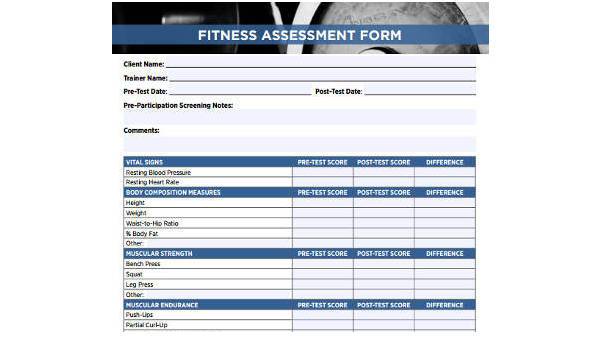 In numerous sectors, conducting regular evaluations and assessments is pivotal, especially when the goal is to successfully bring about improvements or reform to the system within an organization. When the branches or departments that make up an organization are routinely assessed, areas of improvement are determined and timely solutions are developed.
No business or organization wants to come to a standstill. While an exchange of feedback is good and may promote positive changes, evaluations can go beyond simply filling out Assessment Forms as they can also mean testing and bolstering the effectiveness of communication.
Initial Client Assessment Form
Personal Trainer Client Assessment Form
Client Risk Assessment Form
Client Fitness Assessment Form
Client Assessment Form in PDF
Conducting company assessments harbors a number of benefits. Besides making an impact, all organizations aim for progress. When assessments regularly take place, goals that are usually overlooked yet hold great relevance are met, which leads to the attainment of the primary objective.
Simple Client Assessment Form
The benefits of regular assessments in an organization can be tantamount to the fulfillment of certain company goals.
Benefits of Conducting Assessments in an Organization
Assessments and evaluations serve to shed light on matters that have gone unnoticed. Through a consistent and systematic exchange of feedback, weaknesses are identified.
In relation to the first benefit mentioned, when weaknesses are identified, they are addressed in a timely manner. Prompt solutions to setbacks are a prospective outcome when assessments are carried out regularly.
Feedback is key when it comes to evaluations. It is both a part of the process and an outcome. More importantly, it promotes the development of new strategies in an organization.
Interdepartmental communication is strengthened when assessments take place. Communication between ranks is made more effective. More importantly, insights and plights from employees are conveyed to the higher-ups – whether they are minor concerns regarding certain company facilities or inquiries on paperwork such as Insurance Assessment Forms, payslips, and other employment-related documents.
Client Intake Assessment Form
Client Needs Assessment Form
Client Assessment Form Example
Client Assessment Record Application Form
Client Suitability Assessment Form
Every organization is distinct. Whatever the scheme followed, it is sensible to say that all organizations make productivity a top goal. This is where one importance of company assessments can be highlighted. Many companies perform assessments to appraise the productivity of their operations.
Productivity in a business or organization has two vital components: employee performance and the system an organization abides by. These components are looked into when productivity assessment in a company is carried out. The skill, competence, and work ethic of an employee make up the bulk of their performance.
Employees, whatever their rank may be, contribute significantly to a company – not only in terms of its survival, but also to its thriving continuously. Many organizations opt to look beneath the surface when evaluating the competence of an employee. They scrutinize the overall soundness of thinking and emotional quotient. An example of this would be the commonly practiced psychological examination, which is either carried out by interviewing employees or by having them answer Psychosocial Assessment Forms.
For a business or organization to discover its strengths and weaknesses, compromise and practicality are key. And these can be achieved simply by conducting assessments and evaluations regularly.