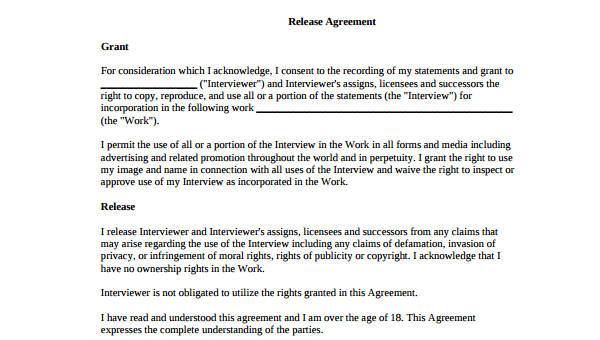 When starting up a new business relationship, it is always important to create Agreement Forms so that both parties will have an understanding on the terms and conditions regarding what specific jobs to do.
A Release Agreement Form is an enforceable promise not to proceed with a legal claim in exchange for money or other rectification. It is a straightforward document that allows you to settle arguments quickly and professionally. A Release Agreement allows both parties to agree to drop all claims and get out of the contract.
Here are a few examples of Release Forms that you can download and use for free.
Mutual Release Agreement Form
Rental Release Agreement Form Sample
General Release Agreement Form
Grant Release Agreement Form Example
Purchase Agreement Forms are legal contracts that require a buyer and a seller to sell a product or a service. These forms are mostly associated with real estate deals as a way of completing actions that interest both parties before closing the deal.
The Releasor in a Release Agreement
The Releasor is the party who is releasing a possible claim in exchange for something of value.
The Releasee in a Release Agreement
The Releasee is the party being released from claim or possible claim.
Consideration
Consideration is the compensation that the Releasor receives in exchange for releasing the claim.
In most cases, money is offered as Consideration. Other goods and services can be offered as well, say, company stock, or a motor vehicle, or even a used lawnmower. As long as both parties agree to the consideration and the consideration is something of value, the consideration will be satisfactory and agreeable. However, if the consideration is later found out to be less than expected, damaged, or defective, courts may find there to be failure of consideration and the contract may be held unenforceable.
Free Release Agreement Form
Model Release Form
Photo Release Agreement Form
Simple Release Agreement Form
Post-Employment Information Release Agreement
When to Use a Release Agreement
One may use a Release Agreement if:
You are a Defendant in a lawsuit and want to settle outside the court
You filed a lawsuit against a business and you would like to outline the terms and conditions under which you will agree to settle the suit.
Common Release Agreement Situations
Release Agreements are common in two main situations; these are:
When a person leaves a job and is offered a settlement or Release Agreement in exchange for rights to sue for claims arising out of the employment or employment termination – this usually happens when an individual is asked to leave a position. The requesting company believes that the departing employee may sue the company for wrongful termination or some other employment violation. The company will provide monetary compensation in exchange for the departing employee's signature on such agreement. The terms of the agreement may generally state that the employee releases the company from any and all potential liability.
When both parties settle a lawsuit outside of court.
It is common for many lawsuits to settle out of court, either through mediation that is suggested by the court or through private negotiation by both parties and their attorneys. When you've been drawn into a legal battle with another business, things can get ugly. Sometimes it turns out to be a losing game for all involved. This is when you need a little negotiation. What's it going to take for a settlement? General Agreement Forms can help you figure that out.