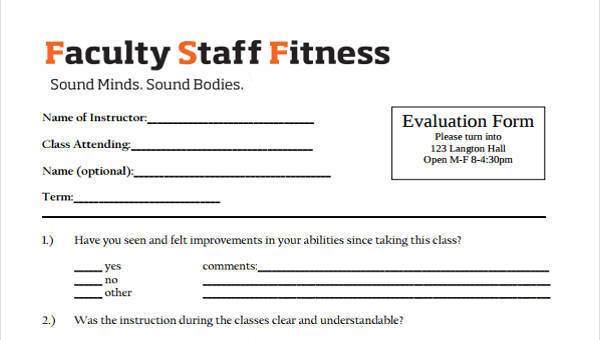 Fitness is important for just about everyone. If you're fit, then it could ensure that you live a long and healthy life. Being fit allows people to feel comfortable about themselves, and it also gives them the body that they want.
However, what about for those who need to be fit for a certain job or be able to participate in a certain event? How would they know if they're fit enough to take part in them?
People can use Fitness Evaluation Forms to help them in figuring out how fit they need to be.
Personal Fitness Evaluation Form
Group Fitness Evaluation Form Example
Fitness Evaluation Form
Free Fitness Evaluation Form
Fitness Class Evaluation Form Sample
The Different Types of Fitness Evaluation Forms
There are various forms that allow people to figure out as to how fit they should be to perform certain tasks. Here are some examples of these kinds of forms:
Fitness Performance Evaluation Forms are used to see how well people are performing when doing fitness programs.
Fitness Training Evaluation Forms are used by people to see if the training they're undergoing is really helping them with their fitness.
Fitness for Duty Forms are forms used by those people who need to be fit to in order to be considered for duty, such as in the military or any other job that requires them to be fit.
Fitness Class Evaluation Forms are used by those people who are taking up fitness classes. These are used to assess how well the trainer is in the classes and the kind of exercises they perform.
Personal Fitness Evaluation Forms are used by those people who wish to see official statements of how fit they're getting. These are used to make self-assessments and determine how fit an individual should be or if they're not reaching their target.
Fitness For Duty Form Example
Fitness Return To Work Evaluation Form
Fitness Evaluation Form Example
Fitness Class Participants Evaluation Form
The Importance of Being Fit
A person who is fit is capable of living life to the fullest extent. Physical and mental fitness play very important roles in our lives, and people who are both physically and mentally fit are less prone to medical conditions and other problems that could hinder them. There are Training Evaluation Forms that help people out when they're training to be  fit.
Being fit, both physically and mentally, can help those people with jobs that require physical labor, or even those with jobs that require a healthy and capable mind. If a person is fit, then it allows them to do all sorts of tasks that others wouldn't be capable of doing.
Fitness is no joke. It allows people to live long and healthy lives, and it could even get them that job position they desire. It can help them overcome diseases that could ruin their lives, or it can give them the body that they've always wanted.