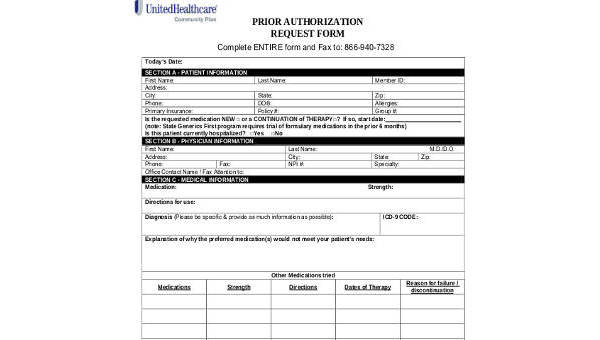 Authorization Forms are furnished when one wants to formally ask permission for something. Doing so verbally will actually suffice in some cases, but it is always different when you have a physical backup at your disposal.
If I were you, I would get the ones available on this website since they are approved and recognized by most people and firms; moreover, they are for free. We have all sorts of authorization forms you can view and study right now. Feel free to browse this site further for more forms for whatever purpose you may need.
Drug Prescription Prior Authorization Request Form
Prior Authorization Request Form
Outpatient Prior Authorization Form
Standardized Prior Authorization Request Form
Transferring money from your account to another is one of the many things that deemed is rather intricate. A filled-out Direct Deposit Authorization Form will be expected of you as a hard proof that a transaction has been done. Direct Deposit Authorization Forms can also serve as some sort of supplemental document.
Direct Deposit Authorization Forms are now up for grabs on this website. Feedback concerning our forms has been mostly positive, so you need not worry about the way our forms have been formatted. Various firms have already caught wind about this website and still are taking advantage of our free forms, which we really are grateful about. This website produces the forms for whatever legal needs you may have, and dozens more are currently being uploaded. You can go and check them out yourself if you want. Just type in "direct deposit" on the search bar, then all the forms related to direct deposit authorization should pop up within a matter of seconds. I am not going to waste any more time. IIf I were you, I would take advantage of this golden opportunity.
General Prior Authorization Form
Pharmacy Prior Authorization Form
Universal Medication Prior Authorization Form
Medical Prior Authorization Form in PDF
Simple Prior Authorization Form
Direct Deposit Form is closely related to the Direct Deposit Authorization Form, only this time there is already an assumption of authorization having been established. Companies should have this together with all the documents necessary when transferring finances.
We maintain a very large library of these forms and all other forms needed for licit transactions such as handing over of money, with people like you in mind. Running empty of Direct Deposit Forms is the least of our concerns. That is how confident we are with ourselves. In addition, our website is quite uncomplicated to use that even kids or someone who is not really that tech-savvy will experience no stumbling blocks or whatever in making their way through our collection. If you are someone thinking of transferring finances someday or about to do so, yet at the same time not ready to shell out cash for paperwork, this is the website for you. We do not sell these forms, and we don't ever plan to. This website is at your disposal. No need to worry about anything as long as your printer is up and running.