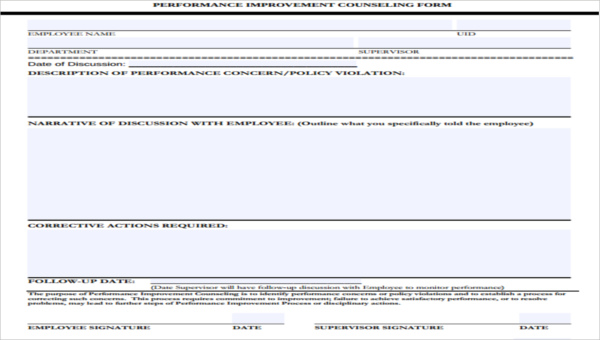 In every company, there are many ways to improve an employee's performance. One of them could be through Employee Communications Counseling, in which employees get solid advice on how to converse better with their superiors, coworkers, and their customers.
Counseling is one of the best ways to make sure that employees get all the helpful advice they need to perform better. Whenever they want to inquire for a session, or if they need to know the results of the session, then this will need to be documented in forms. A good example would be an Army Counseling Form wherein a military man can obtain help in finding solutions to his problems by means of conversing with a professional.
Army Performance
Employee Performance
Job Performance
What Distinguishes Performance Evaluations from Counseling?
Performance Evaluations focus more on how the employees perform, along with figuring out the employees' strengths and weaknesses. Counseling can do the same, but does not simply focus on problems at work. There are factors that can be found in counseling sessions that Performance Evaluations might not be able to.
Counseling Sessions go deeper into an employee's problems, such as emotional and personal problems, and explores different solutions to fix them. For example, through the use of Developmental Counseling Forms, a supervisor was able to determine that the problem in the employee's development is because he has recently lost a family member. They then allow the employee a short leave until he is capable of returning to work.
How Frequently Should Performance Counseling be Conducted?
It's best that Performance Consultations are conducted on a monthly basis.  The period within a month is ideal as it can review what the employee has done to earn their next paycheck. Not only that, but it's also the ideal amount of time that will not put the employee in too much pressure and allow them to improve after every session.
These sessions can also be done at any given point of time when necessary. Such as when Patient Counseling Forms are used to check on a patient whose mobility has been impaired and needs to be check on a daily, weekly, or even monthly basis.
Navy Performance
Performance Improvement
Performance Evaluation
Performance Counseling Example
What are the Objectives and Benefits of  Performance Counseling?
There are so many things you can gain from performance counseling, and here are some of them:
To be able to know what an employee's strong and weak points are. This is so both the counselor and the employee can understand what they should work on and how they should work on it.
To make sure that the person receiving the counseling understands the goal. It's always ideal to set a goal at work, and these counseling sessions can help make sure that the employee achieves that.
To help with communication. If an employee has received multiple sessions, then there's a chance that that person's communication skills has improved.
To find solutions to multiple problems. Sessions can help any person vent out problems, in which counselors do their best to solve by giving advice and offering solutions that are best for the situation.
Using forms such as Career Counseling Forms can help just about anyone make sure that they know what exactly they should be doing and how they're performing. And we have all the forms you need here to help you with that.