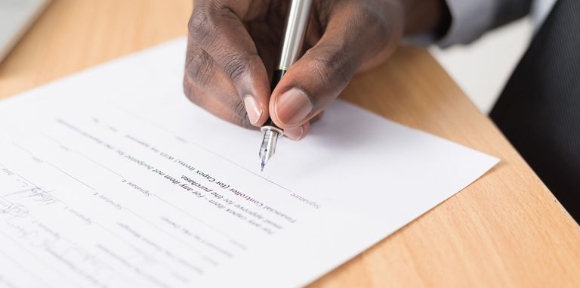 Humans are beings that find meaning out of almost everything, from the first sign of snow down to the hole in your shirt's armpit area. But most of all, we also find meaning in the presence of a person. There are various events and moments in your life that are truly memorable, and you want to share these moments with the people that matter most to you. With that being said, events, celebrations, and activities that require the presence of guests would ideally include a guest sign-in sheet in the party's registration area to make sure there is a record of people admitted into the venue.
If your closest companion or your best friend does not come to your most important event, you take it as a sign that something is up. Something is amiss in your friendship. But how will you know that your closest friend or your best friend is nowhere to be found on your birthday, wedding, and more? You check the guest attendance sign-in sheets.
What Is a Guest Attendance Sign-in Sheet?
According to absencesaddup.org, "encouraging regular school attendance is one of the most powerful ways you can prepare your child for success." This idea can also be applied to being present at events, where being present at the event will help establish a relationship between the organizer and the guest successfully.
An attendance or timesheet is both an informal and formal sheet document that functions in two ways?—record an attendee's presence or monitor guests and visitors for security purposes. This type of sheet document is commonly utilized by organizers as documentation method in an event's reception area, keeping track of who comes in, who comes out, who are present, and who are absent.
A visitor or attendee must undergo the registration sheet form before they enter the event or facility. In this manner, the document helps secure the venue and the people inside of any dangerous people. This document may look like it is not relevant, but it truly is. Do not belittle this life-saving sheet form.
5+ Guest Attendance Sample Sign-in Sheets
An attendance sign-in sheet's style and theme vary, depending on the scenario that utilizes the sheet. Some attendance sign-in sheets may contain an elegant bordered design, while some may only be as plain as the color white. Attendance sign-in forms can also be designed based on the theme of an event.
All of these possibilities solely depend on your discretion. Here are six sample attendance sign-in sheets that you can examine and dissect for your sample reference when creating one yourself.
1. Sample Attendance Register
2. Guest Attendance Sheet
3. Attendance Sign-in Sheet
4. Sample Sign-in Sheet
5. Sample Seminar Attendance Sheet
6. Attendance Sign-in Sheet
Types of Guest Attendance Sign-in Sheets
Contraty to popular usage and presentation of the sheet document, attendance sign-in sheets have various styles and forms. We have presented some samples of varying forms of the mentioned sheet document above. Listed below are some types of attendance sign-in sheet forms based on the samples we have presented above.
1. Two Columns for the Names and the Signatures
This type of guest attendance sign-in sheet gives a column for the names of the attendees and another column for their signatures. The names are usually already written by the organizer in alphabetical order with the last names coming in first.
There are also instances where the attendees themselves write the names; however, this style isn't preferable since it makes the guests go out of their to write their full name. Event organizers usually opt to have the names already written on the formal sample document.
2. Names, Signatures, Time In and Time Out
In this type of guest attendance sign-in sheet form, the names of the guests are already written down. Undoubtedly, there is a column intended for the guests to affix their signature. The area where the guests can place their signatures is next to the box that contains their names. Another column is added so the guests can input the time they came in and the time they leave the party. This type is mostly used for security purposes.
3. Only Names
This type of guest attendance sign-in sheet form contains only a table with numbers in chronological order. Sometimes this type of sheet form also includes a themed design. In this sheet form, the guests only need to place their names. This sheet is a first-come, first-serve basis of attendance sign-in sheet form.
4: Names, Signatures, and Gifts
The only thing or element that this guest attendance sign-in sheet form has that the other types do not have is a column intended for the guests to write what gifts they brought during the event.
How to Create a Guest Attendance Sign-in Sheet
A guest attendance sign-in sheet form is one of the most straightforward documents that you can create. You can look at online references to help you, or you can read and follow our simple steps and tips that we have laid out below. Here are few tips on how to create a simple or elegant, but still professional, guest attendance sign-in sheet form.
Step 1: Create a Sturdy Table
Attendance sheet forms require a table. A table is the most basic and necessary element that any attendance sheet form must possess. Without a table, an attendance sheet can still function, but it will not be the same. Never forget the basic need for an attendance sheet. Create a table!
Step 2: Place the Names Correctly
If you opt to choose the guest-friendly type of attendance sheet form, I suggest you carefully look at the list of the guest's names. Writing the names may seem easy, but mistakes are bound to happen. No guest wants to see their name written differently, so be careful when placing the names on the sheet.
Step 3: Time In and Time Out Areas
Create a space for the time in and time out. The additional columns help keep track of the people who goes in and who goes out of the event. In this way, the sheet can then act as a type of security form.
Step 4: Make Space for Signatures
Never forget to leave a column, space, for the signatures of the guests. Signatures are a form of confirmation that the guest has attended the event.
Step 5: Evaluate the Sheet Document
The last thing we can impart upon you is the gift of judgment. Always have your output undergo evaluation, even when you feel like it is already perfect. Re-evaluating your document will help clear it of any errors and mistakes that you have forgotten to correct.