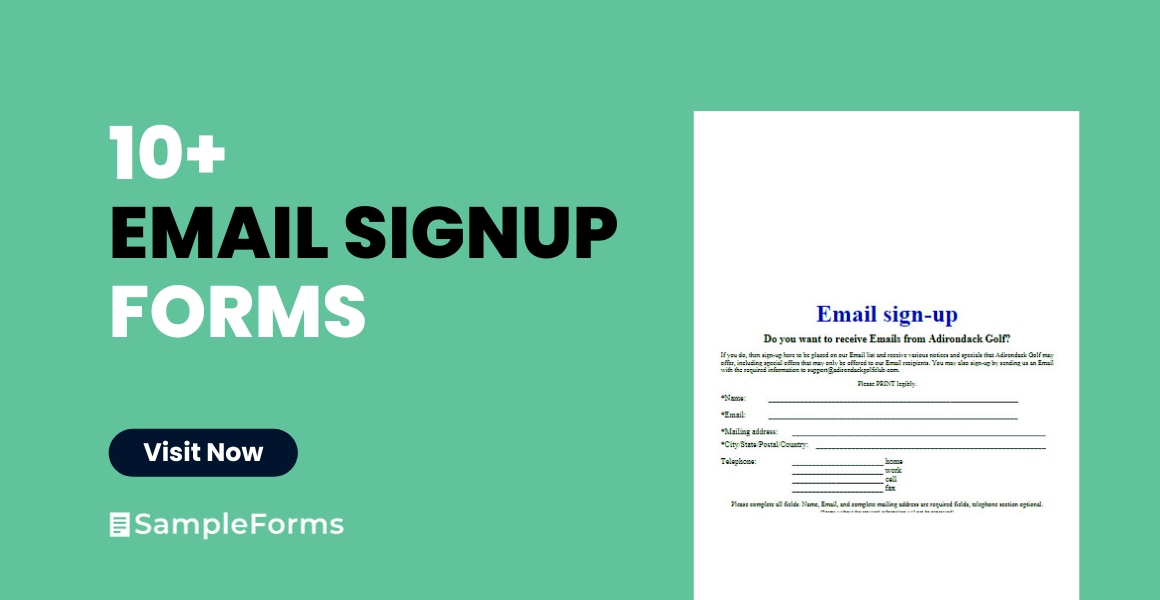 An Email Signup Form is your digital handshake, the first step in welcoming someone to your community. These forms are pivotal for building a subscriber base, offering various types like pop-ups, embedded forms, and floating bars. Each type caters to a different audience and engagement level, and examples range from the minimalist to the richly interactive. Crafting one involves understanding your audience and designing a seamless experience. Dive into the realm of Email Signup Forms with us for insider tips and best practices to create forms that convert visitors into loyal followers.
What is an Email Signup Form ? – Definition
An Email Signup Form is a digital tool used by websites to gather contact information from visitors. It serves as a bridge between a business or content creator and their audience, allowing for direct communication. Typically embedded on web pages or featured as pop-up windows, these forms solicit details such as names and email addresses, which are essential for building an email list for marketing campaigns, newsletters, and personalized updates. The effectiveness of these printable forms is measured by their ability to engage users and encourage them to subscribe willingly to mailing lists.
What is the Meaning of an Email Signup Form?
The meaning of an Email Signup Form extends beyond its basic function of collecting contact information. It represents a user's initial interest and consent to engage with your content, products, or services. When a visitor fills out these fillable form, they are opting in to receive updates, offers, and insights directly to their inbox. This action signifies trust and willingness to establish a connection with your brand. Therefore, an Email Signup Form is not just a gateway to a mailing list; it's a starting point for a relationship between a business and its potential customers.
What is the Best Sample Email Signup Form?
Creating the best sample Email Signup Form involves a blend of strategic design and compelling copy that resonates with your target audience. Here's an example of an effective form:
Headline: Join Our Exclusive Circle!
Subheadline: Get the latest insights and exclusive deals straight to your inbox.
Fields:
First Name: [Text Field]
Last Name: [Text Field]
Email Address: [Email Field]
Checkboxes (optional):
Yes! Send me updates on the latest products.
Yes! I want to receive exclusive offers and discounts.
Yes! Keep me in the loop with the monthly newsletter.
Call-to-Action Button: Subscribe Now
Consent Text: By signing up, you agree to our [Privacy Policy] and to receive our regular communications.
Visuals: A high-resolution image showcasing a happy individual receiving good news via email or a graphical representation of benefits.
Social Proof: "Join 10,000+ happy subscribers!"
This form is designed to be straightforward, ensuring that users can complete it within seconds. The optional checkboxes allow for segmented targeting, making sure subscribers receive content tailored to their interests. The call-to-action is clear and inviting, and the consent text ensures transparency and compliance with data protection regulations. Adding social proof can significantly increase conversion rates by showing the popularity and trustworthiness of your brand. You also browse our Sample Registration Forms.
FREE 10+ Email Signup Forms
3. Distributor E-mail Signup Form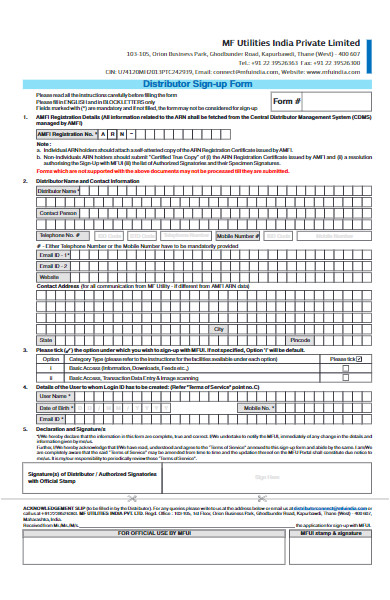 4. Email Signup Form Petition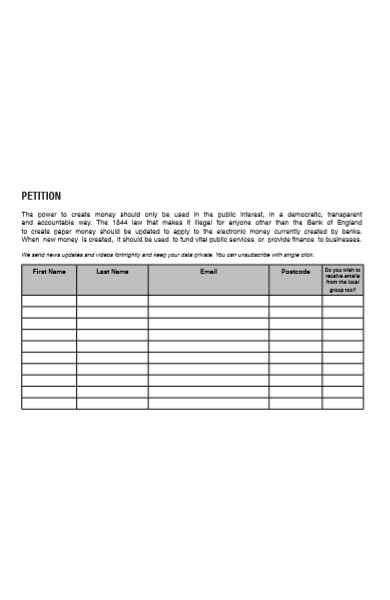 5. Email Signup Form Example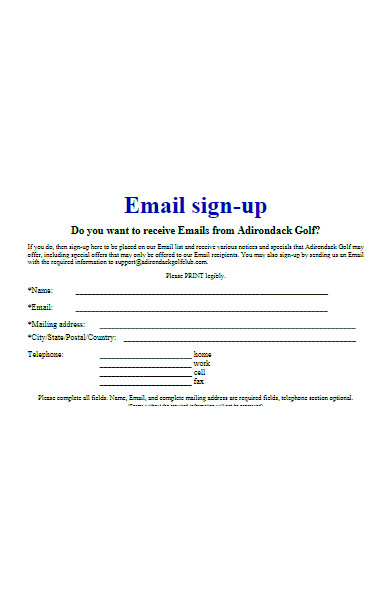 6. Email Support Signup Form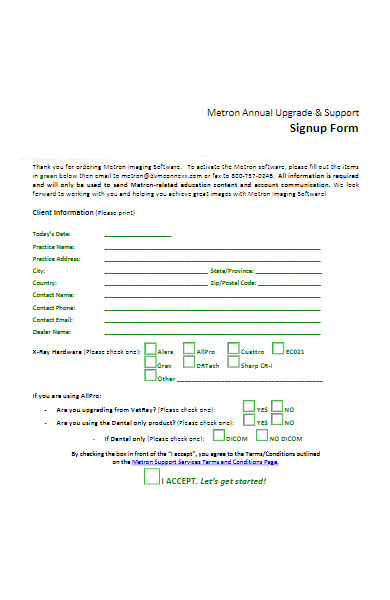 7. Business Email Signup Form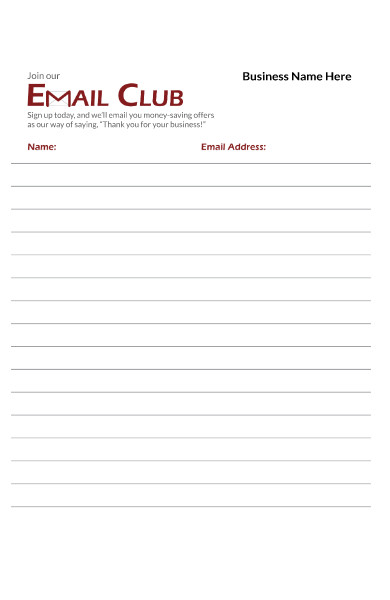 8. Email Signup Form Format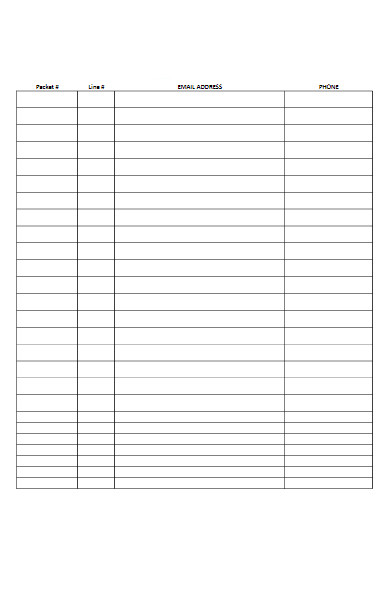 11. Email Supporter Signup Form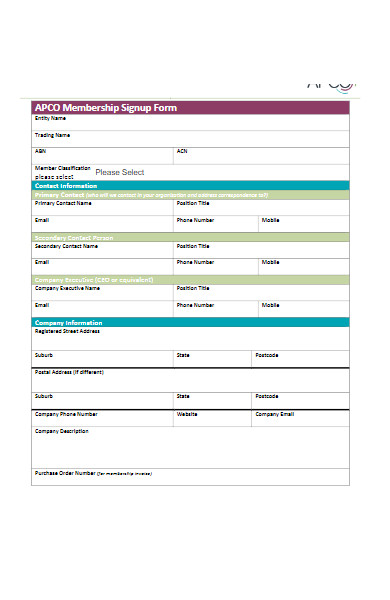 What is the primary purpose of an Email Signup Form?
An email signup form is a crucial tool for digital communication and marketing. Its primary purpose is to collect email addresses and other relevant information from website visitors or customers. By doing so, businesses and organizations can build a mailing list, which is a valuable asset for several reasons.
Firstly, this list serves as a direct line to an engaged audience who have shown interest in the content, products, or services on offer. With a subscriber's email in hand, a company can send out newsletters, product updates, promotional offers, and personalized content. This targeted approach is often more effective than broad advertising strategies, as the messages are tailored to an audience that has already signaled a willingness to receive them.
Secondly, email signup forms help in segmenting the audience. By incorporating fields that gather additional information, such as preferences or demographic details, businesses can segment their email campaigns, ensuring that the right messages reach the right people. This increases the relevance of the communication, potentially improving customer satisfaction and conversion rates.
Moreover, regular communication through email nurtures the relationship between a business and its customers. It keeps the audience informed and engaged, fostering a sense of community and loyalty. This ongoing engagement can lead to repeat business and word-of-mouth referrals, both of which are invaluable for growth and sustainability.
Lastly, an email signup form is a cost-effective marketing tool. Compared to other marketing channels, email has a low barrier to entry in terms of cost, but it can yield a high return on investment (ROI). It allows businesses to reach a large number of people quickly and measure the impact of their communications through analytics like open rates and click-through rates.
An Email Signup Form is your digital handshake, welcoming someone to your community and is pivotal for building a subscriber base, which can be further enhanced by our comprehensive Membership Registration Forms.
How does one typically fill out an Email Signup Form?
Filling out an email signup form is typically a straightforward and user-friendly process. Here's how one usually goes about it:
Locate the Form: Find the email signup form on the website. It's often located in the footer, sidebar, or as a pop-up.
Enter Basic Information: Click on the form fields and type in the required information. The most common field is for your email address, which is essential for any email list.
Provide Additional Details (Optional): Some forms may ask for more than just an email address, such as your name, age, or interests. This helps the sender tailor content to your preferences.
Select Preferences (Optional): In some cases, you might be asked to select preferences for the type of content you wish to receive, such as newsletters, sales promotions, or event notifications.
Agree to Terms and Privacy Policy: Before submitting, you may need to agree to the website's terms of service or privacy policy. This typically involves checking a box to acknowledge that you've read and agree to these terms.
Opt-In for Additional Communication (Optional): Sometimes, you'll have the option to opt into additional communications or offers from partner companies.
Click the Submit Button: Once all necessary information is filled out, click the submit or sign-up button to send your information to the company's email list.
Confirmation: After submission, you may receive a confirmation message on the website. Additionally, many companies send a welcome email or a request to confirm your subscription through a link sent to your email address (known as double opt-in).
Check Your Email: If there is a double opt-in, check your inbox for the confirmation email and click the provided link to finalize your subscription.
Manage Subscription: After signing up, you can usually manage your subscription preferences through links provided in the footer of the emails you receive.
This process helps ensure that the recipient consents to receive emails and allows the sender to maintain a high-quality, engaged email list. It's a win-win situation, providing value to both parties.These forms come in various types like pop-ups, embedded forms, and floating bars, similar to those found in our Sample Event Registration Forms, catering to different audience engagements.
What happens after a user submits an Email Signup Form?
After a user submits an email signup form, a series of actions and automated processes typically kick off to integrate the new subscriber into the communication stream.
Instant Acknowledgment: Immediately after submission, the user usually sees a confirmation message directly on the website, indicating that the form has been successfully submitted.
Email Confirmation: Many organizations use a double opt-in process where the user receives an automated email asking them to confirm their subscription. This ensures the email address is correct and validates the user's intent to subscribe.
Welcome Email: Once confirmed, the user often receives a welcome email. This email thanks the user for subscribing and can provide an overview of what to expect in terms of content and frequency.
Integration into Subscriber List: The user's information is added to the organization's subscriber list, which is often managed through email marketing software. This software can segment users based on the information provided during the signup process.
Content Delivery: The user begins to receive the content they signed up for, such as newsletters, promotional offers, or updates. The frequency and type of content are based on the preferences indicated during signup.
Engagement Tracking: The organization monitors engagement through open rates, click-through rates, and other metrics to gauge the effectiveness of their email campaigns and to further personalize future content.
Continual Updates: Users may periodically receive emails prompting them to update their preferences or profile information to ensure they receive the most relevant content.
Ongoing Communication: The user will continue to receive emails according to the subscription terms. They have the option to adjust their subscription settings or unsubscribe at any time through a link typically provided in the email footer.
This post-submission process is designed to build and maintain a healthy relationship between the organization and the subscriber, marked by mutual value and ongoing engagement. The effectiveness of these printable forms is measured by their ability to engage users, much like our Student Registration Forms Samples, which convert visitors into loyal followers
What are the different types of Email Signup Forms available?
Diverse Types of Email Signup Forms
Email signup forms come in various formats, each designed to cater to different strategic positions on a website and to engage visitors at different stages of their online journey. Here are the most common types:
Embedded Forms: These are integrated directly into the body of a webpage, such as the homepage, blog posts, or the footer, and are always visible to site visitors.
Pop-Up Forms: These appear over the webpage content, grabbing the user's attention. They can be triggered by certain actions like entering the site, intending to leave (exit-intent), or after spending a specific amount of time on a page.
Slide-In Forms: These are less intrusive than pop-ups and slide in from the side or bottom of the page as a user scrolls through the content.
Floating Bar Forms: These remain in view either at the top or bottom of the browser window as the user scrolls, providing a constant reminder without obstructing the content.
Fullscreen Forms: These take over the entire screen, focusing the user's full attention on the signup invitation. They are often used on landing pages.
Sidebar Forms: Positioned in the website's sidebar, these forms are typically visible as the user navigates through the content on a page.
Drop-Down Banner Forms: These drop down from the top of a page, often used to announce special offers or to highlight the signup form.
Subscription Center: A more comprehensive form often found on a dedicated page where users can manage their preferences for various types of email communications from the organization.
Checkout Signup Forms: These are integrated into the e-commerce checkout process, allowing customers to opt-in for future marketing communications while making a purchase.
Registration Forms: Used when signing up for an account, webinar, or event, these forms include an option to subscribe to emails as part of the registration process.
The choice of form depends on the organization's goals, the nature of the website, and the desired user experience. A well-designed email signup form should be user-friendly, clear in its value proposition, and respectful of the user's time and experience on the site.Crafting a standout Email Signup Form involves understanding your audience, a principle that is also crucial when designing New Customer Registration Forms.
Where can I find an Email Signup Form for reporting annual financial statements?
An Email Signup Form for reporting annual financial statements can often be found on the websites of regulatory bodies or on platforms that companies use to fulfill their continuous disclosure obligations. For example, the U.S. Securities and Exchange Commission (SEC) provides a Financial Statement Request Form, which is used to elect to receive a company's annual and/or interim financial statements and accompanying management's discussion and analysis (MD&A). You will not automatically receive these documents unless you complete and return the form. Copies of the documents are also available through the System for Electronic Document Analysis and Retrieval at SEDAR.com​.
For further forms, you might consider searching for major companies' investor relations sections on their websites or contacting financial regulators in your jurisdiction.By soliciting details such as names and email addresses, these forms play a similar role to Business Registration Forms in building a vital email list for marketing campaigns.
What information is generally requested in an Email Signup Form?
An Email Signup Form typically requests the following information:
Email Address: The primary piece of information required to send digital correspondence.
Full Name: To personalize communications.
Preferences: Details about the type of content the user wishes to receive (e.g., newsletters, offers, updates).
Frequency: How often the user wants to receive emails.
Location: Sometimes used to tailor content or offers to the user's region.
Age or Birthdate: May be used for demographic purposes or to send birthday offers.
Interests: Information about the user's interests to send relevant content.
Consent Checkbox: To comply with data protection laws like GDPR, users may need to explicitly give consent to receive emails.
These fields can vary depending on the organization's needs and the level of personalization they wish to provide in their email campaigns. When a visitor fills out these fillable forms, they're taking the first step towards engagement, similar to when they complete a Subscribe Form.
Why is it important to have a clear call-to-action on an Email Signup Form?
A clear call-to-action (CTA) on an Email Signup Form is vital because it guides users on what to do next, leading to higher conversion rates. It eliminates confusion, reducing the cognitive load on the user, and succinctly communicates the value they will receive by signing up. A compelling CTA can significantly impact user engagement and is a critical element in the effectiveness of email marketing strategies. It essentially acts as the final nudge for users to take the desired action, making it an indispensable part of the form design.The consent text in an Email Signup Form ensures transparency, a key feature also found in our Sample Customer Registration Forms.
How do Email Signup Forms comply with privacy and data protection laws?
Email Signup Forms comply with privacy and data protection laws by incorporating several key features:
Clear Consent: They include checkboxes or clear statements that users must agree to, indicating they understand what they are signing up for.
Transparency: They provide links to the privacy policy that explains how the data will be used.
Data Minimization: They request only the essential information necessary for the intended purpose.
Security Measures: They ensure that data collected is securely stored and transmitted.
Easy Opt-Out: They allow users to easily unsubscribe or manage their preferences to stop receiving emails.
Age Verification: They may include measures to verify age to ensure compliance with laws like COPPA in the U.S., which protects children's privacy.
Compliance with Specific Laws: They are designed to comply with specific regional laws such as GDPR in the EU, CCPA in California, and others, which may involve additional disclosures or consent requirements.
By integrating these elements, Email Signup Forms aim to respect user privacy and ensure the organization's compliance with various data protection regulations.With a subscriber's email in hand, a company can send out newsletters and promotional offers, a strategy also applied in personal information forms.
How to Create an Email Signup Form?
Creating an email signup form involves both design and technical steps. Here's a simple guide:
Define Your Goals: Identify what you want to achieve with your email list, such as sending newsletters, promotions, or updates.
Choose a Platform: Select an email marketing service or form builder like Mailchimp, Constant Contact, or a plugin if using a CMS like WordPress.
Design the Form: Use the platform's form builder to create your form. Design it to be simple and user-friendly with clear fields for necessary information like name and email.
Craft Your CTA: Write a compelling call-to-action that encourages users to sign up, stating clearly what they will receive.
Set Up Form Fields: Include necessary fields such as email address, name, and any optional fields for additional information.
Ensure Compliance: Include a consent checkbox and link to your privacy policy to comply with data protection laws like GDPR.
Integrate with Your Website: Embed the form on your website where visitors are most likely to engage, such as the homepage, sidebar, or as a pop-up.
Automate Responses: Set up automated welcome emails that new subscribers will receive upon signing up.
Test the Form: Before going live, test the form to ensure it works correctly and that the data is collected and stored properly.
Launch and Promote: Once tested, launch the form and promote it through your website, social media, and other channels.
Remember to regularly review and update the form to improve performance and ensure compliance with any changes in data protection laws.Lastly, an email signup form is a cost-effective marketing tool, akin to how blank form offer a high return on investment
Tips for creating an Effective Email Signup Form
Creating an effective email signup form involves a mix of clarity, brevity, and user engagement. Here are some tips to guide you:
Keep It Simple: Use as few fields as possible to avoid overwhelming users.
Be Transparent: Clearly state what subscribers will receive and how often.
Use a Strong CTA: Make your call-to-action persuasive and action-oriented.
Provide Incentives: Offer a signup bonus like a discount or a free ebook.
Ensure Visibility: Place the form prominently on your site and consider using contrasting colors.
Mobile Optimization: Ensure the form is easy to fill out on mobile devices.
A/B Testing: Test different versions of your form to see which performs better.
Comply with Laws: Make sure your form adheres to privacy laws and includes a consent checkbox.
Confirm Subscriptions: Use a double opt-in process to ensure genuine interest and compliance.
Offer Assurance: Include privacy assurances to let users know their data is safe.
 An Email Signup Form is a digital tool designed to collect subscribers' emails for sending newsletters, updates, and promotions. Types include pop-ups, embedded, and floating bars. Effective forms are succinct, clear, and compliant with privacy laws. Creating one involves defining objectives, choosing a platform, designing the form, ensuring legal compliance, and launching with a strong call-to-action. They are essential for growing a targeted audience and enhancing email marketing strategies. You can also look at our admission forms.