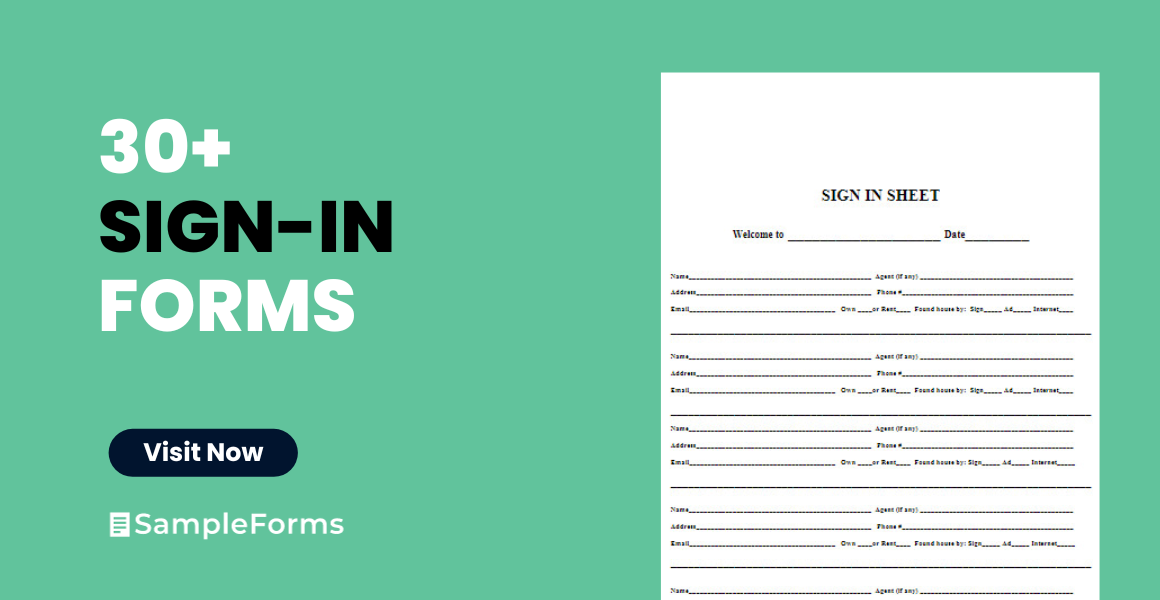 A Sign-In Form serves as a gateway, bridging the gap between users and personalized experiences. Whether it's accessing a secure online platform or marking attendance at an event, these printable forms validate identity and grant entry. They come in various types, from simple name and password fields to multifactor authentication processes. Examples are plentiful across the web, in apps, and at workplaces or conferences. Crafting one involves a balance of usability and security, with best practices ensuring a smooth user experience. In the following sections, we'll explore the nuances of Sign-In Forms, providing insights and practical tips to create them effectively.
What is a Sign-In Form ? – Definition
A Sign-In Form is a user interface element or a document used to authenticate and grant access to an individual to a secure environment or service. It typically requires the user to enter credentials such as a username and password, and may also include additional security features like CAPTCHAs or two-factor authentication. The purpose is to verify the user's identity, protecting both the user's personal data and the system's integrity from unauthorized access.
What is the Meaning of a Sign-In Form?
The meaning of a Sign-In Form is multifaceted. It acts as a security checkpoint for users to prove their identity before gaining access to a restricted area, service, or system. These fillable form is a standard measure in data protection, ensuring that access is limited to authorized users. In essence, it is the digital equivalent of verifying one's identity with a key or identification card, tailored to the digital realm where the "key" is often a combination of a username and password, or sometimes more sophisticated credentials like biometric data.
What is the Best Sample Sign-In Form?
Here is a sample outline for a basic Sign-In Form with step-by-step elements:
Form Header: User Sign-In
Username Field:

Label: "Username or Email"
Input field: (text input)
Placeholder text: "Enter your username or email"

Password Field:

Label: "Password"
Input field: (password input)
Placeholder text: "Enter your password"
Functionality: "Show/Hide Password" toggle

Remember Me Checkbox (optional):

Label: "Remember Me"
Checkbox: (allows user to stay signed in)

Sign-In Button:
Forgot Password Link:

Text link: "Forgot your password?"
Redirects to password recovery process

Sign-Up Prompt (for new users):

Text: "Don't have an account?"
Sign-Up Link: "Sign up here"
Each step is designed to guide the user through the process clearly and efficiently while maintaining security and accessibility standards.For a diverse range of Sign-In Forms, from general use to specific applications like hotel check-in fprm or school application forms, you can find a comprehensive collection that caters to various needs.
FREE 30+ Sign-In Forms
Why is my Google Form asking people to sign in?
Your Google Form may be asking people to sign in because of the form's settings. By default, Google Forms can be set to only allow responses from users within your organization, which requires them to sign in to their Google account. Additionally, if you have selected the option to collect email addresses or if the form contains restricted files, respondents will need to sign in. To allow anyone to respond without signing in, you can adjust the settings by deselecting these options in the form's settings menu. You also browse our Sample Registration Forms.
How do I sign into Google Forms?
To sign into Google Forms, follow these steps:
Navigate to Google Forms:

Open your web browser.
Go to the Google Forms website by entering forms.google.com in the address bar.

Access Google Sign-In Page:

If you're not already signed in, you will see a "Go to Google Forms" button. Click on it.

Enter Your Google Account Details:

Type in your Google account email or phone number.
Click "Next."

Enter Your Password:

Now, enter your password.
Click "Next."

Access Your Forms:

After signing in, you'll be directed to the Google Forms dashboard where you can create or edit forms.
How do I fix sign in to continue in Google Form?
To fix the "Sign in to continue" issue in Google Form, you need to adjust the settings to allow users to fill out the form without signing in:
Open the Form: Go to Google Forms, open the form you are working on.
Go to Settings: Click on the settings icon (a gear symbol) in the top right corner of the form.
Adjust General Settings:

Under the "General" tab, uncheck the box that says "Restrict to [your organization's name] users" if you want users outside of your organization to access the form.
If you are collecting email addresses, consider unchecking "Collect email address" if it's not essential.

Save Settings: Click "Save" at the bottom of the settings modal.
By doing this, you should remove the requirement for users to sign in with a Google account when filling out your form.
How do I answer a Google Form without signing in?