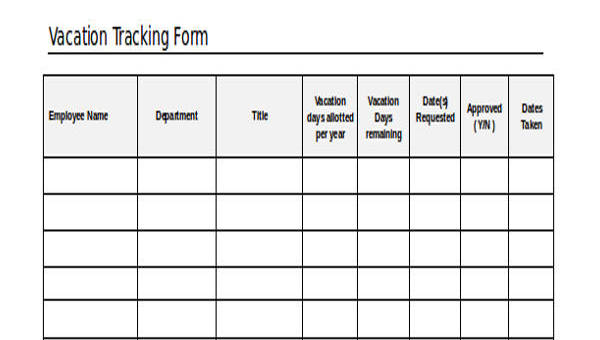 A company who have established their goals right off the start will surely achieve success. One way to monitor and evaluate a company's progress is by using a tracker. Tracking Forms are used to gather and compare the data that represents the company's daily movements. These forms will serve as documented records and company references.
A type of tracking form commonly used by companies and business industries is a Project Tracking Form. This form measures the project's status, duration, progress, and the results of these projects. These reports are used to distinguish the future and profitability of a certain project. The attendance of the employees may also be included in this tracking form to know who are responsible for the project's daily results.
Patient Tracking Forms
Free Patient Tracking
New Patient Tracking
Patient Complaint Tracking
Expense Tracking Forms
Self Employment Expense Tracking
Medical Expense Tracking
Sample Expense Tracking
What is an Offender Tracking Form?
Some countries use an Offender Tracking Information System to input information about an offender. Offender profiling is the process of identifying a suspect of criminal acts. By completing an Offender Tracking Form, the authorities will analyze the suspect's possible physical appearance through the help of witness' descriptions.
Business enterprises also require tracking forms for their inventory and for their employees. A tracking form which is mandatory for every business is a Sales Tracking Form. Similar to an Offender Tracking Form that tracks a criminal offender, a Sales Tracking Form will also help the company know if there had been updates with their marketing strategy and if there are any hidden transactions happening within their premises without their knowledge.
Creating Tracking Forms in Excel
Open a blank spreadsheet document.
Make a heading.
Make columns for your subjects.
Apply formulas for each column.
At the bottom, make a row for the "TOTAL" or the "AVERAGE".
Input the data that you need to track.
Use graphs and charts for data comparison.
Save the sheet and document a report every day.
Tracking forms are not only for sales and marketing matters but also for recording the observations regarding a person's behavior. A Behavior Tracking Form will be used to state the attendance, achievements and progress of a person's skills on a regular basis.
Vacation Tracking Forms
Employee Vacation Time Off Tracking
Free Vacation Tracking
Vacation Tracking Form in Doc
Time Tracking Forms
Community Volunteer Service Time Tracking Sheet
Weekly Time Tracking
Screen Time Tracking Sheet
Mileage Tracking Forms
Mileage Tracking Sheet in PDF
Mileage Reimbursement Tracking
Fuel & Mileage Record Tracking
Instructions for Making Tracking Forms
Mind these instructions when you are going to draft a tracker of any form:
Remember the goals that you are setting. Keep sight of your goals to motivate you as you go on with documenting your activities in the tracker. Your goals should be specific, attainable, objective, timely, and most of all realistic. When you tend to fail, think for an action plan to fix the errors.
Only add necessary rows and columns. This will allow your tracking form to be clutter-free and organized. If you see columns which are less significant for you to track, you may either delete it or move it to another spreadsheet file to avoid conflicts with your data.
Include the date and time as part of the tracking table. With these two headings, you will have an efficient way of monitoring with your hourly progress. The date and time columns are important in an Employee Tracking Form and in Time Tracking Forms for keeping track of the employees' attendance which include their time in, 30-minute breaks, and their check out logs.
Record your data regularly. A tracker is made to compare your progress, and can only be achieved if you are responsible enough to record every piece of data and information every single day on your tracking sheet. Recording your data at the end of every activity will be more effective than inputting the combined data of various activities at the end of the day.
Do a weekly evaluation. This step will help determine if you have been successfully working out with a progressive output or if you are facing shortfalls with your results. This will also aid you in distinguishing what possible areas need to be resolved by possible solutions and when is the appropriate time in implementing the solutions.
Behavior Tracking Forms
Minor Classroom Behavior Tracking
Classroom Behavior Tracking
Student Behavior Tracking
Customer Tracking Forms
Customer Complaint Action Tracking
Customer Complaint Tracking
Customer Tracking Sample
Discipline Tracking Forms
Sample Discipline Tracking
Sports Player Discipline Tracking
Employee Tracking Forms
Employee Data Tracking Form
Employee Absence Tracking Adjustment Form
Employee Assigned Asset Tracking
Supervisor's Leaves Tracking
What are Hidden Form Fields in Session Tracking?
A hidden form field is a text field with a hidden input type attribute in the codes of the website. This field will help in storing and transferring data to the central server-resident program of a website. Hidden form fields are changeable and can be used for storing a client's information in session tracking. If you add our Tracking Form Examples to your website, you can accompany the placeholders with hidden form fields that will store your preferences for the required data in the tracker.
How to Create a Printable Attendance Tracking Sheet
If an online form is not your cup of tea, then, follow the steps below to start drafting your printable document:
1. Choose and download one format from our Sample Tracking Forms.
2. Open a blank document sheet.
3. Match the document size to the paper's size which is available for printing.
4. Set your preferred margin size.
5. Open the downloaded form.
6. Copy or move the form to the blank document.
7. Edit the heading of the form.
8. Add your personal information to the fields and placeholders.
9. As soon as you're done, save the document on your desktop.
10. Print the form.
Grant Tracking Forms
Grant Application Tracking Form
Free Grant Tracking Form
Inventory Tracking Form
Free Inventory Tracking Form
Project Tracking Forms
Project Monitoring & Tracking
Project Status Tracking Form
What is the Purpose and Use of Mileage Tracking Forms?
Mileage refers to a business vehicle's measurement for the rate of miles that it can travel per hour. A Mileage Tracker Form will record the start and stop of a vehicle's travel, and this data will contribute to calculating the distance that the vehicle is capable of running in a certain period of time. It is important to have a mileage tracker for a vehicle to determine the amount of taxes that the owner will pay in compliance with the Internal Revenue Service Mileage Log that changes in its rates per year. The Mileage Log Book will contain information about the mileage including the specific dates of the business trips, the locations of the business, and the purposes of the trip.
Readily prepared Tracking Forms in PDF format is a good instrument to show to the IRS authority whenever they have inquiries and questions with regards to your Mileage Logs. Unlike a document sheet, A Portable Document File (pdf) format is not editable to the viewer which helps in securing that the information and the data about your vehicle's mileage will not be tampered and changed by anyone for their own benefit.