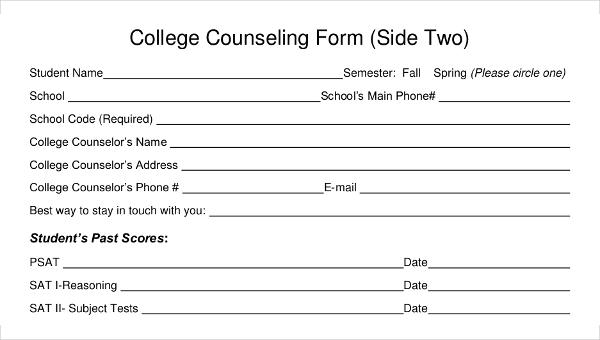 Counseling is a process that can be done in varying environments and processes which depends on the reason why counseling has been deemed necessary. The act of counseling allows individuals to reflect about their actions and behavior and how these affect people, procedures, or even a company's operations. It is a goal-based, collaborative process involving a non-judgmental, supportive counselor who works with a client in telling his or her story, setting viable goals, and developing strategies and plans necessary to accomplish these goals. So basically, whenever someone needs counseling, that means that person either has a problem that's preventing him or her from being able to perform at the highest peak, or it could be that person has self-doubts regarding his or her goals for success. Hence, what these people seek out is the right professional help that can give them advice on how to solve these issues.
However, before any kind of counseling session can be conducted, the proper paperwork needs to be applied. This is to make sure that these people have proof that they sought out the help that they needed. Even you would want to guarantee that your counseling sessions were approved by the right officials, right?
So what can help make sure that these people have the right documentation for any kind of consultation? Well, one of the things that can easily help out is use of Counseling Forms.
Army Counseling Form
Army Developmental Counseling Form
Employee Counseling Forms
Administration Employee Counseling Form
Employee Counseling Session Form
Employee Performance Counseling Form
Employee Coaching/Counseling Form
Student Counseling Forms
Student Personal Counseling Referral Form
College Student Counseling Form
Student Counseling Report Form
Counseling Intake Forms
Initial Counseling Intake Form
College Counseling Intake Form
Counseling and Spiritual Direction Intake Form
Developmental Counseling Forms
Developmental Counseling
School Developmental Counseling Form
The Different Types and Purposes of Counseling Forms
There is a wide array of these types of forms that just about any person can use to make sure that they get all the professional help they need. Counseling Forms can help out in giving a person a session with any professional who can hand out advice that could potentially help the troubled patient. Here are some examples of these types of forms:
For Army Counseling
For Counseling Feedback
For Patient Counseling
Counseling Referral Forms
School Counseling Referral Form
Parent Counseling Referral Form
Personal Counseling Referral Form
Counseling Center Referral Form
Counseling Consent Forms
Counseling Appointment Consent Form
Counseling Center Informed Consent Form
School Counseling Consent Form
Counseling Assessment Forms
Counseling Intake Assessment Form
Remediation Counseling Assessment Form
Career Counseling Forms
Career Counseling Intake Form
Career Counseling Request Form
For Employee Counseling
For School Counseling
Group Counseling Forms
Small Group Counseling Form
Group Counseling Informed Consent Form
HR Counseling Forms
HR Progressive Counseling Form
HR Employee Counseling Form
Individual Counseling Forms
Individual Counseling Intake Form
Individual Counseling Record Form
Entrance Counseling Forms
Direct Loan Entrance Counseling Form
Student Entrance Counseling Form
School Entrance Counseling Form
Safety Counseling Form
Employer Safety Counseling Form
Verbal Counseling Forms
New Verbal Counseling Form
Verbal Counseling Record Form
Verbal Counseling/Warning Form
For Counseling Application
How to Fill Out These Counseling Forms
Filling out these forms is not as hard as you may think. Let's say that you had to fill out a Performance Counseling Form. What do you suppose you should fill in first? Well, you can start with all your personal information. Hence, that will mean your name, address, phone number, age, and more. And once that's done, you'll have to address the kind of position that you have. From a manager to even a janitor, it's important to state this. And you'll have to state the company you work for, the type of work you do, how many years you've been working, and even where you work from. In case it's a counseling form that has something to do with your own problems, such as when you need a session to help you solve your family issues, then it's the same thing. The only difference is that you'll have to state your problem and why you think you're having them.
The Importance of Counseling Forms
If ever you encounter some sort of problem or you know of someone who has been having a lot of problems, wouldn't you want to make sure that both of you get the help that you need? And that's why these forms are here. They're used to make sure that anyone with problems – be it at the workplace or regarding personal matters – is able to get all the help they need so they'll be able to perform at a pace that's suited for them. If not for that, then it's to at least give them a clear mind and to help them solve the issues that keep bothering them.
A good example of a venue where to properly use these forms is the workplace. Let's say that you noticed one of your co-workers is unable to do any kind of work, and that co-worker is usually the one who performs at the highest level among anyone else within the office. He has been behaving unusually and is always stressed out. You then suggest that he signs an Employee Counseling Form to get the help for the problem he has obviously been preoccupied with.
Thus, in the event that you're having problems, whether it's in the workplace or outside of it, or if you've been noticing someone who's been having a similar problem, then it's best that you make good use of these forms. Who knows? You might just end up saving someone's career or his or her personal life from going down the drain. If not for someone else's benefit, then do it for your own.