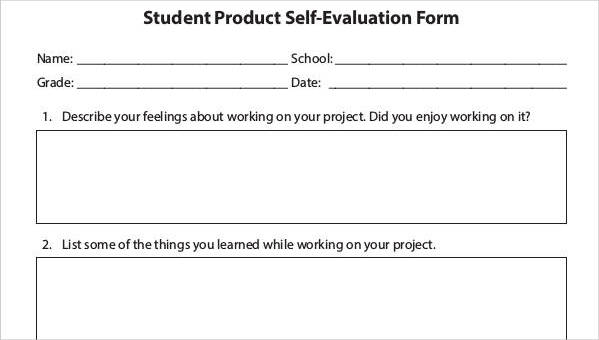 If a person wishes to know the level of performance they offer when doing certain tasks, then doing a proper evaluation is necessary. It's even better when one uses a self evaluation form so that all qualities can be properly looked into.
Filling out a self evaluation form requires anyone to know all the factors that make him or her a success in the workplace. All one has to do is to place all of the strengths and weaknesses he or she has. From that point, these people that have done these self evaluations will know as to what they lack in particular areas and what parts of them they have to change to see that they meet certain standards.
Teacher Self-Evaluation Forms
Religion Teacher Self Evaluation
Student Teacher Self-Evaluation
Kindergarten Teacher Evaluation
Teacher Practicum Self-Evaluation
Why is Self Evaluation Important to Students?
Much like training evaluation forms are important to employees that need to improve themselves, student self evaluations are important to students. If a student decides to perform a self evaluation, then it will make things much easier for them to know more about themselves. It will help them list down as to what classes they're particularly best at, and the ones they need to work more on. It can also help students list the achievements they have done in which they might be rewarded for their effort.
How to Do a Self Evaluation for a Performance Review?
If you're going to evaluate your own performance, then here's what you should jot down:
Place in all of the successes you've achieved. Don't be shy to put in anything you're particularly proud of, so long as it has something to do with your profession.
Put in your difficulties. If you know that you're having some problems in certain areas of the services that you're tasked to do, then put them down in detail.
Make sure that all of your accomplishments are factual and are not embellished. This makes it easier for your supervisor to trust you and how well you perform.
Make sure to take not of these if you plan on using forms such as interview evaluation forms that focuses on how well you think you did during any interview for a job.
Employee Self-Evaluation Forms
Classified Employee Self-Evaluation
Civil Service Employee Self-Evaluation
Annual Self-Evaluation Form
Student Self-Evaluation Forms
Learning Student Self-Evaluation
Student Product Self-Evaluation
Student Intern Self-Evaluation Form
Student Self-Evaluation
The Difference between a Self Assessment and a Self Evaluation
People often confuse these two as a singular things, while in fact, they are totally different. In a self assessment, you're trying to understand your current condition and seeing how effective you are and finding different ways of improving yourself. In an evaluation, you're judging yourself and determining your own worth by comparing yourself to a standard or to someone else.
If you plan on making an evaluation, it's best that you have a goal that you need to see achieved. Such as when employers use job evaluation Forms to see if someone has the ability to take on a certain role, or when someone uses an activity evaluation form to see if the activity was well performed or if there is still room for improvement.
Even if they differ, self assessments and self evaluations can go hand in hand. It's always best to know what areas you have to work on and to see the goal you're trying to set. It is also very helpful for one to understand all the necessary changes and improvements that one has to make in order to achieve that goal. For example, when using event evaluation forms to see if the purpose of the event was carried out well, or if it could have used more work.
School Self-Evaluation Forms
High School Self-Evaluation
School Board Self-Evaluation
Board Self-Evaluation Forms
Board Self-Evaluation Questionnaire
Non-Profit Self-Evaluation
When can a self evaluation be done?
It's best to do these after you've spent a respectable amount of time in a certain establishment. A good example would be doing a monthly and yearly self evaluation that helps you see everything you have done within that period. It is also best to evaluate yourself after you've recently done any kind of project or activity. Doing so will help you see if you were able to perform well, or if you know you lack work in certain areas that would have made it a success.
If you need to print out your own self-evaluation form, then there are evaluation form templates on this website to help you properly organize everything you've done so far.
How to Write a Good Self Evaluation
Here's a few tips when you need to make an evaluation on yourself:
Talk about your successes and the goal that you're trying to achieve.
Take note of everything that happened to you within a certain time frame.
Place in as to what you could have done better, what your strengths and weaknesses are, and how you can become a much better employee.
Place in as to how you're going to handle your weaknesses. Don't just make your successes the center of attention, but also as to who you're going to deal with your shortcomings.
Evaluations are a great thing to do and can be very helpful, such as when businesses use marketing evaluation forms to properly look into the current state of the market. As long as you know what to put in, these evaluations can be very helpful in time.
Group Self-Evaluation Forms
Group Peer Evaluation
Self-Evaluation Form for Group Work
Free Group Self-Evaluation
Annual Self Evaluation Forms
Manager Annual Self-Evaluation
Non-Manager Annual Self-Evaluation
Nanny Self-Evaluation Forms
Blank Nanny Self-Evaluation
Free Nanny Self-Evaluation Form
Employee Nanny Self-Evaluation
Tips for Filling Out Self Evaluation Forms
If you are tasked to fill out a self evaluation form, then here are some things to take note of:
Always make sure that you have proof of whatever accomplishments you include. It will help prevent problems concerning the authenticity of your successes.
Make sure to be positive when filling out these forms. Supervisors who happen to check these out won't like an employee who remains negative all throughout his or her evaluation.
If you know you have problems, comment on what you can do about them and place in the kind of help you would like to receive, or ask for advice that might be useful to change you.
These tips can also be very helpful when using contractor evaluation forms for those contractors who need to show how well they are at doing their job, or when an employee uses communication evaluation forms to properly show how well they're able to improve their communication skills.
Self evaluations can help out anyone by helping them set a goal, and making sure that they get to it through effort. They just need to keep comparing themselves as to what they aim to become and they might just get there.