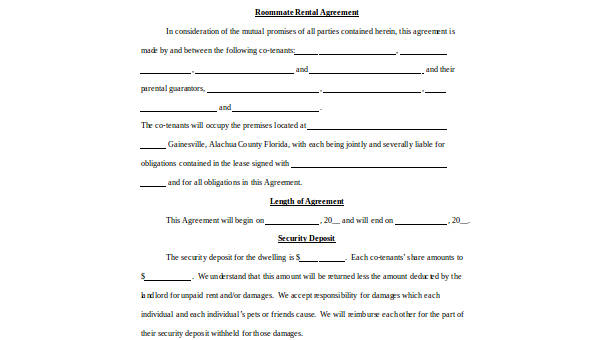 There are a lot of properties for rent available in the market today. Anyone can rent just about anything – cars, boats, houses, a room, you name it. The rental business is a feasible one, because a lot of people simply prefer to rent something rather than buy it, especially if it is only for short-term use.
Like any other business owner, it is important for a landlord to protect the interests of his business, along with protecting the rights of his tenants. In doing so, a landlord would have to draft a Rental Agreement Form to outline the terms and conditions of the rent.
Room Rental Agreement Forms
Room Rental Agreement Sample
Room Rental Reservation Agreement
Car Rental Agreement Form
Sample Car  Rental Agreement Form
Rental Lease Agreement Forms
Addendum Rental Lease Agreement
Sample Residential Lease Agreement
Equipment Rental Agreement Forms
Equipment Lease Rental Agreement
Example of Equipment Rental Agreement Form
Emergency Equipment Rental
Amendment Rental Agreement Form
Free Amendment Rental Agreement
Booth Rental Agreement Forms
Booth Rental Agreement Form
Festival Booth Application Rental
Vendor Application Agreement Forms
Food Vendor Application Agreement
Importance of a Rental Agreement
Setting rules and regulations: Even though the property the landlord owns is being rented out, ultimately, it belongs to him, so it is important that rules and regulations regarding the proper use of the property are clearly defined. This would help the landlord prevent any significant damage to his property aside from the normal wear and tear.
A Rental Agreement can be used to highlight the things that a landlord expects from his tenant. For example, if pets are not allowed in the property, it can be stated so in a Generic Rental Agreement. This would also enforce the rules and regulations because they are signed and agreed upon by the tenant.
Subletting: This is a viable option for tenants who are relocating to another city or state for a given period of time. Since they will not be using the property anyway, the tenant can choose to have someone else sublet it. That is, rent it out on his behalf. The original lease will still be under his name so he can still resume the lease when he returns.
A Rental Agreement can be used by a landlord to decide upfront if he would allow this or not. If he would allow it, the tenant would need to draft a Sublease Agreement to be signed by the second tenant.
Eviction of a tenant: There are certain inevitable circumstances that would leave the landlord no choice but to evict the tenant. This could either be a constant infarction of the agreed upon rules and regulations or a failure to pay the rent for a consecutive number of months.
These circumstances would leave the landlord no other choice but to evict the tenant, but a notice would have to be given to the tenant first to make sure the tenant understands and to give him time to find a new apartment or property to rent.
In this circumstance, it is possible that the tenant will complain, but having a signed and enforceable Rental Agreement will help the landlord back his claim for eviction.
Security deposit: This is another sensitive topic when it comes to renting out a property. Most landlords would require their tenants to pay an upfront security deposit. The security deposit will cover for any cleaning and repair costs that the landlord would have to facilitate once the tenant moves out. This can be a cause of dispute if there are any misunderstandings or if the tenant would feel wronged or cheated.
That is why it is important for a landlord to clearly stipulate terms regarding a security deposit on a Rental Agreement to avoid confusion and disputes. A landlord can also make use of Security Deposit Forms to document the receipt and refund of a security deposit. Having these kind of forms signed can really help any landlord prepare in case of complaints.
Professionalism: The last but definitely not the least importance of a Rental Agreement is to maintain professionalism and transparency in the relationship between a landlord and a tenant.
Rental Information Agreement Forms
Rental Information Lease Agreement
Roommate Rental Agreement Forms
Student Roommate Rental Agreement
Example of Roommate Rental Agreement
Essential Parts of a Rental Agreement
The following are the building blocks of a good rental agreement. For a rental agreement to be efficient, it should have all of these essential parts.
Parties: In a Home Rental Agreement, the parties involved are the landlord and the tenant. The landlord being the property owner, and the tenant being the one who will rent out the property. Their names and basic personal information should be indicated on the rental agreement for proper identification.
If it is a Sublease Agreement, then the parties are the first tenant and the second tenant, namely the sublessor and subtenant, respectively.
Property Identification: Once the parties in a rental agreement have been clearly defined, the property should be defined as well. In Equipment Lease Agreements, the equipment being rented out has to be defined. This includes the equipment's make and model, serial number, color, and any other information to help define it. For home or apartment rentals, the identification of the property is its address. This includes the apartment number, house number, street, city, state, and zip code.
Term: This will indicate when the rental agreement will start and expire. The mere indication of the duration or length of the lease is not enough. A landlord would have to indicate the exact day, month, and year of the effectivity of the lease to make it more defined. For example, simply saying that the lease is good for 3 months is not enough. A landlord would have to indicate that the lease will start on an exact date and end on an exact date as well.
Rental Payment: Along with these aforementioned parts, the rental payment should be indicated as well. This is the dollar amount the tenant will have to pay or settle each month, and when the amount will be due. This should be properly outlined so that there are no misunderstandings and disputes, since it deals with money.
Signature Block: For a rental agreement to be legally binding and enforceable, the signatures of both the landlord and tenant would have to be affixed, along with the current date and their printed name. Not only that, it is also important that both the landlord and the tenant are of legal age and sound mind to enter into an agreement.
For a tenant, having a sound mind means that he is able to fully understand the terms and conditions of the rental agreement, and the implications or consequences of any violations thereof.
Reservation Agreement Form
Sample Reservation Agreement
Housing Rental Agreement Form
House Boat Rental Agreement
Vacation Rental Agreement Form
Vacation Home Rental Agreement
Facility Rental Agreement Form
Example of Facility Rental Agreement Form
Residential Rental Agreement Form
Residential Rental Agreement Form
Roommate Rental Agreement Form
Sample Roommate Rental Contract Agreement
System Rental Agreement Form
Sound System Rental Agreement Form
Cart Rental Agreement
Golf Cart Rental Agreement
Types of Rental Agreement Forms
There are various types of rental agreement forms according to the property being rented out. Here are some:
Room Rental Agreement Form: This is used when a landlord wants to rent out only a room in a house, instead of the whole house or a whole apartment. This is useful for dormitories where rooms are provided with a shared use of bathrooms, kitchen, and a living room. For room rentals, the landlord is responsible for paying the dues for electricity, water, cable, and internet connection, if provided.
Car Rental Agreement Form: This is used when renting out a car or any other vehicle. Aside from the basic stipulations, car rentals require for the car to be insured so that costs will be covered in case of a road accident, however the driver or any personal belongings in the car will not be covered.
It is also stipulated that the renter will cover for any repairs for any damages incurred while the car is in his possession. The car should also be a registered car using the proper Car Registration Forms.
Equipment Rental Agreement Form: This is used when renting equipment, whether heavy machinery or hand tools, to a contractor or an individual renter. There are certain equipment that requires special handling by skilled operators, so there are more items stipulated on an Equipment Rental Agreement Form than on most types of rental agreements. There are also Equipment Contracts that can be used in the sale or lease of an equipment.
Vacation Rental Agreement Form: This is for renting out vacation homes. This type of rental is only short-term, lasting from one night to a few weeks, and the rental payment is usually at a daily rate.
Residential Rental Agreement Form: This is used by landlords renting out any type of residential property. The property can be a house, apartment, or a room. For properties for commercial or business purposes, a Commercial Rental Agreement may be used.
If it so happens that there are any terms and conditions left out upon signing a rental agreement, or if certain situations happen that call for an amendment to an existing rental agreement, then a Rental or Lease Amendment Form can be used. This will help outline the changes or additions that would have to be made on the existing rental agreement. Only those items listed on the amendment form will have any changes. All other items will stay enforceable and in place.
Advantages of Using Pre-Made Rental Agreement Forms
Our Rental Agreement Forms on this article are all in Word format, which makes them easy to edit. You may make any changes to suit the needs and nature of your rental agreement. Using pre-made forms will help you make sure that no information is going to be left out. We have various types available depending on what property you are renting out. All of our forms are easy to download so you can save time and energy. Do away with having to make your own rental agreement forms from nothing. That process can be very tedious and time-consuming.