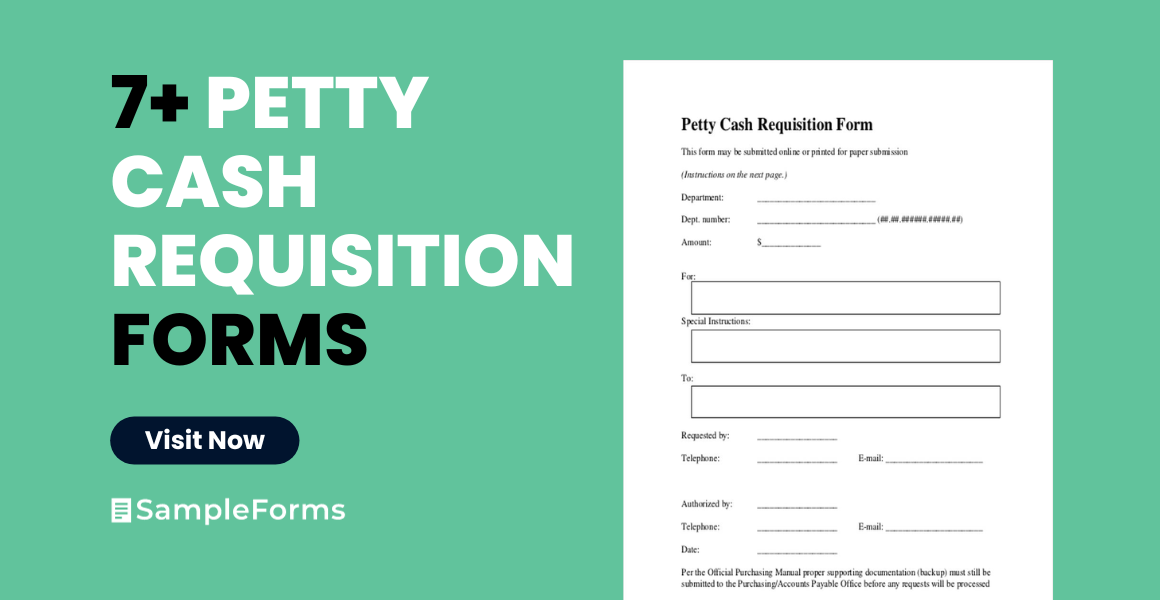 When one issues a requisition, then that would mean that the person is making a formal request on any product service that is still subject for approval. A good example would be a Purchase Requisition, wherein certain employees make a request to the purchasing department on certain items they need purchased.
Requisition forms help those who need to ensure that their requests may be seriously considered. Using these forms, one is able to specify the type of product or service needed, as well as other details such as the quantity of products. One needs only to understand which requisition to issue for the right purpose.
Petty Cash in DOC
Sample Petty Cash Requisition
Library  Requisition
Sports Club Petty Cash Requisition
What is Petty Cash Requisition?
Petty cash requisitions are issued in the event that an employee would like to use funds set aside by the company for certain small expenditures. There are petty cash requisition forms in which these employees may use in the event that they would need these funds to obtain products they need, or to use on business related matters. It also allows them to specify the amount that they would like to request, as well as the stating the purpose of the requisition.
How to Complete a Request for Reimbursement of Petty Cash Fund?
When completing a form to reimburse any petty cash spent, then here are things you should indicate:
The vendor number
The number of pages, if there are more than one
The name of the custodian and the address
A description of how the funds were utilized
Number of the receipt
The amount of reimbursement being requested
The total amount of the petty cash fund
Name of the requestor as well as the department and job title
Date of the request
Date of authorization
Name of the person who authorized
In the event that you need to know more about Requisition Forms and their purposes, then take a look at our Sample Requisition Forms here on our website.
Petty Cash Requisition in PDF
Advance Petty Cash Requisition
Petty Cash Fund Check
Petty Cash Purchase
Petty Cash Requisition Guidelines
In the event you would like to request the use of the petty cash funds, then here are some things you should follow:
Be sure that you are only requesting funds that do not go beyond the limit of what you may borrow. If company policy states that you may only use up to at least $100 worth, then try to stay below the limit.
Be sure that the purpose of requesting the use of the funds are for business related purposes only. Because if it is not, then it will be most likely that your request will be immediately rejected, especially if it has no benefit to the company.
Remember that you cannot use petty cash funds to cash personal checks. This goes against policy and can lead to serious consequences
As there are many different types of requisition forms such as Purchase Requisition Forms to request for certain products to be purchased, or Employment Requisition Form to request that a job position be opened up, all of them each serve their own purposes. Just be sure that you know which one to use for the right situation.