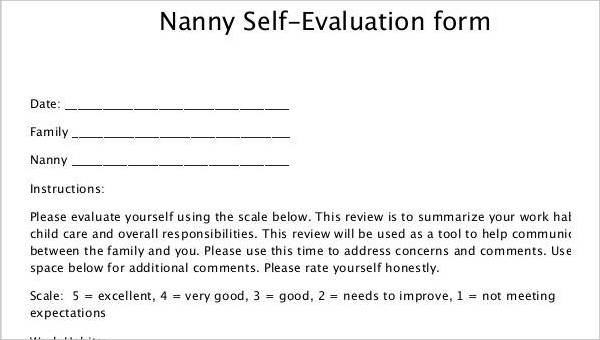 People make use of evaluation forms on a daily basis. Using any evaluation form is important to those that wish to know what they can improve on, as well as how they may achieve such. Evaluations even allow you to compare yourself to others and aim for a goal that you wish to achieve.
These are also very advantageous to businesses. The reason as to why they end up creating evaluation forms is so that these businesses are able to obtain a better understanding of the market. This allows them to evaluate how people feel about the level of quality on their products and services.
School Self-Evaluation Forms
Secondary School Self-Evaluation
Middle School Applicant
Employee Self-Evaluation Forms
Simple Employee Self-Evaluation
Student Employee Self-Evaluation
Student Self-Evaluation Forms
Oral Presentation
Self-Evaluation of Student Performance
Student Self-Evaluation for Drama
What Is a Self Evaluation?
If one needs to understand more on one's self in terms of performance, then one of the easiest ways to do so is through self evaluations. These allow anyone to know all the strengths and weaknesses that they possess, which will give them the opportunity to improve themselves.
A good example would be through the use of Employee Self Evaluation Forms wherein a certain employee has been able to gauge that they are not able to properly perform certain services, which they then try to acquire the proper training in order to solve the issue.
How to Create Self Evaluations
In the even that you wish to make any Self Evaluation Forms, then be sure to take in the following information:
Person's complete name
The person's job position, as well as the department you are from, if you are an employee.
The date of when the evaluation took place.
A proper rating system to allow people to properly rate themselves.
Aspects that pertains the quality of their performance
A comment section in which they can write about what they can do to improve.
Be sure to place in all the information when creating any Self-Evaluation Form.
Nanny Self-Evaluation Forms
Blank Nanny Self-Evaluation
Sample Nanny Self-Evaluation Form
Printable Self-Evaluation Forms
Printable Employee Self-Evaluation
Printable Student Self-Evaluation
Teacher Self-Evaluation Forms
Kindergarten Teacher
Student Teacher Self-Evaluation
Graduate Assistant
School Teacher Self-Evaluation
The Different Types of Self Evaluation Forms
It is always best to know which self evaluation form to use for the right purpose. As there are many different types of these forms, here are some examples of them as well as their uses:
Performance Evaluation Forms are the types of forms that can be utilized to evaluate one's own performance in any type of profession. Whether these forms are used by a student or an employee, these forms will allow them to know the level of performance that they are currently at.
With this, they are able to understand as to what they may do to improve the quality of their performance, as well as solve issues that could be hindering their progression into reaching the peak of their performance.
Employee Evaluation Sample Forms can be used by employees to help them look into what they have accomplished within a certain period of time. All companies have to be sure that they are only hiring employees who are qualified and have met their standards.
This is also why it is important that the employees understand their value in any company that they are working for. These forms will give them the opportunity to appraise themselves, and see if they are providing their services in a way that benefits both them and the company that they are working for.
Manager Self-Evaluation Forms are used by those who are in charge of handling the managerial department of any company or organization. Managers are people who are responsible in guaranteeing that everything goes smoothly, as well as solving issues involved in the workplace.
These managers use these forms to see whether or not they are doing a good job of doing so. It helps them see if they are achieving a specific goal desired to improve management, or if there are areas that are hindering them from doing so.
Manager Self-Evaluation Form
City Manager Self-Evaluation
Annual Self-Evaluation Forms
Annual Self-Evaluation Form – Manager
Annual Report/Self-Evaluation
The Importance of Having Self Evaluations
Any evaluation is important, but it is also very useful if people are able to understand the level of their own capabilities. Self evaluations allow you to know where you stand in terms of how you are able to handle certain responsibilities, as well as how you are trying to achieve certain goals.
For example, through the use of Course Evaluation Forms, instructors of these programs are able to gauge whether or not their students were able to learn everything that they could learn from them, or if there were parts of the course that were unsatisfactory, which they can work on improving.
Guidelines of Performing Self Evaluations
Here are some things you should follow for when you need to properly evaluate yourself:
Take a look at all of the activities that you were required to do within a period of time and judge them accordingly.
See if these activities were able to help you develop the skills you needed to help you in your profession.
See if there were alternatives on how you were able to perform certain duties.
Give yourself credit for any achievements that you have acquired for providing certain services.
These guidelines can be useful for other evaluations such as using Teacher Evaluation Forms whenever any teacher wishes to know more about their skill level.
Group Self-Evaluation Forms
Self-Evaluation for Group Presentation
Self-Evaluation for Group Work
Board Self-Evaluation Form
School Board Self-Evaluation
Project Manager Self-Evaluation Form
General Employee Self-Evaluation Form
Steps to Effective Self Evaluations
In the event that you need to know more on how well you are performing, then make sure to follow these steps:
Make sure to be realistic when providing information on every service that you were able to provide. It is also best that you share any accomplishments that you have acquired so that you may be properly rewarded for them.
Be sure that for every achievement that you have acquired, you have undeniable proof that you did so. Claiming to have achieved something when you did not could be bad for your image.
Indicate any problems that you may have. If it is problems concerning your workload, or how management is treating you, then it is best that you make properly state what these problems are in these forms. These may help in helping you acquire a solution to these issues.
So whether you're using Employee Sample Evaluation Forms to look into how you're holding up as an employee, or Student Evaluation Forms to see if you are living up to the school's academic standards, remember to follow these steps to properly evaluate yourself.