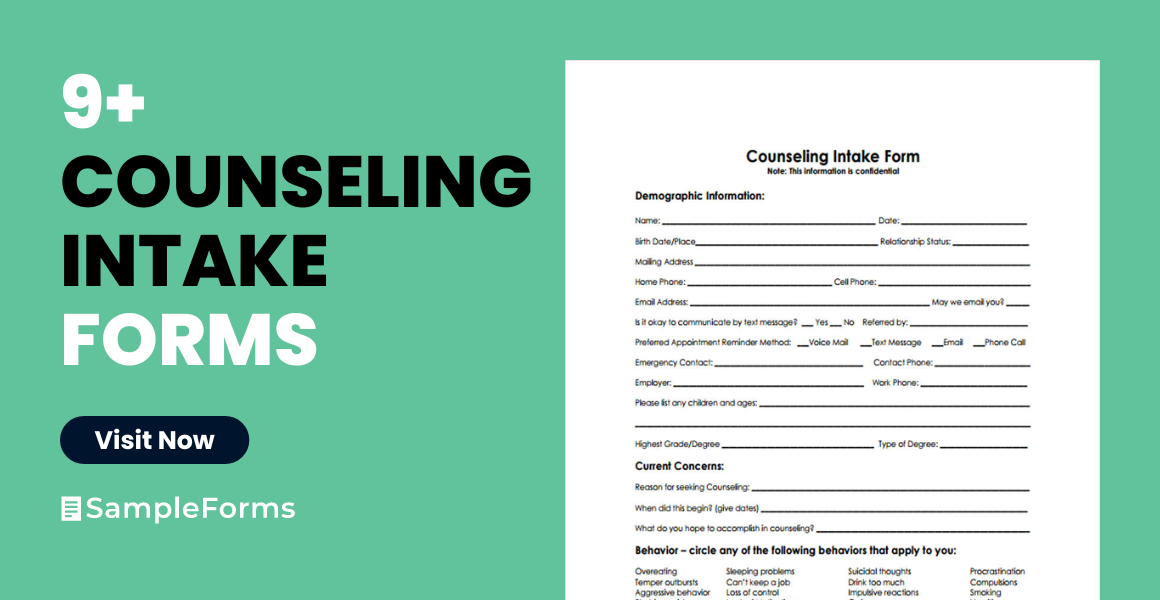 Being a counselor is one of the most overlooked and underappreciated professions. Some people don't see how important the role of a counselor is in ensuring the quality of mental health and well-being of people. So if you're a aspiring counselor, writing a Developmental Counseling Form is one of the first things you may need to tackle.
So to continue, a counselor plays an important role on how a society would turn out. It is their prime duty and responsibility to provide counsel to people who may need it. This does not differ in the workplace, as there should be an employee communications counselor among the employees so as to hear out about the problems that each employee may face.
Career Counseling Intake Form
Student Counseling Intake
Child Counseling Intake
Couples Counseling Initial Intake
Counseling Client Intake
What is an Intake Form for Counseling?
An Intake Form for Counseling is a kind of form that is to be filled out by the clients before they can come in for their counseling appointment. Simply printing out Counseling Forms in PDF will not immediately grant you an appointment.
On the intake form, you would have to fill out all the necessary information, such as your full name, date of birth, civil status, medical history and family background. This serves as a way for the counselor to get a little background on you before scheduling an appointment.
How to do a Counseling Intake?
A Counseling Intake takes place in two parts: the Intake Form, and the Intake Interview. The Counseling Intake serves as the foundation of the relationship between the counselor and the client. This usually involves gathering any relevant information about the client via the Intake Form, and a briefing session and initial contact via the Intake Interview.
In the workplace, in order for you to better assess and evaluate your employees, you need to coordinate with the Human Resources department to produce Employee Counseling Forms to be filled-up by any employees who might be in need of some counseling.
Counseling Initial Intake
Counseling Center Intake
Counseling Intake
Mental Health Counseling
Formal Counseling Intake Form
What is a Counseling Intake Session?
As there are a lot of General Counseling Form Samples that anyone can use, a Counseling Intake Session has to be conducted before the forms can be properly integrated. The counselor would have to begin the session by first going over and reviewing your intake form, in order to prepare themselves by adapting and adjusting to the problems or issues that you may be facing. The session begins with the client talking about any problems and concerns that may affect their mental well-being. The counselor would of course listen, and provide any insights that may help resolve the client's issue.
How to Conduct a Counseling Intake Interview?
These are the following things that you must take note of when conduct a Counseling Intake Interview:
The first interaction between the counselor and the client takes place here, as a form of introduction between counselor and client.
This is where the counselor briefs the client to give them a general idea of what to expect from their sessions together.
At times, a Mental Status Examination may be conducted by the counselor in order to gather any more information relevant to the client's case.
The intake interview allows both parties to form opinions about each other and make the decision of whether or not there will be any succeeding sessions based on their perceptions of the other.
So if you're going to use forms such as School Counseling Forms to understand and help students, you'll need to conduct an intake interview first in order to help them know what they're getting into.