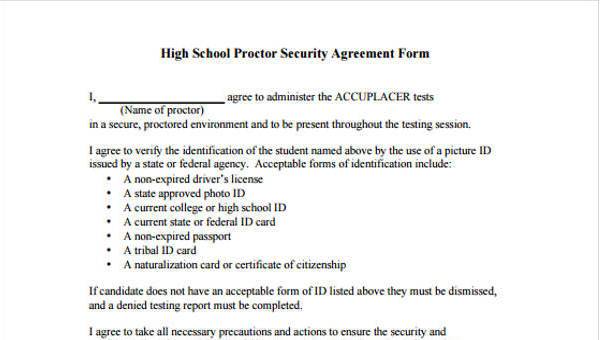 In many instances, when an individual or group of individuals enters into a certain type of arrangement that requires security for the payment or performance of an obligation, an Agreement Form is created. The importance of having a well-drafted Agreement Form cannot be understated as it sets out the framework in which any relationship is regulated. Well-drafted agreements do not only set out ground rules of any particular relationship, but these also limit the risks of any type of issue that may arise. Such documents should also contain specific information about each party involved to serve as a future reference.
Security Agreement Form Example
Open-End Mortgage Security Agreement Form
High School Security Agreement Form Sample
Loan Resolution Security Agreement Form
Patent Security Agreement Form Sample
Confidentiality/Security Agreement Form
An agreement of two or more businesses involving the storage, transfer, sale, or resale a certain type of commodity is defined in a Consignment Agreement Form. The consignee may take goods from the consignment stock for use or resale and agrees to pay the consignor a certain amount of money or in the form or a bargain. This can form part of a legal contract, which is then signed by both parties who agree on the terms and conditions set herein. Oftentimes, problems can occur because either party lacks the understanding of the terms and conditions set in the agreement. A good consignment agreement should make sure that it properly reflects both parties' intentions and clearly states the terms and conditions. Both parties should also make sure that it is finalized prior to signing.
The agreement can also define the terms in which a party is released from liability should a particular product become damaged or is not properly working. This form should also clearly specify any fees or expenses and under what circumstances these should be paid. Having a well-drafted agreement is crucial to reduce the likelihood of disputes and litigation.
Public Deposit Security Agreement Form
Simple Security Agreement Form Example
Security Interest Agreement Form
Security Interest Agreement Form
General Security Agreement Form
When a specific bit of information is to be treated with strict confidentiality, an individual or institution may require Confidentiality Agreement Forms. These are binding contracts that stipulate an individual or business institution promises to treat a piece of information as a trade secret and promises not to disclose any part of it, or in whole, without proper authorization. Generally, if you have an agreement with someone who then divulges the information later without your authorization, you can subject that person to a certain penalty. In addition, you can often sue the offender for any damages that may be incurred as a result of such breach.
These forms basically protect the proprietary information of a business by restricting an employee or client from sharing such information. In many cases, these types of agreements can extend beyond the time an individual is connected with a certain organization, perhaps even a couple of years after the individual has left. These forms can also be combined with a non-compete agreement that prevents any individual or institution from using relevant information for financial gain.