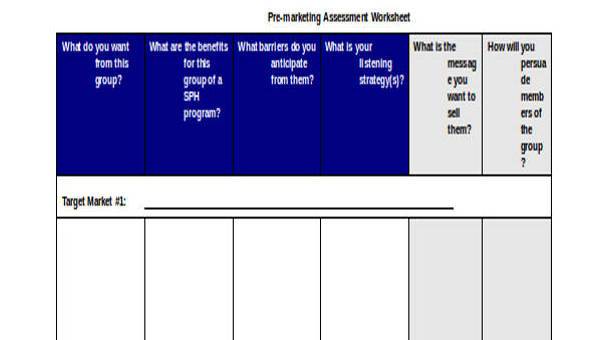 Marketing is the act of promoting and selling products and / or services. Before releasing a new product, a company may conduct market research first to see how the new product will be perceived by the consumers and if there are any necessary adjustments they have to make. Then, once the product is out in the market, they would have to put up advertisements to increase the people's awareness of the product so that they would actually buy it.
A good marketing strategy can ensure that the product will sell well in the market; therefore, it is important to assess how well the marketing went. For this, Marketing Assessment Forms are utilized.
Pre-Marketing Assessment Form
Client Marketing Pre-Assessment Form
New Product Assessment Form
Free Marketing Assessment Form
Four Ps of Marketing
Marketing is more than just selling the products and making money. It is the process of understanding the customer's needs and creating a demand for your product based on those needs. There are four Ps to consider in marketing. You may also see our other Marketing Assessment Forms for more samples.
This includes the identification, selection, and development of the products. You identify which product you are going to advertise, then you develop it based on the needs and specifications of your customers.
You then determine the price of the product, depending on the features and capability of the product. You can also conduct a market research study to find out how much a consumer would be willing to pay for a certain feature in a product or the product itself.
This constitutes the planning of the distribution of the product for it to reach the consumer's place. This will vary depending on the target audience of your product.
Promoting a product is necessary for the consumers to be aware of the product. In marketing, the strategy with how you promote your product is very crucial. It is the bread and butter of marketing. You can promote your product through various platforms. You may only use one method or use various methods, depending on your company's needs and budget.
Marketing Demand Assessment Form
Sample Business Management Assessment Form
Initial Emergency Marketing Assessment Form
Marketing Interview Assessment Form
Marketing Assessment Form in Doc
Benefits of Marketing Assessment
A company's resources are very limited. Therefore, it is important to maximize these resources expended for marketing to ensure maximum profit to sustain the company.
It also ensures that the marketing strategy of your company is effective, thereby increasing brand awareness and recognition. It can also help in determining certain marketing needs that need to be addressed in a timely manner.
It can help you identify which platforms are not ideal for reaching the target audience of your product so that you can find alternate platforms to use for the advertisement of your product. This prevents further losses in investment, which could be dangerous for the financial stability of your company.
Given the benefits of assessing your company's marketing strategies, you would also see the importance of using Marketing Assessment Forms. You do not have to come up with your own forms from scratch. You may download our samples available in this article and use them as basis for your own forms. These forms come in PDF or Word formats, so you can easily print and edit them to fit the needs of your company. Save time and energy by downloading our pre-made Marketing Assessment Forms. You may also see our Risk Assessment Forms for determining hazards and risks in the workplace.