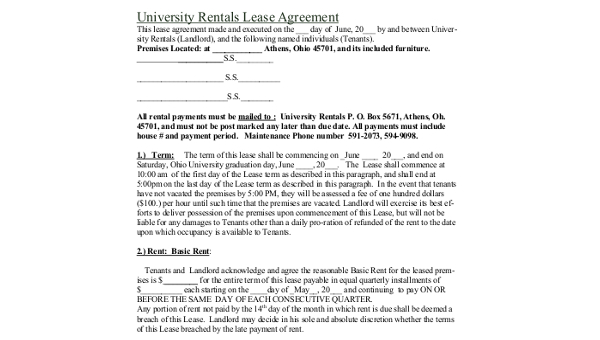 The land-lording business is booming and is considered a great venture for anyone with a house or a room to spare. For one, putting your property up for rent is a form of passive income that requires little supervision. However, renting out your property also entails a big risk, especially when terms and conditions are not properly set.
A written Rental Lease Agreement is not required by law. However, constructing one lessens the risk of causing damage to your property, and provides a sense of formality and security among your tenants. Our Agreement Forms come in different templates that are downloadable and can be easily personalized.
Basic Rental Agreement or Residential Lease Form
Free Room Rental Lease Agreement Form
Equipment Rental Lease Agreement Form in Doc
Rental Property Lease Agreement Format
Rental Lease Agreement in Word Format
Rental Agreements usually include the complete address of the property being leased, the name of the owner and the renter, the landlord's service address, the amount of rent due, the mode of payment, the amount of deposit paid in advance, the length of the tenancy, terms and conditions, house rules, the rights and obligations of both the landlord and the tenant, and a forfeiture clause.
Our Printable Lease Agreement Forms and Rental Lease Forms can help you get started with the basics of an agreement form.
Legally Binding
A signed lease agreement acts as a legal and binding contract between the landlord and the tenant; thus, both parties parties are obligated to comply with the conditions outlined in it. Any violation, whether intentional or not, that violates any of the aforementioned terms  and conditions can be grounds for legal proceedings.
Maintenance and Repairs
In a lease agreement, the maintenance and repairs clause indicates whether it is the tenant or the landlord who is responsible for the work and cost of the property's maintenance. This also includes the cost of the repair for any damage done intentionally or accidentally.
Landlords usually require a payment at the beginning of the lease, other than the advanced deposit, that covers up any repairs and maintenance cost or unpaid dues. This is called a security deposit.
Tenant Privacy
Privacy terms of the renter should be stated in a lease agreement. This details that the landlord may only enter the leased space after a given notice or after seeking authorization from the renter.
Blank Rental Lease Agreement Form
Sample Residential Rental Lease Agreement Form
Rental Lease Agreement Form in PDF
House Rental/Lease Agreement Form Example
Building Rental Lease Agreement Form
School Rental Lease Agreement Form