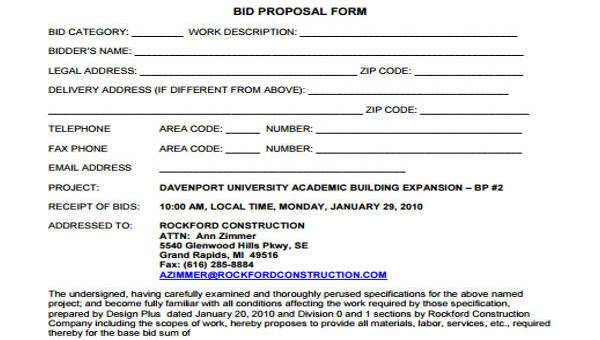 A Proposal Form is a document presented by a proposing party to a prospective client if it is a Business Proposal, the appropriate department in the student body if it is a student proposal form, the insurer or insurance company if it is an insurance proposal form. No matter who the target audience is for your Proposal Form, the objectives of the Proposal Form do not change. They are drawn up by the proposing party to provide an outline of the subject of the proposal and provide details that are necessary for the target audience to make decisions on whether or not to approve the proposal. It is basically used to convince the target audience that the proposal is practical and feasible.
Project Proposal Form Templates
New Project Proposal Form
Full Project Proposal Form
Insurance Proposal Form Templates
Fire Insurance Proposal Form
Office Insurance Proposal Form
Home Insurance Proposal Form
Free Proposal Form Templates
Free Bid Proposal Form
Free Contractor's Proposal Form Template
Bid Proposal Form Templates
Bidder/Proposer's Agreement Form
Cleaning Service Bid Proposal Form
Blank Bid Proposal Form
Project Proposal Forms
Project Proposal Forms are used to provide details of a certain project for the perusal of a prospective client. Writing a good project proposal ensures the approval of the project that you are proposing. Here are some tips:
Writing a Project Proposal Form
The information about your company should be indicated. You should include the name of your company, your logo, address, and contact information.
Aside from that, the name and contact information of your prospective client should be included as well.
To ensure proper storage of the document once reviewed, may it be approved or declined, make sure to state the date when the project proposal form has been made and sent.
Provide the timeline of the project and the expected date of completion. This way, the clients or customers will know whether the specified deadline of the company is aligned with their target date of project completion.
Include the project details, such as the name and location of the project.
The cost of the project is essential to be specified. Ensure that there is an itemized listing of the project cost which should include not only the materials that will be used but also the services that will be acquired from different workforce providers. Pricing is an important part of a proposal as clients can match whether they can use the proposal or not based on the budget that they have initially allocated. Moreover, since it is only a proposal, there is a high chance for pricing to be adjusted depending on the final agreement of the business and the client.
The terms of the project should also be clearly specified. Being able to set the boundaries, limitations and scope of the project will help both the client and the business to be aware of what their obligations are. More so, additional services can be talked and agreed upon when necessary. The portions of the proposal that provides information about the specified items should be grouped accordingly for the proper organization of details. Having the terms of the project within the proposal can ensure all parties that the project implementation is guided by precise steps and instructions.
Ensure that you will provide the regulations that must be followed within the entirety of the contract if the client decides to get your services. It is important for you to set proper rules so the client will know if they can be more than willing to follow those rules in the entire duration of the project execution. This can help both the business and the clients protect their rights as entities.
Be particular with the equipment that are needed for the works in the project. This is important as the client needs to be aware of the entire amount that they need to prepare not only for raw materials but also for the equipment, may they be bought or rented, that are essential to start the project processes. For this, you may also need Equipment Contract Forms.
Contractor Risk Insurance Proposal Forms
This is a type of Contractor Proposal Form for the insurance coverage of damages to property and third party injuries and damages during construction projects. A contractor risk insurance proposal includes the participation of the parties involved within a project or a process which includes:
The clients
The contractor
Third party companies
There are typically two types of risk that this type of insurance covers:
Damage to the property – Such is the case in damages during renovation projects or when the building or structure is not properly constructed.
Third party claims and damages – Third party companies, such as subcontractors, may also file damages and claims, like when workers get injured during the construction.
A Contractor Risk Insurance integrates the coverage for these two situations into one policy, and would also cover any exclusions that would otherwise not be covered if these are taken into two separate policies. This kind of insurance coverage protects the interests of both the employer or the client, and the contractor, because one of the client's biggest concerns would be that the project will not be carried out properly and that their property will be damaged, and one of the biggest concerns of the contractor would be that his equipment might be damaged and that the workers may end up injured.
Contractor Proposal Form Templates
General Contractor Proposal Form
Printable Contractor's Proposal Form
Finance Proposal Form Templates
Motor Finance Proposal Form
Business Finance Proposal Form
Vehicle Finance Proposal Form
Blank Finance Proposal Form
Event Proposal Form Templates
Event/Sponsorship Proposal Form
Church Sponsored Event/Activity Proposal Form
School Event Proposal Form
Construction Proposal Form Templates
Free Construction Proposal Form
Blank Construction Proposal Form
Construction Professional Liability Insurance Proposal Form
Vehicle Insurance Proposal Forms
This is a type of Insurance Proposal that is used to apply for insurance coverage for vehicles in the event of a vehicular accident. This type of insurance covers damages to the vehicle and any other physical injuries and damages resulting from the accident. It is important to note that the driver of the vehicle is not necessarily also the person purchasing the insurance, so it is important to capture both information separately. An example is if a father pays for the insurance of his son's car, who will be driving the car.
Importance of Vehicle Insurance Proposal Forms
This provides the insurer with information needed to make decisions on whether or not to approve the proposing party's application. It is a given fact that not everyone who applies for insurance coverage will be approved, therefore it is important to weed out drivers who are prone to road accidents.
It is also important in verifying your identity. This is important to prevent fraud and any other unlawful activities.
If the insurer does decide to approve the proposer's application, the information on the Vehicle Insurance Proposal Form will help the insurer determine what type of coverage would be best for the needs of the proposer. This will depend also on the usage, purpose, and condition of the vehicle.
This will help the insurer come with a draft for the insurance policy contract and to come up with the terms and conditions. It is also important for the settlement of payments.
This is also a good opportunity to provide disclosure statements that have to be signed by the proposer. Like any other disclosure statements, information on the Vehicle Insurance Proposal Form can only be used for its intended purposes and nothing else.
Information on the Vehicle Insurance Proposal Form can also be used by insurance companies for market research and for developing new insurance policies to further cater to the specific needs of their clients. This way, they can provide better services.
Business Proposal Forms
Business Proposal Forms are used by businesses to propose new projects to better their company or projects to help their clients and customers. The goals and objectives of the project have to be properly outlined for the perusal of the target audience, and to prove that the project is feasible and practical. Any company's resources are limited, so the allocation of such resources has to be well thought off to maximize the company's potential income and investments. Aside from this, you may also see our other Business Forms.
Tips in Writing a Business Proposal
Understand the client's needs and requirements for their project. When you understand these things deeply, you can then figure out what your role would be in helping the client achieve their goals and objectives. When you perfectly understand your role, you can then plan strategies and action plans that you can highlight in your Business Proposal. By simply understanding the client's needs and requirements, you can come up with action plans that are relevant and feasible.
Evaluate your solutions. This goes hand in hand with the first item. When you understand the priorities of your client, those will also be your priorities when formulating solutions for them. That being said, it is important to have alternative solutions so that your clients will know that you are prepared.
Electrical Proposal Form Templates
Electrical Construction Project Contract
Electrical Bid Proposal Form
Free Electrical Proposal Form Sample
Proposal Request Form Templates
Construction Proposal Request Form
Purchase Proposal Request Form
Project Proposal Request Form
Job Proposal Forms
Free Job Application Form
Generic Job Application Form
Research Proposal Forms
Standard Research Proposal Form
Preliminary Research Proposal Form
Research Funding Proposal Form
Workshop Proposal Forms
Business Summit Workshop Proposal Form
Free Workshop Proposal Form
Proposal Submission and Acceptance Form
Contractor Proposal Form
Outshine your competitors. There is a lot of competition in this free market of a world. A Business Proposal is a sales document that will help you convince your prospective client to hire you, instead of your competitor. If you are running against a big company, then show your strengths and what the client can get from you that they cannot get elsewhere, and target any reservations the client may have in hiring you.
Get the formatting and tone right. The tone of your proposal should be friendly and accommodating, but professional at the same time. It is important that your Business Proposal gets this impression across to your clients. The key is finding the perfect balance between the two.
Once you are done with your draft, you may want to review it and have someone else review it for you. You only get to provide your prospective client with one Business Proposal, and you cannot afford to make any mistakes. In an ideal world, the Business Proposal has to be pristine and perfect to impress your prospective client. But also remember that they may want to share their input on the project and that would have to be taken into consideration once they hire your company for the job. You may also see our Business Assessment Forms and Business Evaluation Forms to help you in developing your business.
Research Proposal for Students
Not only are Proposal Forms widely used for business purposes; they are also used for academic purposes, such as grant proposals and research proposals. A Research Proposal Form allows your professors to provide feedback on your methods and suggest revisions before you even start working on your research paper. It also helps you to do an extensive and proper review of the related literature to make sure that your research topic has not already been answered before. It helps you outline logical steps needed to complete your research to achieve a more seamless research process. It can also help you compare different methods of data collection and analysis to find the one that would best fit your research study.
Components of a Student Research Proposal
Title of the Research Project – This has to be direct and concise. Do away with unnecessary and redundant words.
Statement of the Problem – This will outline the benefits of the research study and what you hope to accomplish by the end of the research.
Review of Literature – When creating a research paper, you need to have references that can provide you with additional information that can be of help to back up the claims of your study. These documents are called related literature. Commonly, related literature are reviewed as they are studies or any published works that contain details relevant to what a current study or research is all about.
Methodology – This is where you provide information on the subjects of your research, how you plan on doing the experiments, and how you plan to collect data. This is basically the execution of your whole research project.
Data Analysis – This section should explain how the data collected will be analyzed. The analysis of data is important because this is where you will be drawing the conclusion of the research study. This should be closely related to the objectives of your research and the hypotheses formulated beforehand.
References or Bibliography – This includes any material or documentation cited in your research proposal.