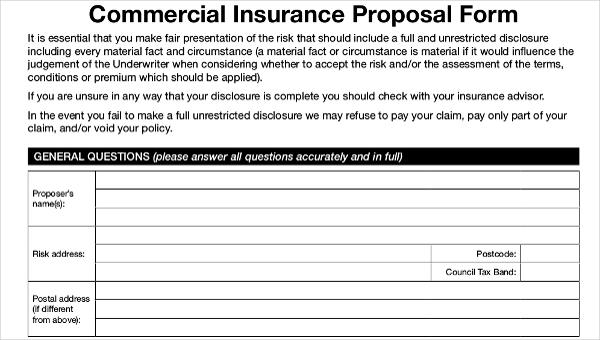 An Insurance Proposal Form is anyone's key to getting their whole life covered. Meaning, by writing an Insurance Proposal, you may try to seek help from an insurer to secure that in cases of damages, loss, and whatever untoward incident may happen, you are financially ready.
On one hand, a Life Insurance Proposal Form, following the guidelines/policies of the insurer, is a form which you will have to complete as the prospect insured person, in order to help the insurer identify your capability to pay for a premium amount in return of a guarantee of coverage and benefits.
Life Insurance Proposal Forms
Group Life Insurance Proposal Form
Adult Life Proposal
Standard Life Insurance Proposal
Commercial Insurance Proposal Forms
Commercial Insurance Proposal
Commercial Combined Proposal
What is a Proposal Form?
A Proposal Form is what a proposer completes to seek partnership or return benefits from another organization. For example, in businesses, Business Proposal Forms are used to negotiate with prospect clients or relative businesses regarding a service or product which your business can offer.
This type of proposal form should include the details of your business, the services or products offered, and the benefits that your clients may get if they agree to pair up with your company or if they avail any of your services or products. Usually these forms are prepared by the Sales or Marketing Associates of your organization.
What is Life Assurance?
A Life Assurance is a type of insurance that guarantees an insured person's beneficiary a specific amount of money in the event that the insured person dies and has been able the needed payments for a certain amount of time.
A lot of people ensure that they get a Life Assurance, as the monetary value that their designated beneficiary may receive could help them financially speaking, after their passing. Another important insurance that a person should get is Health Insurance, and in order to be able to get one, he needs to pass a Health Proposal Form.
Health Insurance Proposal Forms
Group Medical Insurance Proposal
New Group Health Insurance Proposal
Complete Health Insurance Proposal
Vehicle Insurance Proposal Forms
Commercial Vehicle Insurance
Agricultural Vehicle Insurance Proposal
Motorcycle Insurance Proposal
Home Insurance Proposal Forms
Home Owners Insurance Proposal
Home Insurance Choices Proposal
Free Home Insurance Form
Home Comfort Proposal
What is a Life Insurance Policy?
Similar to Work Proposal Forms where a service-provider or an employee proposes to a client or organization about what work can he do for them and of how much can be negotiated while following the guidelines set by these clients or organization, a Life Insurance Policy means that an insured person will enjoy the benefits of several coverages with matters of life and death, provided that he pays a premium as agreed between the insurer and the insured.
This also serves as a proof of contract or agreement which states that both parties have to conform to the terms given. A Life Insurance Policy also gives the limit of coverage an insurer can allow the insured. Whatever coverage is specified, it is always clear that the main objective of this life insurance policy is to protect – meaning, it protects an insured financially in case of the loss of life.
What Details Should Be Found in an Insurance Proposal Form?
Writing an Insurance Proposal Form is like applying for a good position in the Human Resource Department. As you can see in any HR Resume Format, you are as if selling yourself to get the best position possible by providing a good brand.
An insurance proposal form on one hand, should be very detailed that the insurer will figure from the very first time he scans your proposal, what you really need and what you are capable of.
Normally, your insurance proposal form should include the following details:
Your personal details, including your name, address, occupation or the nature of your work
Sometimes, insurers will also ask about your parents' details
You need to give them a range of your monthly or annual income
Your Health Insurance information must also be found in a Life Insurance Proposal Form
You should specify your desired benefits
The names of your beneficiaries
Event Insurance Proposal Forms
Events Public Liability Insurance Proposal
Event Cancellation Insurance Proposal
Future Event Insurance Proposal
Special Events Insurance
Travel Insurance Proposal Forms
Travel Elite Proposal Form
International Travel Insurance Proposal
Travel Protector Policy Form
Easy Travel Insurance Proposal
Corporate Travel Insurance Proposal
Fire Insurance Proposal Form
Fire Business Interruption Insurance Proposal
Business Insurance Proposal Forms
Business Pack Proposal
Business Interruption Insurance Proposal
Direct Sellers Insurance Proposal
What is a Proposed Insured in Life Insurance?
In a life insurance, not all applicants are called the Proposed Insured. Meaning, a proposer may apply for his own insurance or another person's insurance. Either way, the name to which the insurance is being given to is whom we call the Proposed Insured.
The same way Health Proposal Form works, the proposer must include basic details of the Proposed Insured that are essential in the decision-making of the specific coverages an insured may enjoy, including the statements of an attending physician regarding the health status of the proposed insured.
Functions of a Proposal Form
The importance of proposal forms lies on the different functions it caters to.
Advertising functions. It means that a client may be looking for services which you can offer, and out of many possible service-providers, the client will choose the one with the best work proposal. For example, when a parent is looking for tutorial services, a teacher can make a work proposal and pass along her resume following an exemplary Teacher Resume Template.
Solicitation for partnership. May it be between organizations and clients or organization to another organization, business proposals seek for partnership.
Basis for assessment. Some proposals, like insurance proposals, serve as a basis for assessment in identifying the coverage needs of a client.
Office Insurance Proposal Form
Office Comprehensive Proposal
Liability Insurance Proposal Forms
Combined Liability Insurance Proposal
Management Liability Insurance Proposal
Public Liability Insurance Proposal Form
Products Liability Insurance Form
Employer's Liability Insurance Proposal
Professional Insurance Proposal Forms
Professional Indemnity Insurance Proposal
Insurance Brokers Professional Liability
Trade Insurance Proposal Forms
Trade Credit Insurance Proposal Form
Motor Trade Combined Proposal Form
Motor Trade Insurance Proposal
Taxi Insurance Proposal Forms
Taxi Proposal Form
Private Hire Proposal Form
Fillable Commercial Taxi Insurance Proposal Form
Domestic Insurance Proposal Forms
Domestic Package Proposal Form
Domestic Maid Proposal Form
Domestic Insurance Package Proposal Form
Equipment Insurance Proposal Forms
Electronic Equipment Insurance Proposal
Portable Electronic Equipment Insurance
Musical Equipment Insurance Proposal
Home Insurance Proposal Form
Basic Insurance Proposal Form
Types of Proposal Forms
Basically there are three types of proposals namely Formally solicited, Informally solicited and unsolicited proposals.
Formally Solicited Proposals – these are proposals which serve as a requirement for specific purposes. For example, your Insurance Proposal Forms.
Informally Solicited Proposals – Under these types of proposals are the proposals which come as a result of a conversation. For example, after a seller and a buyer has conversed, the seller will send a proposal to the buyer based on what this buyer may need or what this buyer is looking for.
This example may also be considered as a sole-source proposal since there the buyer does not seek for more proposals from any other seller. Some business proposals forms can be classified as an informally solicited proposal.
Unsolicited Proposal – these type of proposals are a non-obvious proposal. These basically comes in a form of brochures where marketers don't propose any business with the buyer. Yet, the marketer is looking at a possibility of a sale.
For specific proposal forms ranging from health proposals to life insurance proposals, to vehicular insurance proposals or travel insurance proposals, you may check on Sample Free Proposal Forms on the internet.