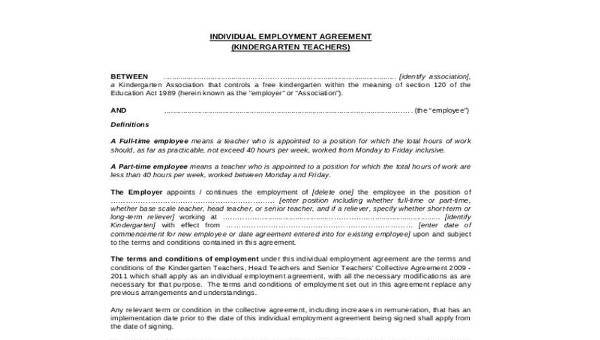 When an employer finds the perfect candidate to fill in a vacant job position, an Employment Agreement is created to seal the deal. An Employment Agreement or an Employment Contract is a written document that creates a legal and binding arrangement between an employer and an employee.
The contents of an Employment Contract may differ from country to country, depending on the set of labor laws. However, a written Employment Contract is an integral part of the hiring process of an employee because it formalizes the status of employment of an employee and sets proper expectations.
Executive Employment Agreement
Employment Agreement in PDF
Sample Basic Employment Agreement
Standard Employment Agreement
Permanent Employment Agreement
Why Is an Employee Contract Important?
An Employment Contract is important because it provides a sens of security for employees. Having a written contract gives an impression that they are working for a professional company that has clearly defined their terms and conditions as well as their expectations from employees.
An Employee Contract also provides a sense of security among employers because it allows them to establish conditions and obligations among employee in order for them to protect their business.
The Details of an Employment Contract
There is no set template for creating an Employment Contract. The contents of an Employment Contract will vary according to the company and the laws of a state pertaining to labor. Below are the basic details that are usually incorporated in an Employment Contract:
Names of the Parties Involved
An Employment Conract will require the name of the company or the organization, as well as the employee's full name.
Date of Hire
The date of hire indicates the date that the employee's pay also commences.
Work Position
The employee's job title along with an enumeration of his core responsibilities at work should be stated in the Employment Contract.
Sample Written Employment Agreement
Fixed Term Employment Agreement
Part-Time Employment Agreement Sample
Individual Employment Agreement Example
Associate Attorney Employment Agreement
Schedule and Work Hours
It is important to state the number of hours expected of an employee to work, the time and days expected of them to report in and out of work, overtime compensations, and the corresponding rules for tardiness and absences.
Compensation
Employment Contracts have to specify in detail the monthly salary an employee earns, deductions, incentives, schedule of cut-offs, and dates as to when pay will be given.
Probationary Period
Some companies put employees on probationary period. When this happens, be sure to provide details about regularization and if evaluations are to be conducted in order for an employee to become regularized.
Attendance and Leaves
Employees missing out on work can cause an encumbrance to employers. Rules on attendance, non-attendance, and the number of leaves available in a month or a year can help set proper expectations regarding attendance concerns.
Non-Disclosure and Restraint of Trade Clauses
Non-Disclosure and a Restraint of Trade Clause allows employers to protect their company and their business from possible espionage or the disclosure of sensitive and confidential information to people outside of the company.
Save time and money and steer clear from the hassle and the inconvenience of having to make your own Employment Contract by downloading our Employment Application Forms and Agreement Forms.