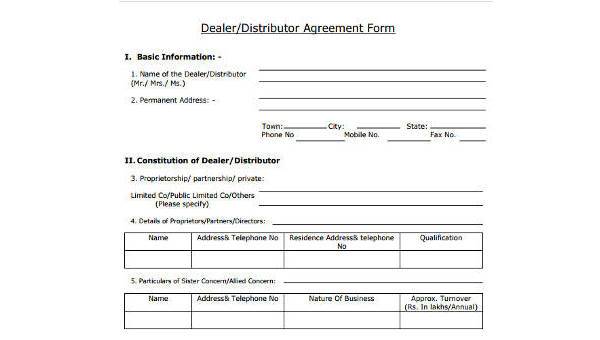 One concrete way of starting a business relationship with your business partner is by first furnishing an Agreement Form. By doing so, both parties have the chance to agree on certain terms and conditions for the developing business relationship. It is always important for both parties to know if they are still on the same page and that both understand completely the terms and conditions of the agreement in the same way.
An example of such an agreement is the Distribution Agreement Form. It is an agreement made legally between a Supplier of products and a Distributor, and designates the accountability to both parties. Below are a few examples of Distribution Agreement Forms that can be downloaded for free.
Exclusive Distribution Agreement Form
Distribution Agreement Short Form
Trust Distribution Agreement Form
Estate Distribution Agreement Form
In some instances, such as when a newly wed couple wishes to start their family right by getting their very own house may need to know how to proceed with this purchase the right way. This is why they need to realize that there are various contracts which may help legalize their ownership. These contracts will serve as a formal guarantee between a buyer and a seller to push through with the exchange using a set of terms and agreements that both parties have agreed upon.
During the sale, the seller then gives specifications of the property such as its land area and all other related information which helps with computing the total price that the buyer has to pay. As soon as both parties agree upon terms which benefit both parties, and the buyer finally decides to purchase the property, a legal contract called a Sales Agreement Form is then created by both parties. Aside from noting this form as a commitment of sale, this form shall also serve as evidence of the transfer of ownership rights of the purchased property to the buyer.
Non Exclusive Distribution Agreement Form
Distribution Agreement Form in Word Format
Distribution Agreement Form Example
Distribution Agreement Form in PDF
Software Distribution Agreement in DOC
When making the decision to purchase a piece of real estate, such as a house, a vacant lot, or an apartment, an individual would need to draft a Land Agreement Form. This form is a written legal agreement used when a person wants to purchase real estate.
Some people may opt for casual and unofficial agreements because of personal reasons, but these might lead to misinterpretations and misunderstandings in the near future. Thus, these Distribution Agreement Forms may be used to create and negotiate certain terms and conditions that will guarantee that both parties will meet a favorable compromise of a legal deal, benefiting both of them.
We are happy to inform you that our website is provides you with Distribution Agreement Form samples that you can use anytime. With these samples provided to you, you can download them either in Doc or in PDF formats. Both are very easy and efficient to use.