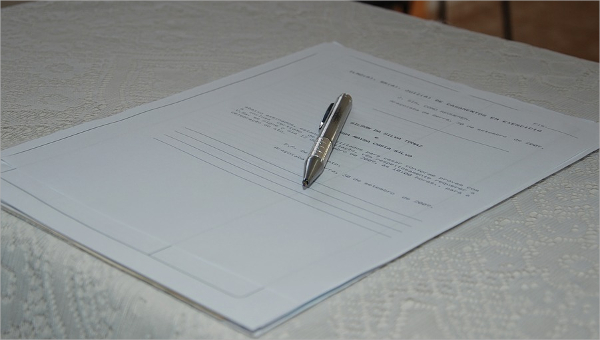 When two people or two groups, companies, or organizations decide to do business together or enter into a transaction, an Agreement Form is a critical part of the process to make sure that terms and conditions are properly laid out and that the interests of both parties are kept.
An Agreement Form is a written document. Otherwise known as a contract, an Agreement Form is a legal and binding document that serves as a physical or tangible piece of evidence outlining the terms and obligations of both parties in order to maintain a peaceful business relationship.
Residential Agreement Forms
Residential Tenancy Agreement Form
Residential Lease Agreement Form
Residential Purchase Agreement Form
Partnership Agreement Form
General Partnership Agreement Forms
Free Partnership Agreement Form
Sample Partnership Agreement Form
Payment Agreement Forms
Sample Payment Agreement Form
Rent Payment Agreement Form
Patient Payment Agreement Form
Childcare Payment Agreement Form
Sample Sublet Agreement Form
Sublet Agreement Form Example
Basic Sublet Agreement Form
Free Sublet Agreement Form
Non-Disclosure Agreement Form
Mutual Non-Disclosure Agreement Form
Non-Disclosure Agreement Form in PDF
Free Non-Disclosure Agreement Form
Why a Written Agreement Is Crucial
While doing business or even applying for a job, a written agreement or a contract is typically used and practically no negotiation is ever formalized without one. Here's why:
A Written Agreement Ensures That Obligations Are Met
Having a written agreement allows individuals and organizations to clearly outline the obligations of each party – that is, what one party must do in order for the other party to fulfill their end of the bargain. For instance, in a business transaction between a client and a supplier, a written agreement my state that a client has to make a down payment for services to commence and that the final payment shall only be given as soon as the service has been completed. Doing this provides security and ensures that both parties are in a win-win situation.
Provides Limitations to Obligations and Warranties
An Agreement Form allows the enumeration of the specific duties that a company will provide, especially in contractual or service agreements. These types of agreements are usually provided in order to make sure that a follow-up maintenance check is being done on a merchandise or a service or that technical support, customer service care, or replacement of parts under warranty is enforced. With written agreements, service providers or retailers are being compensated for the work that they complete and that warranties are provided for a time period to ensure that retailers or suppliers are not on the losing end as well.
Non-Compete Protection
A Contract or an Agreement Form usually includes a Non-Compete Clause. A non-compete agreement prohibits certain individuals or businesses from offering a similar type of service or product in the economic marketplace. A non-compete agreement makes sure that your suppliers, vendors, or contractors do not open up a business similar to yours or that your employees work for a competing company for a specific number of years, which is typically about a year or two.
Confidentiality Clauses
Another clause that can be incorporated into a written agreement is the confidentiality clause or the non-disclosure clause. This ensures that any individual or third party – be it an employee, a supplier, a contractor, or a client – does not share or disclose pertinent confidential or sensitive information about you or your company to outsiders.
Gives Out Expert Insight
Legitimate counsel should be looked for before entering into any coupling contract. Independent ventures might be helpless for bigger organizations and may be open to the exploitation of the business. Contracts regularly incorporate troublesome lawful terms that a lot of entrepreneurs neglect to get. Lawyers can always provide much clearer input on the advantages of business contracts and whether independent ventures should consent to particular legally binding terms.
Volunteer Agreement Form
School Volunteer Agreement Form
Volunteer Service Agreement Form
Volunteer Confidentiality Agreement Form
Child Support Agreement Form
Child Support Agreement Form Example
Printable Child Support Agreement Form
Parent Responsibility Child Support Agreement Form
Child Support Payment Agreement Form
Sublease Agreement Forms
Free Sublease Agreement Form
Commercial Sublease Agreement Form
Basic Sublease Agreement Form
Sublease Commission Agreement Form
Rental Agreement Forms in PDF
Room Rental Agreement Form in PDF
Monthly Rental Agreement Form in PDF
Car Rental Agreement Form in PDF
How to Make a Foolproof Written Agreement
Contracts are not only integral in the business world; they can also make or break your company. It is essential that you make sure that your written contract or agreement is carefully and properly made to make sure that it is foolproof and to make sure that it is enforceable. You can also use our sample forms and templates to help you save on time and to make sure that you are able to give out solid written agreements for whatever purpose it may serve. Below are some tips on how to make your written agreement as solid as can be:
1. Make It Tangible
Gone are the days when gentlemen could take another man's word with the mere shake of a hand. In this day and age, it is always best to be cautious and to always be on the lookout for people who might pounce at you on unexpected moments. A written agreement is one's best form of defense because it clearly lays out each of the party's rights and obligations and also serves as a point of reference when one party does not understand or is confused about the set terms. A written form of agreement is your physical and tangible piece of evidence that will get you out of hot water when you're in one.
2.Veer Away from the "HeretoFores"
Despite what most lawyers might think, a written contract should not sound so complicated with all the jargon terms used. A written agreement should serve its main purpose which is to inform and to provide clear details about the negotiations between both parties. Written agreements should be clear, concise, and simple. The most important thing that you need to keep in mind when creating a written agreement is to make sure that it is well-organized by providing heading and subheadings. Take note that a contract has to be signed willfully and should be clearly and properly understood by all parties involved.
3. Do Not Deal with Third Parties
Contracts should be discussed and formulated by the people who are directly involved in the negotiations. Make sure that you directly conduct contract negotiations with the people who have the right authority to bind the business and have a vested interest in ensuring that the business is able to give out its end of the bargain.
4. Use the Correct Names and Titles
Although it sounds easy-peasy, using the correct name and title on a written agreement is actually one the most common mistakes that people do when they whip up a contract. Be sure to use the correct name and the correct title when you make a written agreement. If the contract is for a company or an LLC, use that in your contract and not the name of the person who is assigned to sign the contract.
5. Incorporate All Substantial Details
Your agreement should contain all important and essential details – even the smallest and most minute ones. Laying down all terms and obligations that have been discussed is the main point of having a contract in the first place; therefore, you must make sure not to leave anything out.
6. Provide Payment Terms
For business contracts, financial details are very critical. The names of the payee, the schedule of payments, the method of payment, and the conditions or requirements for making payments should be stated.
7. Supply Options for Terminating a Contract
Certain circumstances have to be set to allow either party to end or terminate the contract. Certain terms such as failing to provide the exact type of service on the time and date that was being set can be incorporated in the contract without legally obligating the other party or being legally sued for breach of contract.
8. Have Written Terms for Reconciliation
Misunderstandings or disputes may arise somewhere along your business transactions; it is best to provide a written clause for mediation to help you and your partner handle things amicably instead of spending a huge amount of money in going to court.
Agreement Forms and contracts vary in types and forms depending on their use. Each contract is tailored according to the conditions and negotiations made by each party, each business, or each company. Below are some of the common types of Agreement Forms that are used in business:
Tenancy Agreement Forms in PDF
Free Residential Tenancy Agreement Form
Basic Tenancy Agreement Form
General Tenancy Agreement Form
Loan Agreement Forms in PDF
Personal Loan Agreement Form in PDF
Individual Loan Agreement Form
Sample Loan Agreement Form in PDF
Separation Agreement Forms
Free Separation Agreement Form
Sample Separation Agreement Form
Healing Separation Agreement Form
Purchase Agreement Forms
Land Purchase Agreement Form
Basic Purchase Agreement Form
Lease Purchase Agreement Form
Roommate Agreement Forms
Apartment/Roommate Agreement Form
Free Roommate Agreement Form
College Roommate Agreement Form
Personal Loan Agreement Forms
Loan Agreements are very important contracts because they establish terms and conditions between a lender and a borrower. The type of Loan Agreement can vary depending on the type of loan being made and the negotiations that transpired between the company or individual lending the money and the individual who is making the loan.
Covenants, terms of interest, length of time for repayment, and the collateral involved are what typically constitute a Loan Agreement. The Agreement Forms we provide such as Personal Agreement Forms, Loan Agreement Forms, and Personal Loan Agreements can help you construct the perfect Agreement Form that you need for a specific use minus the hassle. Our forms can be easily accessed and are readily available for printing or downloading.
Lending money is a huge financial commitment and should not be taken lightly. Having a written Loan Agreement serves as tangible proof that shows that the money given was borrowed and was not a gift. Loan Agreements also enable the lender to set certain terms and conditions, which may be used as a point of reference when disputes or misunderstandings arise.
What Constitutes a Loan Contract?
The Amount of Money Being Borrowed
A Loan Agreement has to provide details about how much money is being borrowed and if it will be given in a lump sum or through installments. The contract should also stipulate the requirements that the borrower has to submit for him to receive his cash advance.
The Drawdown Date
The Drawdown Date generally refers to the date on which the amount being advanced or loaned is given by the lender to the borrower. Drawdown Dates usually differ according to the terms of the loan. Some lenders provide the advance all at once while others provide it through several installments.
The Purpose of the Loan
Loan Agreements will typically indicate the purpose for which the loan is being applied for. Common uses of a loan are for a mortgage, to pay an existing debt, or a car loan. The purpose of the loan is crucial to lenders because the assessment of its risk profile and the interest rate incurred will vary according to the purpose of the loan.
The Conditions Precedent
Conditions Precedent refers to requirements or conditions that a borrower has to meet before he is able to obtain his principal or the loaned amount of money. The conditions given by lender in the agreement will typically depend on the purpose of the loan, the amount of money being loaned, and the risk potential of the loan being made.
Rental Agreement Forms
A Rental Agreement is a written contract made between a landlord and a tenant. Rental Agreements provide a detailed outline of the terms and conditions that a landlord imposes on a tenant as well as the obligations of both parties. A Rental Agreement helps to protect the interests of a landlord and helps to maintain peaceful relationships between the landlord and the tenant.
Written Rental Agreements are not generally required by law. In fact, some states consider verbal Rental Agreements to be equally enforceable. However, putting things into writing always makes things clearer for everyone and serves as physical proof and a point of reference if disputes or misunderstandings arise.
A Rental Lease Agreement helps to provide protection and security between both the tenant and the landlord because it helps to set proper expectations among renters and also ensures that prices for rent will not increase dramatically without prior notice. Because a Rental Agreement is considered to be a contract, it obligates both the tenant and the landlord to follow the terms and conditions being stipulated in the contract.