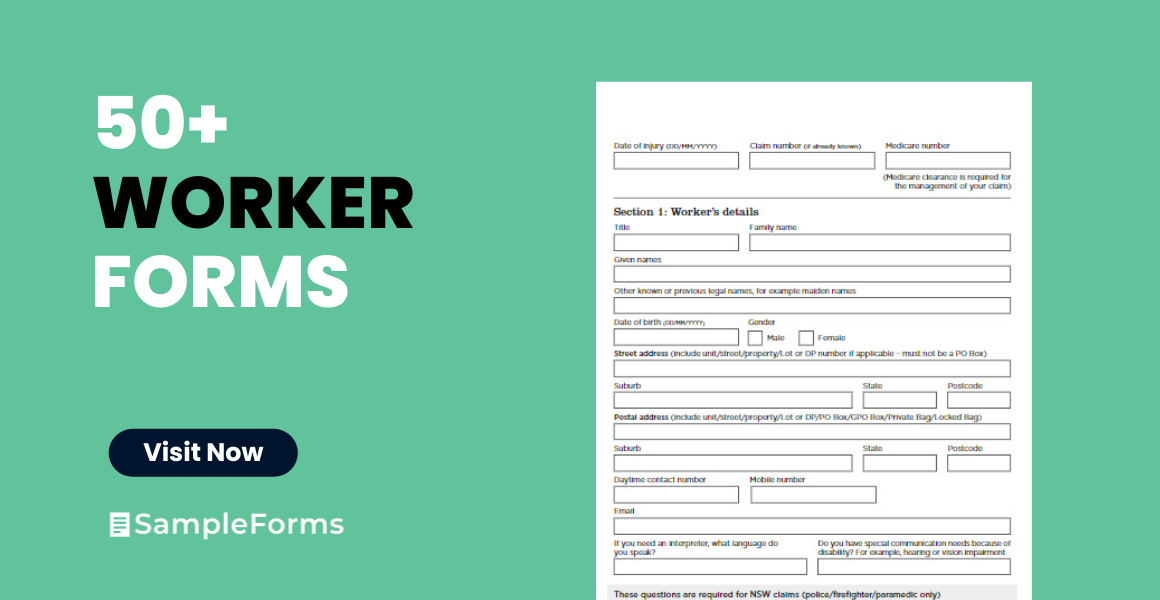 A worker form is a critical document used to gather information from employees within an organization. It serves various purposes, including payroll processing, record-keeping, and compliance with labor regulations. Worker forms come in different types, such as W-4 for tax withholding and I-9 for employment eligibility verification. Examples of information collected include personal details, tax-related data, and job-related specifics. Creating an effective worker form involves ensuring it complies with legal requirements and company needs. Here, we'll explore worker forms in-depth, covering their types, examples, creation, and essential tips for designing an efficient printable form.
What is the Worker Form ? – Definition
A worker form is a document used by employers to collect essential information from their employees. It serves various administrative and legal purposes, such as tax withholding, employment eligibility verification, and record-keeping. Worker forms typically gather details related to an employee's personal information form, tax-related data, and job-specific information. These forms are crucial for ensuring compliance with labor regulations and maintaining accurate employee records, contributing to the smooth operation of an organization.
What is the Meaning of the Worker Form?
The meaning of a worker form lies in its purpose as a vital tool for employers to collect and manage crucial information about their employees. These forms serve several functions, including tax-related documentation, verification of employment eligibility, and the maintenance of essential personnel records. The meaning of a worker form is deeply rooted in its role as a key component of human resources and administrative processes, ensuring compliance with legal regulations and facilitating effective workforce management within an organization.
What is the best Sample Worker Form?
FREE 50+ Worker Forms
51. Casual Worker Registration Form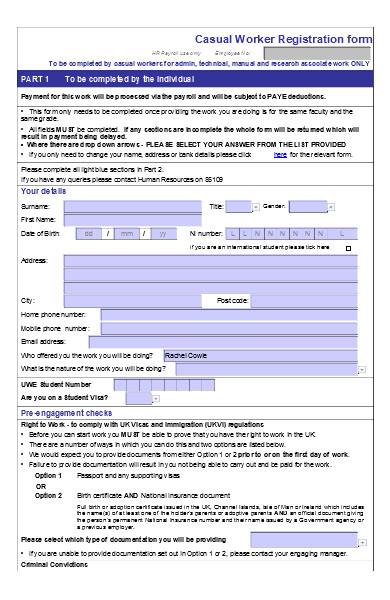 What form is used for employees?
The form used for employees varies depending on the specific purpose. Common forms used for employees include:
W-4 Form: This is used for tax withholding. Employees use it to specify how much federal income tax should be withheld from their paychecks.
I-9 Form: This form is for employment eligibility verification. Employers use it to confirm that employees are legally eligible to work in the United States.
Employee Information Form: This is a general form used to collect basic employee information, such as contact details, emergency contacts, and job-related information.
Direct Deposit Authorization Form: Employees use this form to set up direct deposit for their paychecks, specifying the bank account where their wages will be deposited.
Employee Benefits Enrollment Form: This form is used to enroll employees in various company benefits, such as health insurance, retirement plans, and other perks.
Employee Performance Evaluation Form: Employers use this form to assess and document an employee's performance, set goals, and provide feedback.
Time Sheets or Time Cards: These are used by employees to record their hours worked, which is essential for tracking attendance and calculating wages.
Leave Request Forms: Employees use these forms to request time off, including vacation days, sick leave, or other types of leave.
Employee Exit Interview Form: This form is used when an employee leaves the organization to gather feedback about their experience and reasons for departure.
Employee Self-Assessment Form: Some organizations use this form to allow employees to evaluate their own performance and provide input on their career development.
The specific fillable form used can vary based on the company's policies, legal requirements, and the employee's needs or status within the organization.
What Are the different types of worker forms?