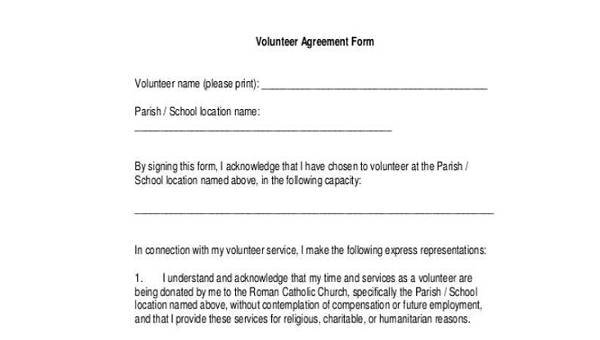 Volunteers are people who just want to help out. They perform different services and provide whatever they can to organizations that could definitely need more help. The world needs more volunteers. There are some people who have many different skills and talents and sometimes they feel they can contribute more if they decide to volunteer for different services.
However, there are those people who need to first make sure of what they're getting into if they volunteer. Some might expect to get paid; others might find certain tasks to be too stressful. They'll need to know first what they're expected to do and if they'll agree to do them.
So before they hop on the volunteer bus, they need to sign off first on Volunteer Agreement Forms, examples of which can be found here.
Non-Profit Volunteer Agreement Form
School Volunteer Agreement Form
Volunteer Agreement Form in PDF
Volunteer Services Agreement Form
Parent Volunteer Agreement Form
The Different Types of Volunteer Agreement Forms
There are lots of types of these forms which allow organizations to point out what they're expected to be doing to those who wanna sign up as volunteers for the first time. Here are some examples of these types of forms:
Volunteer Confidentiality Agreement Forms are the kinds of forms used by those volunteer organizations that want to make sure that the information disclosed to those volunteers during the program is not exposed to anyone not involved.
Non-Profit Volunteer Agreement Forms are used by volunteer programs to make sure they let possible volunteers know that what they're joining will not gain them any or much monetary profit.
Student Volunteer Agreement Forms are for schools to make sure that their students understand that if they join any school volunteer program, they'll have to agree to perform certain tasks and services as a part of that program.
Food Volunteer Agreement Form
Volunteer Agreement Form Example
Individual Volunteer Agreement Form
Volunteer Confidentiality Agreement Form
Volunteer Driver Agreement Form
Volunteer Agreement Sample
The Importance of Having Volunteer Agreements
It's important that those people who decide to volunteer for different volunteer associations understand just what kind of things they'll be doing, which is why there are forms such as Volunteer Service Agreement Forms that can help them with that.
It's also really important for those in charge of volunteer programs. The forms they hand out to volunteers set the terms of service and the rules and regulations for the whole program. They're giving the people the choice, and if a person decides to agree to all this, then these organizations can protect themselves from potential lawsuits.