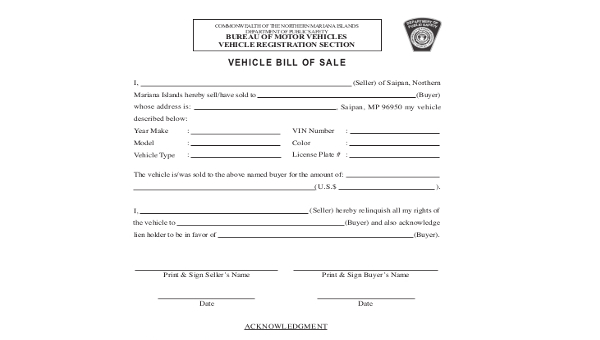 Buying or selling a vehicle is no small deal. To legally transfer goods or personal property from one person to another, you'll need Bill of Sale Forms – in this case, bills specifically catering to the buying and selling of vehicles. By vehicle, we can mean anything from a car to a boat to any other motor vehicle like motorbikes and trailers. A vehicle bill of sale verifies your purchase and names you as the rightful owner.
This list of free samples deals with motor vehicles. Whether you are thinking of reselling a secondhand car or you do this for a living, you will find these templates extremely useful.
Motor Vehicle Bill of Sale Form in PDF
Blank Vehicle Bill of Sale Form
Basic Vehicle Bill of Sale Form Sample
Printable Vehicle Bill of Sale Form
DMV Vehicle Bill of Sale Form
How to Use These Samples
Generic, unbranded samples can be downloaded free of cost and printed out for immediate use in one-time private vehicle sales.
Also included are official vehicle bills of sale from recognized organizations that deal with motor vehicles, such as Yukon and the DMV. These are noticeably more detailed and might help you in drafting a similar form if you are thinking of starting a secondhand car dealership, for example.
By the way, all these samples are available as free PDF files. Simply click to download.
Details of a Vehicle Bill of Sale
A Bill of Sale for Vehicles will generally include these details:
Personal information of the buyer and seller, such as their names, addresses, and signatures
Vehicle type, whether it is a motorcycle, a boat, or any other motor vehicle
Vehicle information, such as the year, make and model, VIN or vehicle identification number, and the odometer reading
Date of the transaction or date of purchase
Final purchasing or selling price
If this is a used vehicle, the buyer's copy of the bill should especially include the vehicle details as this can be checked against a vehicle history report.
Note: Technically and legally, bills of sale are used to transfer the ownership rights of a property from seller to buyer – it naturally follows that you have to legally own the vehicle you are selling.
Example Vehicle Bill of Sale Form
Free Vehicle Bill of Sale Form Example
Generic Vehicle Bill of Sale Form Free
Legal Vehicle Bill of Sale Form Format
Standard Vehicle Bill of Sale
Printable Vehicle Bill of Sale
Selling of Vehicles
If you are selling anything else that would normally come with an ownership license, you'll need a bill of sale specific to the commodity. For instance, if you happen to be selling vehicles, then you may be interested in perusing some of our DMV Bill of Sale Forms.