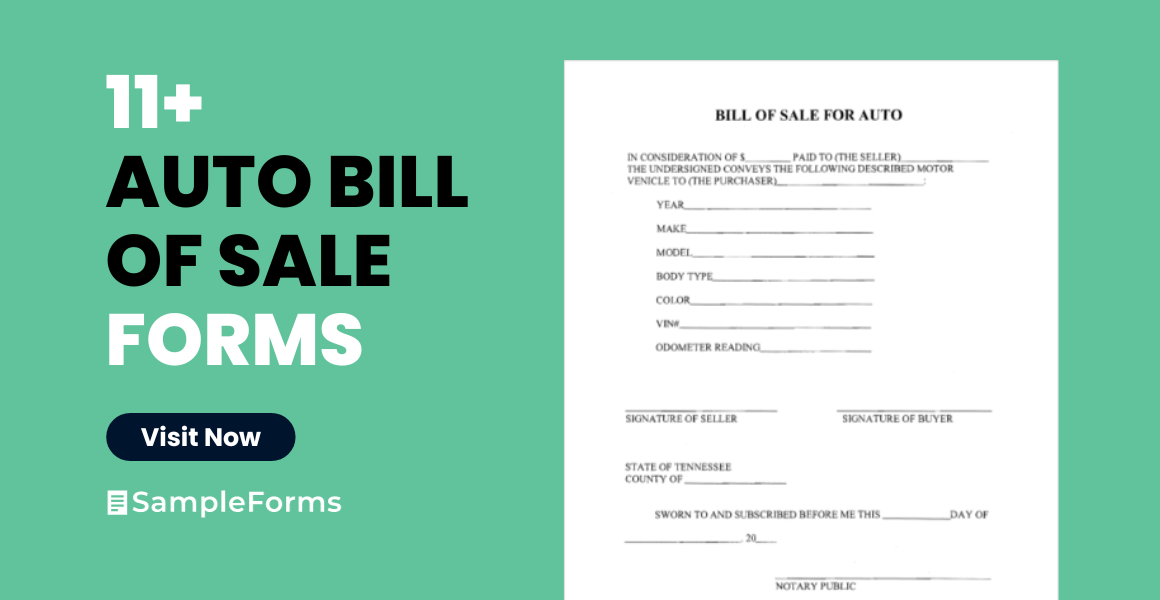 Using Bill of Sale Forms is pretty much common law anywhere transactions of valuable assets are made. This document records the information of these sales transactions, whether it's for a house, for an area of land, a firearm, or an automobile. The bill of sale will signify a sort of contract between buyer and seller. This can take the form of a typical receipt completed and obtained at the time of sale.
When it comes to vehicle sales, this is especially important, as a vehicle bill of sale will be required for registration and to legally own the vehicle titles.
Auto Bill of Sale Deposit Form
Example Auto Bill of Sale Form Free
Blank Auto Bill of Sale Form
Basic Auto Bill of Sale Form
DMV Auto Bill of Sale Form
How to Use These Samples
The samples we have provided here for free are similar to the many Blank Bill of Sale Forms offered on the site.
The free and generic samples can be used as ready-made templates. Simply click to download and then print. You may also wish to edit some of the details using a PDF editing program to better serve your particular business circumstance.
Some samples are branded. These are official form samples from existing organizations that deal in automobiles and can serve as helpful guidelines when drafting your own auto bills of sale from scratch.
How to Write an Auto Bill of Sale
If you are using these samples as guidelines, it'll help to note that each sample contains at least the following basic details of a vehicle bill of sale:
vehicle type and description (including its make, model, vehicle identification number – VIN, etc.)
any warranty it has, if applicable
the final selling price
information about the buyer and seller (names, addresses, signatures)
the date of the transaction
It is also important to note that you can only sell a vehicle you already legally own.
Example Auto Bill of Sale Form
Free Auto Bill of Sale Form
Generic Auto Bill of Sale Form
Printable Auto Bill of Sale Form
Simple Auto Bill of Sale Form
Professional Auto Bill of Sale
Auto Bill of Sale Sample
Bonus Templates for Bills of Sale
If you are selling anything else that would normally come with an ownership license, you'll need a bill of sale specific to the commodity.
Selling vehicles? Our sample auto bill of sale forms and vehicle bills of sale templates cover commercial/dealer sales, private sales, and even motorcycle sale. If you're interested, here's our collection of DMV Bill of Sale Forms.
Selling machinery? The samples we have for selling heavy machinery will help you craft detailed documents regarding dealing in equipment.
Selling something else? General bill samples here on Sampleforms.com have got you covered. Check out any of our lists of generic bills of sale to get you started.