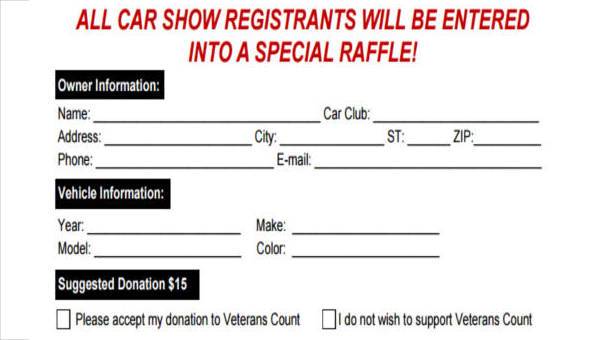 There are tons of cars being made every single day. Leading companies are always trying to make the newest cars with the latest of technology and design. Then there are those who like to stick to the old classics. Point is, cars are great and they're convenient to the point that lots of people either have one or need one.
And that's why there are car shows for those people to show off their vehicles or to sell them off to anyone that's interested. However, before these people can even be part of these car shows, they'll have to register themselves for the event first.
The one thing that can help them do that is by using the proper Car Show Registration Form.
Car Show Registration Form Example
Free Car Show Registration Form Sample
Vendor Car Show Registration Form
Car Show Pre-Registration Form
Festival Car Show Registration Form
General Car Show Registration Form
The Different Types of Car Show Registration Forms
Think of these forms in the same way as Camp Registration Forms, but instead of registering for the fun-filled days of a camp experience, you're registering to enjoy the convenience of a car. There are various types of these forms that allow anyone to guarantee that they have a shot at showing those who are interested in seeing cars that are in perfect condition and in amazing shape. Here are some examples of these types of forms.
Classic Car Show Registration Forms are the kind of forms for those people who wish to enter into a classic car show. These kinds of shows usually involve cars that are more than a decade old, or vintage, and to display those that are in great condition until now.
Vendor Car Show Registration Forms are used by those who wish to sell any kind of products or services at car shows. These help them out by registering for the event to have a booth or stall reserved for them.
Pre-Registration Car Show Forms are forms for those who want to register themselves ahead of time for any kind of car show.
With the knowledge that you have now, you can show off your cars by joining a car show. With the samples that we have here, you won't have any problem registering your car(s). Our samples available in PDF format and can be easily downloaded, for free, and can be modified per your specifications.
Classic Car Show Registration Form
Open Car Show Registration Form
Annual Car Show Registration Form
Car Show Registration Entry Form Example
Generic Car Show Registration Form
The Importance of Having Car Show Registration Forms
If you want to be a part of any kind of car show, you'll have to make sure that your name and your car are officially a part of it. That's why there are forms, or any other kind of similar form, to make sure that it happens.
These not only help out those people that register, but also to those who are holding the event. Let's say the company holding the car show is interested in one of the cars. They can make an offer with that person and see if the two can come to terms into any form of negotiation. This is a great event for companies to form business relationships with others who are in the auto industry.
You can also check out these Payroll Register Forms if you have need of them.