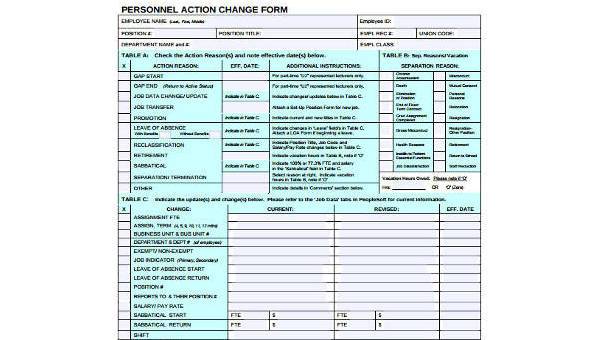 In the event that certain things in a business needs to be changed or there are things that need to be looked into immediately, one may be required or ordered to perform specific actions. These actions aim to benefit and improve the business as it looks into certain problems and fixes them as soon as possible.
However, one must know that these actions must be conducted in a proper and professional manner, as well as following company policy. In order for these actions to take place, one must make sure to prepare the documents that are needed. Which is why there are action forms for those that wish to make orders on what needs to be changed or improved.
Personnel Disciplinary Action Form
Personnel Corrective Action Form
Personnel Action Request Form
Personnel Action Notice Form
Personnel Action Change Form
What Is a Personnel Action Form?
Personnel action forms are used in the event that one is required to make changes regarding the information of one ore more employees within a company's database. There are many instances wherein one might be required to change any kind of employee data.
For example, if an employee is to be promoted, then a person with the authority to change employee data must update that particular employee's information to fit his or her new role. Or if an employee is terminated, then one can erase the employee's information from the database.
How to Complete a Request for Personnel Action Form
In the event that you would like to change employee information, then be sure to learn how to complete a personnel action form. Follow these steps to help you:
Place in the purpose of the action (From new hires, rehire, return from leave, promotion, termination etc.)
Name of the employee
Employee number
Employee's position title
Date of when the employee was hired
Employee's address
Comments regarding the purpose of the request for personnel action
Name and signature of person preparing the personnel request
Date of when the request was made
Signature of those who can authorize the action
Personnel Action Army Form
Electronic Personnel Action Form
Generic Personnel Action Form
Payroll Personnel Action Form
General Personnel Action Form
Importance of Personnel Action Forms
The reason why one would need to use these is because it is vital that company owners are up to date on the information of each and every single one of their employees. This lets them know as to who is still in the company, who was promoted, who was given a salary raise, or even information as to who was fired. Plus, it gives the business owners and those in charge of approving these request for personnel actions an explanation as to why these changes in the database need to be made.
This is also important for the employees as well. If an employee wishes to change his or her status, then they can request for an action to change it such as from being on leave to being on duty. So in the event that one needs to make use of employee action forms, just make sure that all the information is free from errors to avoid any possible problems from happening and to make sure that the information in the employee database is all up to date.