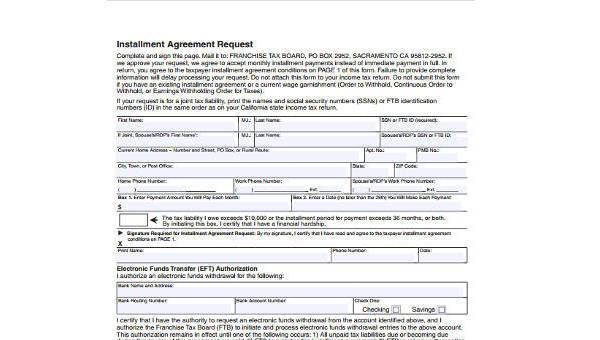 There will be those people who want to buy a certain product but can't afford the asking price. What do these people do? As long as the business selling the product offers the option for it, then these people may pay in installments.
Paying in installments means that the buyer can make a series of payments over a set period of time until the full amount of the product is paid. But both parties have to come to an agreement as to how the installment plan is going to go before the buying party shells out any money.
They also need to make sure that these agreements are recorded in the necessary documents. Thus, the right kind of Installment Agreement Forms would certainly come in handy in such a scenario.
Installment Sale Agreement Form
Installment Payment Agreement Form
Installment Purchase Agreement Form
Installment Agreement Request Form
Installment Agreement Form Example
The Different Types of Installment Agreement Forms
There are lots of these types of forms, such as Installment Purchase Agreement Forms, that nearly every business can use whenever their customers want to take on the option of paying for certain products or services through installments. Here are some examples of these types of forms:
Installment Payment Agreement Forms are the forms that are used by a business to discuss with their customer the kind of payment they should make for any of the products or services provided. These kinds of agreements tackle the payment method the customer should make. The business might want them to pay in straight-up cash, or they might be flexible enough to allow them to pay through electronic transfers. Either way, as long as it's agreed to by both parties, then there should be no problems.
Installment Loan Agreement Forms are forms that are used by clients of certain companies that have agreed on paying for loans through an installment. There will be those people who might experience financial crisis, so they opt to go for loans. These companies expect these loans to be paid in due time, so they allow these clients to use these forms to indicate how they're going to pay and when they're supposed to pay.
Consumer Loan Agreement Form
Free Installment Contract and Security Agreement Form
Installment Sale Income Agreement Form
Installment Agreement Request Form in Word Format
The Importance of Installment Agreement Forms
If you were in charge of a company, then you would certainly want to make sure that your customers plan to pay for anything that you can provide them with. This is why there are forms such as Installment Loan Agreement Forms. Whenever a customer decides to take the option of paying through installments, these forms can come in very handy for the company. Thee forms allow them to set up a contract with the buyer and come to an agreement on how they're going to pay and when they're going to have to pay until the full amount of whatever was purchased is paid.
However, this doesn't just help the seller but the buyer as well. The buyer can take a good look at these forms and thoroughly check out the contents before deciding to opt for the installment plan. If the buyer feels as if the installment plan is acceptable, then they may sign to finalize the agreements. If not, then there's the possibility of that he may have to negotiate with the company, or they could decide to find other opportunities somewhere else.
If you plan on paying through the installment method, then I suggest you take a good look at these forms first.