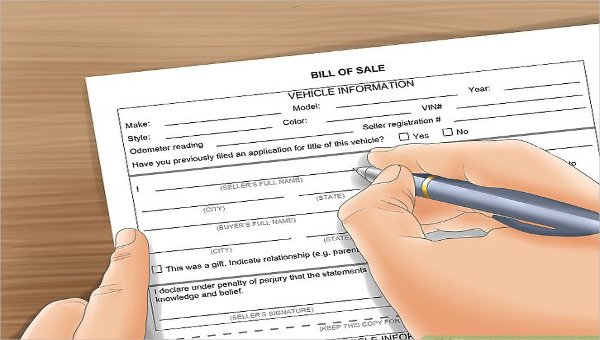 A bill of sale is what one produces to show proof that a certain transaction has been properly handled and finalized. So this shows information such as when, where, and what was bought and to who it was bought by. This is why there is a need of a bill of safe form to be created after very important transactions.
Buyers always request that a bill of sale be provided during certain important transactions, which is why sellers must know how to properly create or write up any type of bill of sale. So whether the items were purchased, exchanged, or even given as a gift, a bill of sales ensure that the buyer is given what he or she is owed.
What Do You Need to Keep On a Bill of Sale?
One needs to keep important information, such as the names of both the buyer and the seller, as well as the item that is to be exchanged. This ensures that we know what is being handed over during the transaction and who the knew legal owner of the item is.
It should also contain other information such as the date of when the sale was made to ensure that one has a proper record of the transaction that took place. If you would like to know more about any generic bill of sale forms, then you may go through our Bill of Sale Forms in word to help you.
How to Write a Professional Bill of Sale
If you intend on creating a business bill of sale form, you must first learn how to write a proper bill of sale. So be sure the following information is written on the bill of sale you are planning on making:
Date of when the bill of sale is issued
Complete names of the buyer and seller
Date and time of the sale
Location of the sale
Item or items being exchanged
Official name of the item or items to be exchanged
Statement regarding the transfer of ownership and warranties
Signatures of both parties
If you would like to know how to write any type of bill of sale, then we have many available bill of sale form examples that you may view.
What Are the Keys to Drafting a Bill of Sale?
When drafting a bill of sale, one can do it the easy way, and have a professional lawyer draft a legal bill of sale. However, there are some who might not have the time and money to hire a lawyer to do so, so one may decide to use bill of sale form templates such as a bill of sale form for vehicles that can be found online.
The problem is that these people might not have enough legal experience which can cause issued regarding the bill of sale's legality. This is why one can use software online to help generate a proper bill of sale form template and one that can be properly used.
What Are the Guidelines for Writing a Bill of Sale?
Always make sure that important information is never left out such as the names of both the buyer and the seller.
The statements regarding the transfer of ownership must be properly stated in the bill of sale.
The product's official name must be placed to ensure the buyer is getting what was agreed upon.
Always have the signatures of both parties to ensure that both have agreed that the transfer was final.
You may view our bill of sale form in PDF if you would like to view other information regarding bill of sales and how to properly make and utilize them.