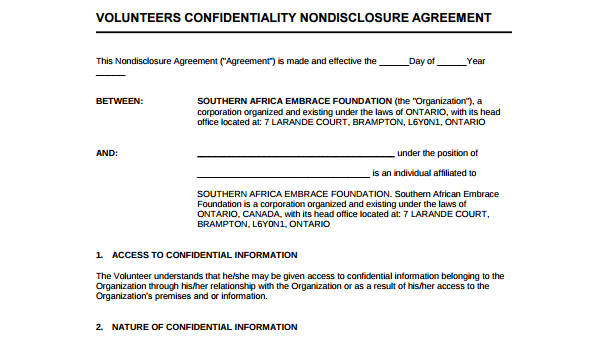 In every contract that people sign, there are always terms and conditions that they must abide by. These are called agreements that show that once the contract is finalized, both parties have agreed to and settled everything related to the contract.
For example, if one were to rent certain equipment from a company, that person will have to go through the agreements. The agreements state the the client may not use the equipment for anything other than the intended purpose, as well as and injuries sustained by the client cannot be held against the company. If the client accepts these terms, then that would mean both parties have come into an agreement.
Non-Disclosure Confidentiality Agreement Forms
Mutual Non-Disclosure Confidentiality Agreement
Standard Non-Disclosure Confidentiality Agreement
Employee Confidentiality Agreement Forms
Employee Confidentiality/Non-Disclosure Agreement
Student-Employee Confidentiality Agreement
HIPAA Confidentiality Agreement Forms
Assigned Employee Confidentiality and Privacy Agreement
HIPAA Confidentiality and Non-Disclosure Agreement
Medical Confidentiality Agreement Forms
Medical Center Confidentiality Agreement
Health Care Confidentiality Agreement
Counseling Confidentiality Agreement Forms
Counseling Agreement
Group Agreement
What is a Confidentiality Agreement?
A confidentiality agreement is one that is issued by companies and organizations to ensure that certain information will not be disclosed to those who are not involved in the contract. This is to ensure that all information stays in tact and that nobody may use the information for other purposes. To make these official, there are Confidentiality Agreement Forms that people and businesses can sign to guarantee the safety of any information that was disclosed.
The Different Types and Purpose of Confidentiality Agreement Forms
As there are many varieties of information that people and businesses alike would rather be kept confidential, there are also many different forms to ensure that cater to each specific type of information. All one has to do is to know which form caters best to which purpose. So here are some examples of these confidentiality agreement forms:
Research Assistant Confidentiality Agreement Forms are the kind of forms that are utilized by those who would like to take part in any research program or activity by becoming an assistant researcher. Certain research experiments may contain information that could be very important.This is why it is important for professionals to ensure that those who assist them with their research do not expose any of the information they obtain to others that could use it for other purposes. These professionals have these forms to ensure that these assistants will not share any of the information regarding whatever information is shared during the research program.
Counseling Confidentiality Agreement Forms are made use of by counselors to help ensure their clients that information regarding their session will not make it out to anyone other than those involved in the session. Some information that may be discussed in the session may be important and crucial to the client in which they would rather not have anyone else learn about it.These forms ensure that not only will the client's information be protected through a non disclosed agreement, but this also makes sure that the counselor will not use the information for anything other than helping the client. This is to help the client feel much safer so that all information can be
Employee Confidentiality Agreement Forms are forms which every company and organization use in the event that they plan on hiring new applicants. People who have been chosen by companies or organization to become full time employees have to sign contracts in which contain multiple types of agreements. There will be a part of the contract which states that certain company information must not be disclosed to those who are not affiliated with the business.The point of having these agreements is to ensure that the competition is not able to gather information on the company, which in turn protects them from possibly losing profits. Should the employee decide to share information despite the agreements, then the company may claim charges on breaking the non-disclosure agreement, which can be brought up in a court of law.
Financial Confidentiality Agreement Forms
Financial Group Confidentiality Agreement
Financial Aid Confidentiality Agreement
Mutual Confidentiality Agreement Forms
Mutual Confidentiality Agreement
Mutual Confidentiality Plan Agreement
Research Confidentiality Agreement Form
Research Assistant Confidentiality Agreement
Personal Confidentiality Agreement Forms
Employee Confidentiality Agreement for Personal Identification
Employee Personal Confidentiality Agreement
Volunteer Confidentiality Agreement Forms
Health Care Volunteer Confidentiality Agreement
Volunteer Confidentiality Non-Disclosure Agreement
How to Create a Confidentiality Agreement Form
When making these forms, one must first take into account as to who are involved with the agreement. That would mean the names of both parties involved must be stated in these forms. It is also best to that you place in  the full business name, as well as details that include the business address and the contact details.
You must then indicate the date of when the confidentiality agreement is made effective. After which, you may properly state the terms of what information may not be disclosed, as well as how the information will be used. For example, a patient that is subjected to a counseling session would like to ensure that information regarding his personal problems are not disclosed to other patients.
You may then state within the agreement section that the patient's information will not be mishandled, and should that happen, the counselor will hold all legal responsibility and face any charges. You must then indicate an area where both parties my provide the date and their signatures to finalize the agreement.
The Importance of Having Confidentiality Agreement Forms
In the event that one applies for certain projects or programs that may contain important information, those in charge of holding them would like to ensure that the information does not make its way to other companies that may rival them. Which is why these forms are to ensure that the person does not share information that may damage the company.
Another good purpose of these forms would be that they also protect the people who take part in any company or organization related activities. Should they be required to share any of their medical information, they can go through these forms to see that the establishment in charge of handling of said information will do nothing but utilize them for its desired purpose.
Should these establishments use the information in ways that were not agreed upon in the contract, then they may be faced with charges that will be brought up in the court of law. That would usually mean the end of a business or a potential loss of large sum of profit.   So be sure that you properly read the Non Disclosure Agreement Forms before signing them.