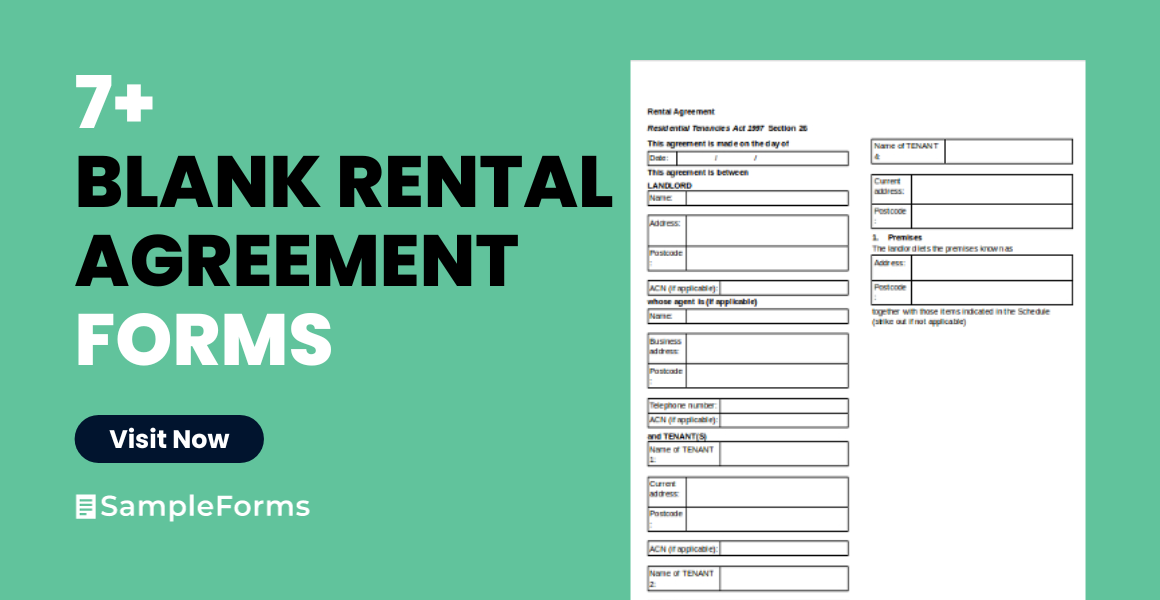 Leasing out a home and getting rental income every month is quite a great investment. Of course, the real estate business is the number one booming enterprise. And the growth if this sector can never go down, regardless of the hardness of the economy. Make no mistake, though. The business can break if run without an appropriate agreement, which is why you must consider having an Agreement Forms for your business. Here are some that you can use.
Sample Blank Room Rental Agreement Form
This is the very best template that you can use to lease out a room. One thing that makes this the best tool is that it is readily available for print. So you don't have to spend a lot of time editing it.
Blank House Rental Agreement Form
The most important file that you must have in your rental business toolkit is a sample blank house rental agreement. It is what makes it possible for you to run a successful business. Here is a download link. You may also see Renters Agreement Forms.
Example Blank Month-to-Month Rental Agreement Form
Did you know that a month-to-month lease agreement is actually the best sample file to download? Here is the one simple document that you can download and use for your business.
Printable Blank Rental Lease Agreement Form
The best thing about printable blank templates is that they don't always require a lot of editing. And that is what makes them quite the best tools to use. Here is a sample file that you can download. You can also see Month-to-Month Rental Agreement Forms.
Blank Rental Lease Agreement Form
At the end of the day, you will realize that it is not easy to run a real estate business without a lease agreement. And that us why you need this sample template to make your work easier.
Free Blank Rental Agreement Form
Yes, this form is free. But it is important to remember that the purpose of the file is to help you manage every new client that is interested in renting your property. The file is easy to edit.
Blank Apartment Rental Agreement Form
The very best thing about this sample file is that it is easy to fill out. You just have to download it for free and then use it to manage your lease business. This is the best form for those who are looking for a quick fix. You can also see Simple Rental Agreement Forms.
Blank Temporary Room Contract Agreement Format
This contract is for those who would like to rent a room for a short time. It may be for a night, a day, a week, or just a month. Or maybe more. This is the best same file to use.
The Benefits of Written Rental Agreements
A written agreement is better than a spoken some because it is more legally binding than the former. People who are in a written agreement cannot default the terms of the pact. And if they do, there is always a solid evidence of what was previously agreed on. You may also see Basic Rental Agreement Forms.
A written agreement solidifies the relationship between a tenant and a property owner. Because the file is a great reference for the tikes agreed upon, both parties could always review these terms to know what works for them.
The Benefits of Sample Forms for Rental Agreement
The most important thing to remember is that you are not downloading these files because you cant create them yourself. Rather, you are downloading them because you want to save time. And that is exactly the purpose for which they were designed.
Again, these templates don't require any editing. It means you can use the template as is, without worrying about making changes to the design. If you don't have time to create the template from scratch, these are the right files for you. You can also see Rent Agreement Forms.
Now that you know the essence of these files, you should use them from time to time when making a new deal with a new client. Many property owners like to treat these files as perfect game changers. They make managing the real estate property easier than it was before. And most importantly, they are always free to download.