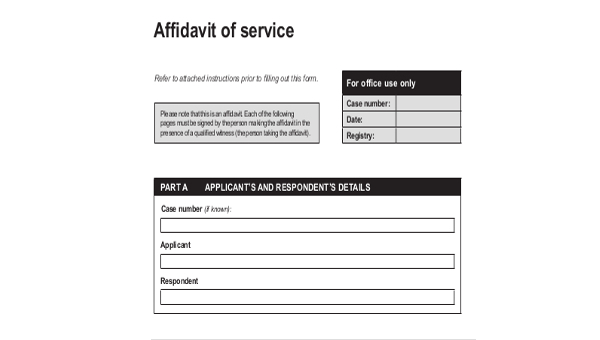 Affidavit of Service Forms are the forms used when a certain party in a case makes the claim that they have not been notified regarding pending legal action. An Affidavit of Service, also known as a Proof of Service, is an important document provided by process servers after they have successfully served documents to someone. The Affidavit of Service can be presented by an alleging party to prove to an opposing party that the former have not been disclosed of any imminent legal action.
Below are samples of Affidavit of Service Forms that you can download and use. Also check out our Affidavit Forms for more examples.
Generic Affidavit of Service Form
Affidavit of Personal Service Form
Affidavit of Service Form Example
Affidavit of Non-Military Service Form
Affidavit of Attempted Service Form
General Affidavit Forms are used to ensure that the statement you are making is completely legal and verified by a notary.
Importance of Affidavit of Service
Completing the Affidavit of Service is a very important step to adequately provide and equip the service process. Legal proceedings regarding how the service process was performed upon a specified party are provided in a detailed account by the individual serving the papers. Upon the serving of legal documents, the proof of service is required to be filed with the local court to show that the service of process was properly performed. If the proof of service is not filed with the court, the legal proceeding may be denounced, and dismissal for improper service of process may take place.
A server will need to include a signed declaration, if he or she is unable to render proper service, stating that he or she made a good faith attempt to serve the specified party and a detailed information of such attempt should be provided. Hence, if there is a challenge in court as to whether service of process was properly performed, an Affidavit of Non-service can be used to show that a good faith attempt was made to contact the required party.
Blank Affidavit of Service Form
Affidavit of Military Service Form
Affidavit of Service Divorce Form
Affidavit of Service Form in PDF
In any occasions when legal papers are offered, information on how the papers were served should be filled out on a written form by an individual who is serving the papers. After the service is done, the form is then filed with the proper court of law. This form is called an Affidavit of Service Form. The Affidavit of Service is the document used to tell everyone about the service of the paper and, as stated earlier, it must be signed by the server or the individual serving the papers, in front of a notary public.
How Fraudulent Affidavits of Service Impact Legal Matters
Unfortunately, not all process servers are honest. Some servers may attest to imprecise facts within their affidavit of service. If in any event this would occur, the necessary cause of action would be a dismissal due to improper service of the servers. If a server makes fraudulent or dishonest statements regarding the service, he or she may be hauled into court for criminal conduct such as forgery of court documents. Furthermore, the server may also acquire a civil suit from the affected party. Hence, it is important that an honest and reputable process server is utilized by the party.
If you are a victim of a fraudulent process service, then you may be able to take civil legal action against the server. You will need to contact legal counsel for more information.