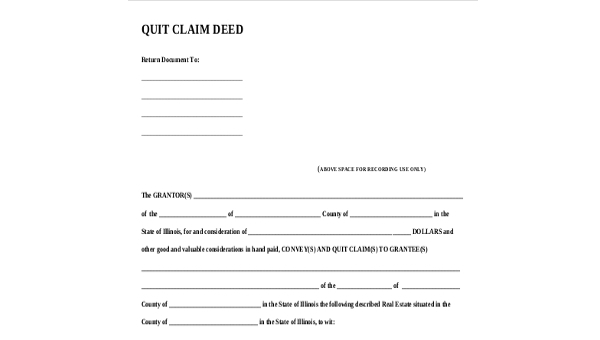 Quitclaim deeds allow you to formally relinquish your interest in real property that you own (usually land and buildings, but may also include machinery and roads). It's most commonly used to transfer property within a family.
This is very different from a warranty deed, because it offers no warranty of the state of the title it is transferring. Because of this, quitclaim deeds can be tricky to use.
If you are looking to transfer your property to someone, the Sample Deed Forms we provide here should give you a good idea of the details, format, and layout of a quitclaim deed. Just click and download any sample; they're free.
Quitclaim Deed Form Free
Blank Quit Claim Deed Form
Real Estate Quit Claim Deed Form
Printable Quit Claim Deed Form
How to Use These Samples
Because quitclaim deeds are the fastest and easiest way to transfer property, they are sometimes mistakenly called the "quick claim" deed. Perhaps these should have been called Sample Quick Claim Deed Forms.
Quitclaim deeds are commonly used to transfer the rights to a property among family members:
handing down property from a parent to an adult child or successor
between adult siblings sharing property inherited from the parents or individually acquired
when married, adding the name of the spouse to the title
when owning property in marriage and then divorced, to shift claim to either spouse
But it can also be used in other ways:
to "cure" a wrong detail in an earlier version of the deed, perhaps a misspelling
to change the "tenancy" (how the property is owned) between joint owners
after marriage, to clarify whether a property is now community property or separate property
and even to buy or sell real estate
Because quitclaim deeds contain no warranty at all, it would be best to only accept quitclaims from those you trust. If transferring property as a business deal, make sure to get legal counsel and have a lawyer or accountant look over the details of the claims.
You might also be interested in some Sample Warranty Deed Forms. Warranty deeds are either general warranty or special warranty. These deeds basically warrant the good condition or state of the property title.
Quit Claim Mineral Deed Form
Quit Claim Property Deed Form
Quit Claim Deed Form in PDF
Note
We have included a Quit claim mineral deed form in the sample list above for an important reason. When drafting your quitclaim form, check for mineral rights. If the deed is for a piece of land and you happen to discover an oil well on the property, the original owner might still legally have a right to that resource – unless there is an explicit transfer of mineral rights in the quitclaim.
It's all in the details.
An Alternative to Quitclaim
You might also be interested in Sample Grant Deed Forms. A grant deed is also used in the sale or transfer of property from one person or organization to another. This is similar to a quitclaim deed, except a grant deed also implies certain promises, which a quitclaim doesn't.
If you are looking to transfer real estate property in "arm's-length" business transactions not involving family members, a grant deed might be the best way to go.