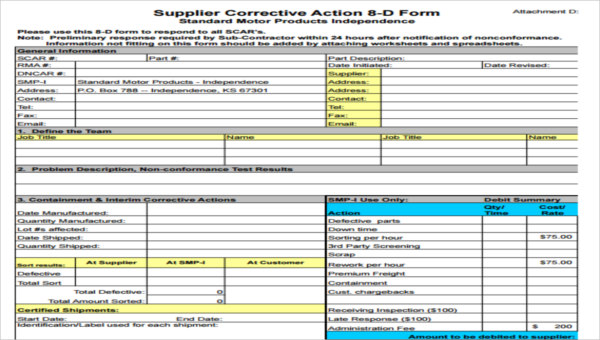 Preventive or Corrective Actions are things that are done to ensure everyone's safety, by looking into the possible risks and taking all the necessary precautions to prevent them. If these issues are already taking place, then preventive actions make sure that these problems don't go any further and escalate to a degree that it can no longer be controlled.
Safety is always a must in just about every establishment, and it's important that every risk should be assessed. That way, all the precautionary measures are taken to ensure that nothing goes wrong. So that means describing the problem and taking all the necessary action such as repairs and maintenance.
Corrective and Preventive
Preventive Report Form
Preventive Action Plan
What is a Preventive Action?
A preventive action is done to take care of all the weaknesses in an establishment that could hinder work productivity. In some cases, these also aim to prevent problems that could cause physical harm to employees, or damage company property.
A good use of these are whenever someone uses Personnel Action Forms. These forms are used by personnel in any establishment in the event that they notice something such as faulty machinery or employee misconduct. In order to prevent these things from growing into much bigger problems, they use these forms to report to their superiors in the hope that the right action will be taken.
How to Create a Corrective or Preventive Action Plan?
In order for one to create and action plan, he or she will need to provide information as to what kind of problem it is. Is it something that has to be fixed? What kind of danger does it pose? It's questions like these that can easily identify the problem.
Once that's done, these people will have to state what department they're from and where these problems are situated in. This will help their superiors take the necessary action that's needed. If you need to know more information, then there are Preventive Action Forms here such as Sample Action Forms in PDF to help you out.
Corrective Action Preventive
Non-Conformance Preventive
Supplier Corrective Action
Sample Preventive Action Form
Corrective and Preventive Action Guidelines
Here's some advice from when you need to request or need to do a preventive action.
State your name and the department you're from. When you report any issues within the workplace, you'll need to make sure that they know who you are and what position you hold.
Describe the problem in the most detailed way possible. If you know what the problem is, then you'll want to make sure to give specifics. If it's something like "broken computer" then that won't be much help. It would be better if it were something like "Computer CPU keeps short circuiting", that way, it will be much easier to identify the problem.
State the possible solutions to these problems. If you know anything that can help solve the issue, then it's best to state it. It might very well be the solution to the problem, and if not, then at least it's a considerable option.
So no matter what kind of preventive action it is, whether it's Corrective Student Action Forms or Corrective Action Forms, just be sure to use the right one for the right purpose.