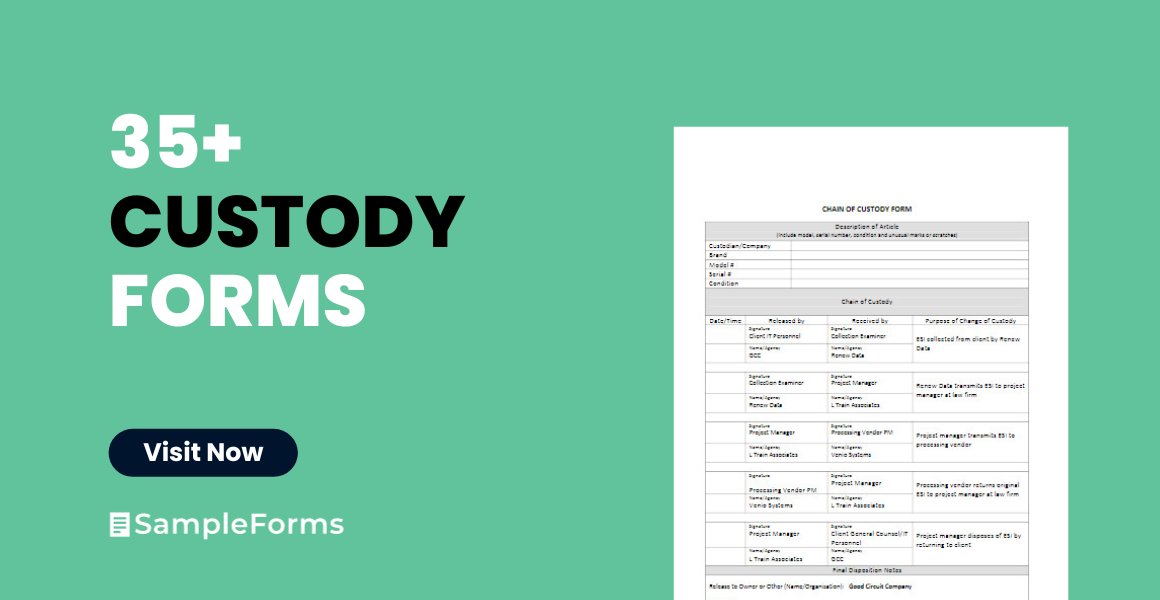 Navigating the intricacies of child custody can be daunting. At the heart of the process lies the Custody Form, an essential tool designed to formalize decisions regarding a child's living arrangements and the parental rights and responsibilities. This document can range in complexity, from simple agreements form to intricate legal decrees. Delving into its meaning, various types, notable examples, and crafting methods, along with expert tips, can illuminate the path for parents and guardians navigating these often emotional waters.
What is a Custody Form ? – Definition
A Custody Form is a legal document that outlines the rights and responsibilities of parents or guardians concerning the care, control, and maintenance of a child or children following a separation or divorce. These printable form defines the type of custody granted (e.g., joint, sole, physical, or legal) and specifies the terms of visitation, decision-making responsibilities, and other pertinent details. It serves as a formal agreement or court order, ensuring the child's best interests are prioritized and upheld.
What is the Meaning of a Custody Form?
The meaning of a Custody Form revolves around the legal delineation of responsibilities and rights of parents or guardians concerning their child or children. It serves as an official record that details how custody is to be shared or designated, encompassing facets like where the child will reside, how decisions about the child's upbringing will be made, and the nature and schedule of visitation rights. Essentially, these fillable form is a tangible representation of the agreed-upon or court-decided terms ensuring the child's welfare and stability in the aftermath of parental separation or divorce.
What is the Best Sample Custody Form?
The best sample custody form can vary based on jurisdiction, specific needs, and the unique circumstances of the parents and child involved. However, a comprehensive custody form typically contains the following sections:
Parties Involved: Full names of both parents or guardians and their contact details.
Child's Details: Full name, date of birth, and other relevant information of the child or children involved.
Type of Custody:

Physical Custody: Determines where the child will reside. It can be joint (shared between both parents) or sole (with one parent).
Legal Custody: Refers to the right and responsibility to make decisions about the child's upbringing, including education, health, and religion. Again, this can be joint or sole.

Visitation Schedule: Details about when and how the non-custodial parent will spend time with the child. This could include weekdays, weekends, holidays, and vacations.
Decision-making Protocols: Procedures for making significant decisions about the child's education, health care, extracurricular activities, etc.
Child Support: Details about financial support for the child, including the amount, frequency, and method of payment.
Communication Protocols: Guidelines on how parents will communicate with each other and with the child.
Dispute Resolution: Procedures for resolving disagreements that might arise concerning the child's upbringing.
Modification Clauses: Conditions under which the custody arrangement can be reviewed or modified.
Additional Provisions: Any other specific details or stipulations agreed upon by both parties, such as protocols for introducing significant others to the child.
Signatures: Both parents or guardians sign the form, indicating their agreement to its terms.
Notary Acknowledgment: Some jurisdictions may require the form to be notarized to affirm its authenticity.
If you're seeking an actual sample blank form, it's best to consult legal resources in your jurisdiction or consult with an attorney specializing in family law. They can provide appropriate templates or forms tailored to your situation and local regulations.
FREE 35+ Custody Forms
How does a Custody Form affect child support agreements?
A Custody Form, which details the custody arrangement for a child or children between parents, can significantly influence child support agreements. Here's how:
Determination of Obligation: The parent who does not have primary physical custody (often referred to as the non-custodial parent) is typically the one responsible for paying child support to the parent with primary custody. This is to ensure that both parents are contributing to the child's financial well-being.
Amount of Support: The amount of child support is influenced by the custody arrangement. For instance, in joint or shared custody situations where the child spends an almost equal amount of time with both parents, the child support amount might be reduced or adjusted because both parents are directly incurring expenses for the child's care.
Calculation Factors: Child support calculations consider various factors, such as the income of both parents, the number of children, and the specific needs of the children. However, the custody arrangement remains a significant factor. In many jurisdictions, guidelines or formulas are used to calculate child support, and the amount of time a child spends with each parent is a critical variable in that formula.
Modifications: Changes in the custody arrangement, such as a non-custodial parent becoming the primary custodial parent, can lead to revisions in child support obligations. It may result in a reversal of who pays or an adjustment in the amount.
Additional Expenses: A Custody Form might also detail how other child-related expenses, not covered by the regular child support payment, will be handled. This could include costs for education, medical care, extracurricular activities, and travel. The agreement might stipulate that certain expenses be split equally, proportionally based on income, or handled in some other manner.
Enforcement and Compliance: The details outlined in the Custody Form can be used as a reference when ensuring that child support payments are made in accordance with the agreement. If disputes arise, the terms of the custody agreement can be essential in court proceedings.
Interplay with Legal Custody: Child support is typically related to physical custody (where the child lives), but legal custody (decision-making authority) can play a role. For instance, if one parent has sole legal custody and makes a decision that leads to additional expenses, the question of who bears that cost can be complex.
It's essential to consult with a family law attorney or legal professional when determining child support in conjunction with sample custody agreements form, as laws and regulations vary by jurisdiction. They can provide guidance tailored to individual circumstances and local regulations.
How do I make a chain of Custody Form?
Creating a Chain of Custody (CoC) Form is crucial for ensuring the integrity and security of samples or evidence. A comprehensive CoC Form should provide a complete and unbroken record of the possession, handling, and location of a sample or piece of evidence from the time of its collection to its final disposition. Here's a step-by-step guide to creating one:
Header Information:

Title: Clearly label the document as "Chain of Custody Form."
Case or Project Number: To easily identify and link the CoC form to a specific case or project.
Sample/Evidence ID: A unique identifier for the sample or evidence.
Date and Time of Collection: When the sample or evidence was originally collected.

Description of the Sample/Evidence:

Type of sample (e.g., blood, soil, electronic device)
Quantity
Collection method
Any special storage or handling requirements (e.g., refrigeration, anti-static bag)

Collection Details:

Name of the person collecting the sample/evidence
Signature of the collector
Location of collection
Purpose of collection (e.g., suspected drug sample, environmental testing)

Transfer of Custody Section:

This section will have multiple rows and will record every transfer of the sample/evidence. For each transfer, the following columns should be present:

Date and Time of Transfer
Transferred From (Name and Signature)
Transferred To (Name and Signature)
Purpose of Transfer (e.g., analysis, storage, further evidence collection)
Location/Department (where it's being transferred to, such as a particular lab or evidence room)

Storage and Transportation Details:

Storage conditions (e.g., temperature, specific equipment like a safe or fridge)
Transportation conditions (if applicable)

Analysis or Testing Details (if applicable):

Type of analysis/test performed
Date of analysis/test
Results or reference to result documents
Analyst's name and signature

Final Disposition:

Date and time
Method (e.g., returned to owner, destroyed, archived)
Name and signature of the person responsible for the final disposition

Additional Notes Section:

For any other relevant details or unusual occurrences.

Footer:

Page numbers (especially if your form spans multiple pages, e.g., "Page 1 of 3")
After drafting your Chain of Custody Form, it's advisable to have it reviewed by legal or professional personnel familiar with the specific requirements of your field or jurisdiction to ensure its thoroughness and compliance. Always ensure that the form is filled out legibly and stored securely to maintain the integrity of the record. You also browse our Custody Agreement Forms.
Do you need a chain of custody form?
A custody form is a pivotal legal document outlining the rights and responsibilities of guardians regarding child care. Covering various types, including chain-of-custody and child custody forms, it ensures clarity in guardianship arrangements. Proper creation requires a blend of precision, comprehension, and consideration for the child's best interests. Utilizing templates or legal guidance can simplify this process, making co-parenting structured and amicable. You may also be interested in our Postnuptial Agreement Form.