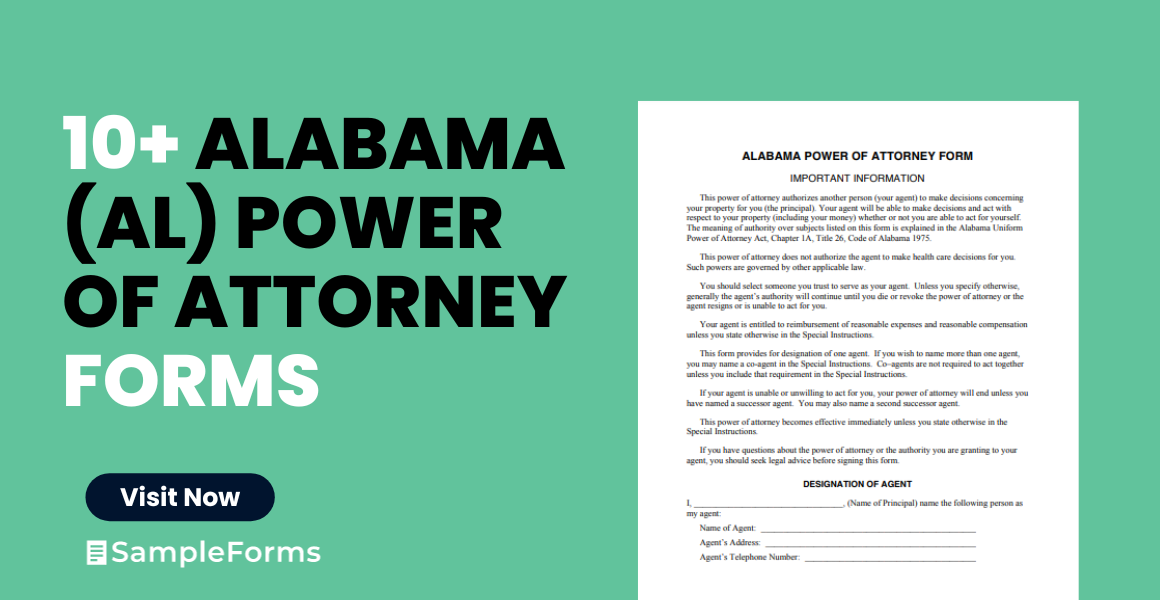 Unlock the full potential of the Alabama Power of Attorney Form with our expert guide. Tailored specifically for Alabama residents, this guide simplifies the process of designating a reliable agent for legal and financial matters. Packed with practical tips and legal insights, it empowers you to make informed decisions, ensuring compliance with Alabama state laws. Whether for health care, financial, or general affairs, our resource is your go-to for mastering the Alabama Power of Attorney Form with confidence.
What is the Property Power of Attorney Form?
The Alabama Power of Attorney Form is a legal document that allows an individual in Alabama to appoint someone else to make decisions and take actions on their behalf. This can include managing financial affairs, making healthcare decisions, or handling other personal matters. The person granting the power is known as the principal, and the person receiving the power is called the agent or attorney-in-fact. The form's powers can be broad or specific, depending on the principal's needs.
What is the best Example of Effective Communication?
ALABAMA POWER OF ATTORNEY
THIS POWER OF ATTORNEY is made this ______ day of ________, 20.
I, [Principal's Full Name], residing at [Principal's Address], hereby appoint [Agent's Full Name], residing at [Agent's Address], as my Attorney-in-Fact ("Agent") with the following powers:
GRANTED POWERS:
My Agent shall have the authority to act in my behalf in the following matters:
Financial Affairs: To handle all my financial transactions including banking, investments, and property transactions.
Real Estate: To buy, sell, rent, and manage real estate properties.
Legal Decisions: To represent me in legal matters.
Healthcare Decisions: To make healthcare decisions on my behalf if I am unable to do so.
Tax Matters: To handle my tax filings and communicate with the Alabama Department of Revenue.
TERMS AND CONDITIONS:
Duration: This Power of Attorney shall remain in effect until [End Date or Condition], unless I revoke it earlier.
Revocation: I may revoke this Power of Attorney at any time by providing written notice to the Agent.
Governing Law: This document shall be governed by the laws of the State of Alabama.
ACKNOWLEDGEMENTS:
Principal's Signature: ___________________________
Date: _______________
Agent's Signature: _____________________________
Date: _______________
STATE OF ALABAMA
COUNTY OF _______________
Subscribed and sworn to before me this _____ day of _______, 20, by [Principal's Full Name] and [Agent's Full Name].
Notary Public's Signature: _________________________________
My commission expires: _______________
SEAL:
---
INSTRUCTIONS: Fill in all required fields with accurate information. The form should be signed in the presence of a notary public to ensure its legal validity. Always consult with a legal professional to ensure the form meets your specific needs and complies with Alabama law.
1. Alabama Power of Attorney Form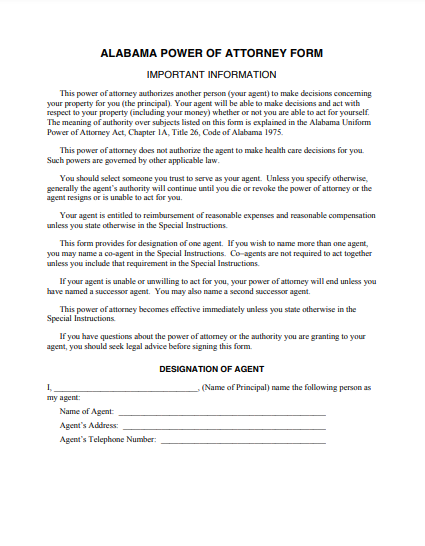 2. Alabama Auto Power of Attorney Form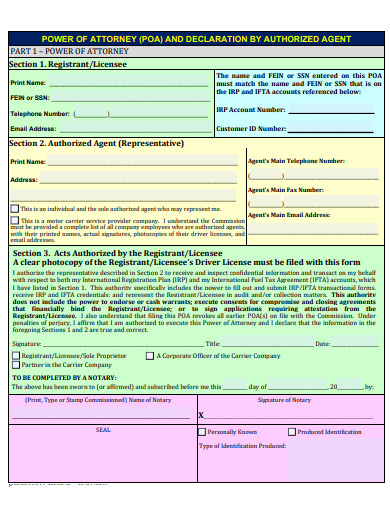 3. Alabama Insurance Power of Attorney Form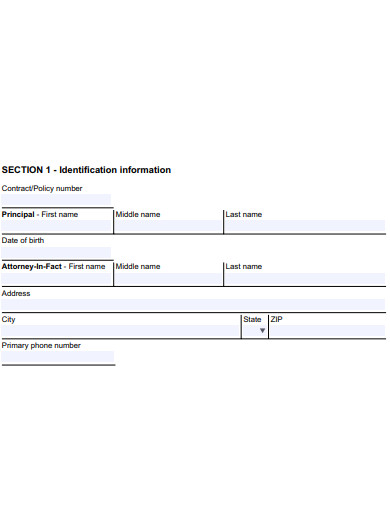 4. Alabama General Power of Attorney Form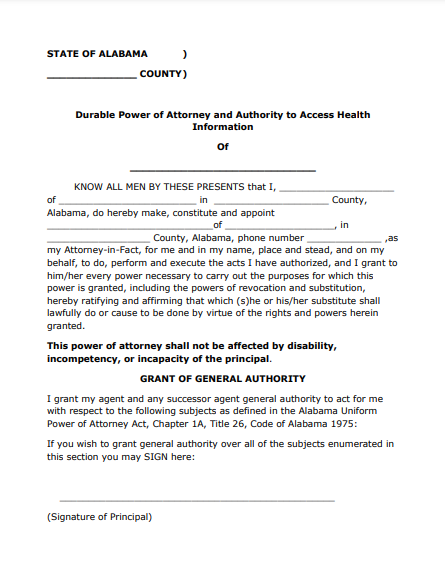 5. Alabama Printable Power of Attorney Form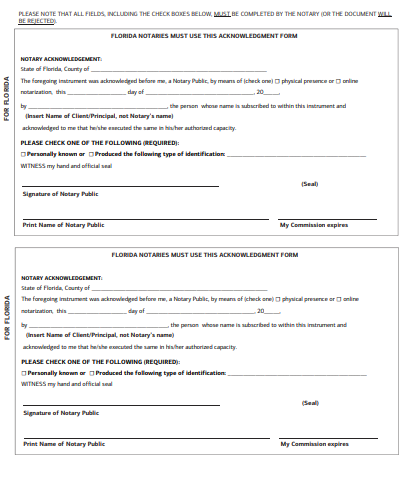 6. Blank Alabama Power of Attorney Form
7. Alabama Specific Power of Attorney Form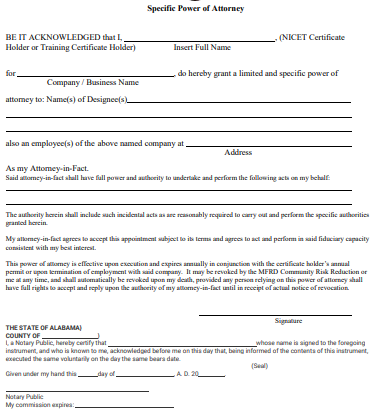 8. Simple Alabama Power of Attorney Form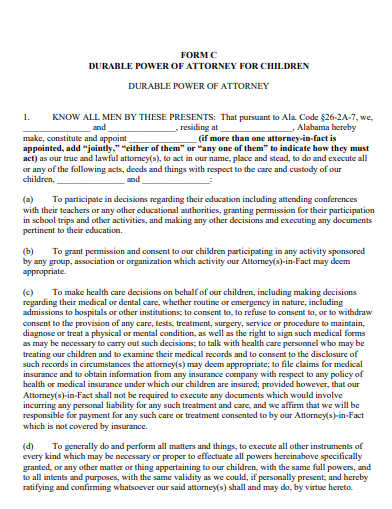 9. Alabama Durable Power of Attorney Form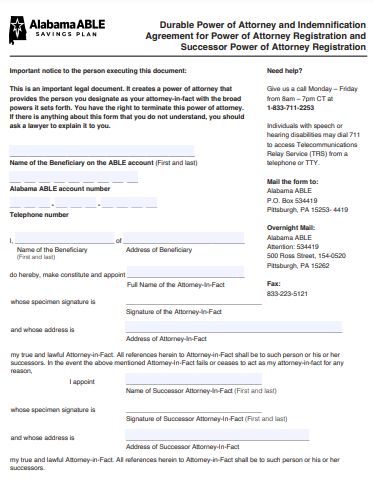 10. Alabama Limited Power of Attorney Form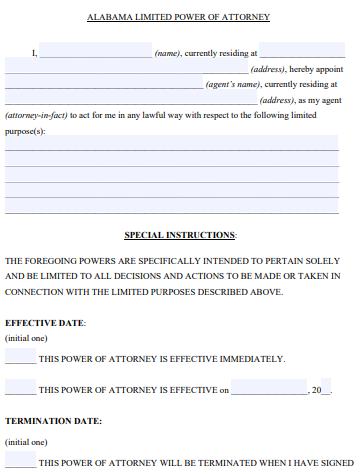 11. Alabama Power of Attorney and Declaration of Representative Form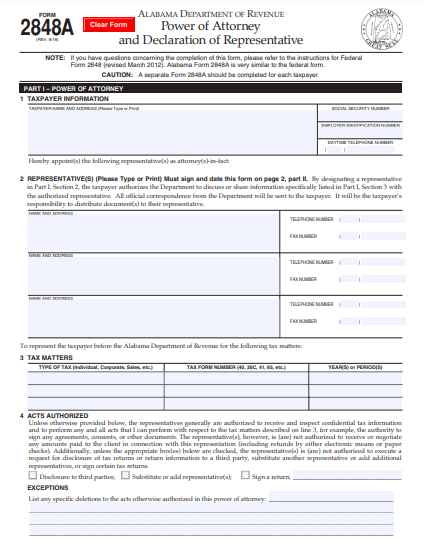 How do I file for power of attorney in Alabama?
Filing for a Power of Attorney (POA) in Alabama involves several steps to ensure it is legally recognized:
Choose the Right Form: Select the appropriate Alabama Power of Attorney form based on your needs (general, healthcare, financial, etc.).
Fill Out the Form: Complete the form with all required details, including your information (as the principal), the agent's information, and the specific powers being granted.
Understand the Powers: Be clear about what powers you are granting to your agent. These can range from financial decisions to healthcare directives.
Witnesses and Notarization: Depending on the type of POA, you may need to sign the form in front of a notary and/or witnesses. In Alabama, notarization is typically required to make the POA legally binding.
Sign the Form: Both you and your chosen agent must sign the form. Ensure this is done according to Alabama legal requirements, which usually include notarization.
Notarize the Document: Take the completed form to a notary public to have it notarized. This step is crucial for the legal validity of the POA in Alabama.
Keep Records: Keep the original signed and notarized document in a safe place. Provide copies to your agent and any relevant institutions (like banks, healthcare providers, or the IRS).
File If Necessary: For some POAs, like those dealing with real estate, you may need to file the document with your county's Probate Office.
Revocation: If you ever wish to revoke the POA, you must do so in writing and follow the proper legal procedures, including notifying your agent and any institutions that have a copy of the POA.
Remember, it's a good idea to seek legal advice when creating and filing a Power of Attorney to ensure that all legal requirements are met and your interests are protected.
What is a form 2848A in Alabama?
What is a limited power of attorney in Alabama?
In Alabama, a Limited Power of Attorney (LPOA) is a legal document that empowers an individual, known as the principal, to appoint another person, referred to as the agent or attorney-in-fact, to perform specific acts or make decisions on their behalf. Unlike a general power of attorney, the LPOA restricts the agent's authority to particular tasks or for a defined period.
Characteristics of a Limited Power of Attorney in Alabama:
Specific Scope: The authority granted is limited to certain tasks, such as managing financial transactions, selling property, or handling business affairs.
Duration: It may be set for a specific timeframe or for a particular purpose, ceasing once the task is completed or the period ends.
Customization: The principal can tailor the LPOA to suit their specific needs, specifying what powers the agent has.
Uses of Limited Power of Attorney:
Real Estate Transactions: Authorizing an agent to handle the buying, selling, or management of property.
Financial Management: Delegating tasks like banking, investment decisions, or bill payments.
Business Operations: Allowing an agent to make decisions in the principal's absence or incapacity.
Creating a Limited Power of Attorney:
Clear Instructions: The document should explicitly state the agent's powers and limitations.
Legal Requirements: It must comply with Alabama's legal requirements, including being in writing and notarized.
Revocation: The principal retains the right to revoke the power of attorney at any time.
Key Considerations:
Choice of Agent: Choosing a trustworthy and competent agent is crucial, as they will have significant authority over the specified matters.
Legal Advice: Consulting with a legal professional can ensure the document is valid and aligns with the principal's intentions.
A Limited Power of Attorney in Alabama is a powerful legal tool for delegating specific responsibilities. It provides flexibility and control, allowing individuals to ensure their affairs are managed according to their wishes, even when they are not able to do so themselves.
What is a medical power of attorney in Alabama?
Does a power of attorney have to be recorded in Alabama?
In Alabama, the requirement to record a Power of Attorney (POA) depends on the type of POA and the intended use of the document.
General Requirements:
Real Estate Transactions: If the POA is used for transactions involving real estate, it must be recorded in the probate office in the county where the property is located. This ensures that the document is a matter of public record, which is essential for legal transactions related to property.
Other Uses: For POAs that do not involve real estate, recording is not typically required. These may include financial, healthcare, or other personal matters.
Key Considerations for Recording a POA:
Legal Protection: Recording a POA, especially for real estate matters, adds a layer of legal protection and authenticity.
Third-Party Acceptance: Some institutions or organizations may request a recorded POA to proceed with certain transactions.
Future Disputes: A recorded POA can help prevent future legal disputes by providing an official record of the document's existence and validity.
Process of Recording a POA:
Probate Office Filing: The POA must be submitted to the local probate office for recording.
Fees: Recording a POA usually involves paying a fee, which can vary depending on the county.
Documentation: Properly executed and notarized POA along with any required forms or additional documentation.
Revocation and Amendments:
Recording Revocations: If a POA is revoked, particularly one that was recorded for real estate purposes, the revocation should also be recorded.
Amendments: Any amendments to a recorded POA should follow the same recording process to maintain legal validity.
While recording a Power of Attorney in Alabama is not universally required, it is mandatory for real estate transactions and recommended in situations where legal validity and protection are paramount. It is advisable to consider the specific circumstances and seek legal advice to ensure compliance with Alabama law.
Does a power of attorney expire in Alabama?
How to Prepare a Alabama Power of Attorney Form
Tips for Using Effective Alabama Power of Attorney Form
Can I Get an Alabama Power of Attorney Form for Free?
Yes, you can obtain a free Alabama Power of Attorney form online from legal websites or state government resources.
Do I Need to Have an Alabama PoA?
Having an Alabama POA is advisable for managing your affairs if you're unable to do so yourself, especially for financial or healthcare decisions.
Which Type of Power of Attorney Do I Need in Alabama?
The type of POA you need in Alabama depends on your specific requirements, such as general, durable, medical, or limited POA.
Should I Work With an Attorney for My Alabama PoA?
Yes, working with an attorney for your Alabama Power of Attorney ensures legal accuracy and alignment with your specific needs.
Does a Power of Attorney Need to be Notarized, Witnessed, or Recorded in Alabama?
In Alabama, a Power of Attorney must be either notarized or witnessed by two adults. Recording is necessary for real estate transactions.
creating an effective Alabama Power of Attorney form requires understanding its types, choosing a reliable agent, and ensuring legal compliance. Utilizing an attorney's expertise, adhering to notarization and witnessing requirements, and updating the document regularly are key to its success. This guide provides essential insights and tips to navigate the process smoothly and protect your interests.