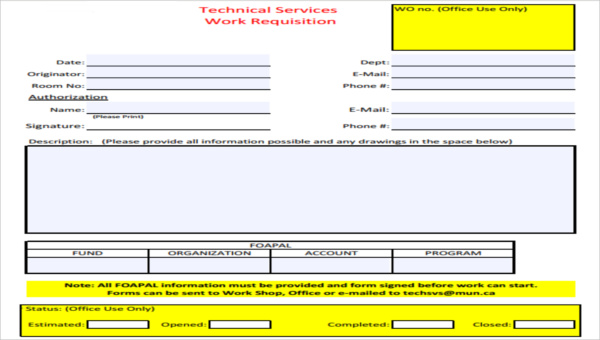 There are many different types of requisitions, as well as various ways to use them. For example, when one creates a Custom Requisition, they would be to request anything that they may need, and they simply have to state the details as to what exactly they want and why they want it.
Requisition Forms may have a lot of uses, but unless they're properly authorized, then they hold no legal weight. This is why one has to carefully indicate what they need, the amount they need it in, and when they require it. So long as these details are indicated properly, then these requests will be taken into serious consideration.
Maintenance Work Form
Blood Work
Work Order Form in PDF
Technical Services Work Requisition
Requisition Vs. Purchase Order
The difference between the two is simple. When talking about Purchase Orders, then it's something that has already been approved by the purchasing department to purchase whatever is needed. When regarding a Supply Requisition, you are required to state the purpose of why you need certain items.
However, even after doing so, it is still not guaranteed that the purchase can be authorized. But as long as you have the proper forms for either a purchase order or a supply requisition form, then there should be no problems in making both a request or an order.
How Does a Forced Requisition work?
Think of it along the lines of when a certain company uses a Payment Requisition Form. They'll be using these forms to request payment for their client, but if the client is still not willing to pay after a specified period, then there will be consequences. These consequences usually come in the form of compensations, such as being required to pay a late fee.
Some consequences might even be as dire as being charged with delinquent payments, which can then be brought up with the court of law. So just make sure that in the event that you're being requested to pay something or hand something over, you comply with it immediately to avoid any issues.
Workshops Work Form
Part Time Work
Job Work Requisition
Guidelines for Repair and Maintenance Requisition
If you're going to make a request for any repair or maintenance, then here are some things you should follow:
Always state the personal information of the requester.  This includes the full name, along with the job title and the department that they belong to.
State the property that needs to be fixed or maintained
Indicate important details of the issue, do not leave any detail out so that the repair and maintenance process will go smoother and easier.
Obtain the personal information of the people performing the maintenance.
Gather the signatures of the people who can authorize the requisition.
Remember all of this if you plan on having anything within an establishment fixed or maintained.
If you plan on making or using any Requisition Form, then know how they work. Such as when one uses Employee Requisition Forms, they should know that it's used when a certain position in the company needs to be filled in by the right applicant. These forms aim to create a request to find and  hire that right applicant.