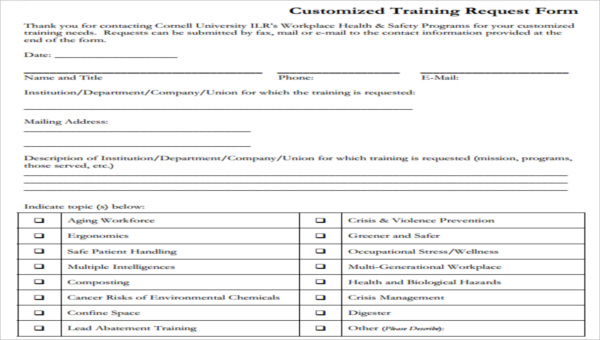 There is a significant difference between a Requisition and a Purchase Order. With a Purchase Order you're trying to get someone to try and purchase something for you, and with a requisition, you're making a request on something that has the possibility of it being denied. And companies tend to make a lot of requisitions and orders every single day.
So when you feel that you have an employee that needs training, then you can use Requisition Forms to help you out.  Think of it in the same way as Purchase Requisition Forms, but instead of requesting for something to purchase, you're submitting a requesting to train someone that needs it.
Internal Training Requisition
Employee Training Form
Training Need Requisition
How to Request Training From Your Boss
If you're going to ask help from your boss on how to train? You can use Internal Requisition Forms. These forms will help you through the steps of what you have to do in order for you to get the training you need. But here are the basic steps for when you need training:
State in the form your name along with your position and department.
Place in the form as to why you  need the training in the most polite manner
And try to state as to when you can start the training and how it can benefit the company.
Creating a Training Requisition Form
Training Requisition Forms requires that you put in all the necessary information. Much like Service Requisition Forms but instead of needing a service, you need training. So to create one, you'll need to put in the following details.
Indication of where the employee must place in his or her personal details along with employee I.D and position
The employee's supervisor
The name of the superior who can authorize the training request
The purpose of the training
The expense of the training, if there are any
The date of the request
Grant Training Form
Training Requisition Example
Customized Training Form
Basic Training Requisition Form
Guideline for Online Training Requisition Forms
Here's some tips for using online training requisition forms.
Choose the right kind of form for the right kind of training. Since it's online, you're bound to run into loads of other types of training forms. Carefully select the one you need.
Properly fill in your personal details. You'll want to make sure that you put in everything from your name, contact numbers, e-mail, and even age if you're going to fill out these forms.
Make sure that the reason for the training requisition is acceptable. You'll want to make sure that if you're requesting the training, you're doing it because you need to develop your skills and not just to waste time.
Always make sure that they're trustworthy. There are forms online that might not be applicable for use, so just make sure to check on everything before using it.
Training requisitions are great because they can go hand in hand for forms like recruitment requisition forms. After you request for you new recruits and get them, you can immediately request that they be trained through requisition forms. Just make sure you know which one to use and when to use them.