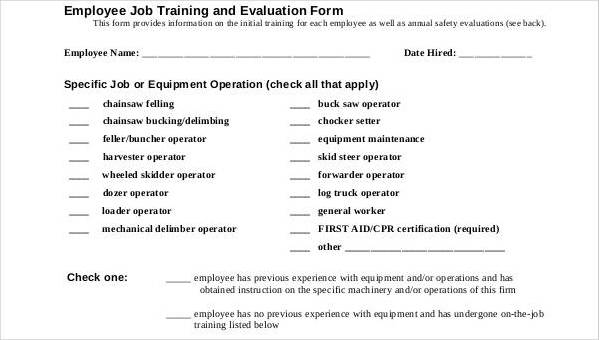 In certain types of jobs or certain things you want to learn, you'll have to undergo training so that you'll know the basics of what they're about. Training can be very helpful as it lets you understand more about certain things you need to do and it can help you get better at doing them.
And participants of these training sessions or programs have the ability to properly evaluate themselves and the training they received. This is to see whether or not the training was sufficient to the point where it allowed them to develop, or if it was a complete waste of time.
However, these evaluations must be properly documented in the right kind of forms so that they can be used for future purposes. And of the best things that can do just that is through the use of the right kind of Training Evaluation Forms.
Safety Training Evaluation Forms
Safety Committee Training
Safety Training Session Evaluation
Health and Safety Training Evaluation
Post Training Evaluation Forms
Sample Post Training Evaluation
Pre and Post Training Evaluation Form
Participant Post Training Evaluation
Face to Face Training Evaluation Forms
Monitoring and Evaluation Face to Face Training
Special Face to Face Training Evaluation Form
Workshop Training Evaluation Forms
Teacher Workshop Training
Example Workshop Training Evaluation Form
Parent Workshop Training Evaluation
Employee Training Evaluation Forms
Employee Job Training
Employee Development Training
Employee Performance Training
How to Fill Up Training Evaluation Forms
When you start filling up any kind of training evaluation forms, you'll have to make sure that the following information are on these forms:
Name of the trainee
Name of the trainer
Contact number, address, and e-mail of the trainee
Contact number, address, and e-mail of the trainer or the establishment that he or she is working for.
The type of training that the person received.
Take all of that into account before evaluating yourself. Once you do that, there will be a number of set questions that you will answer by rating each. It's best that you answer honestly so that trainers will know how you felt and improve their sessions depending on your evaluation.
The Different Types and Purposes of These Training Evaluation Forms
There are lots of these types of forms, such as Training Workshop Evaluation Forms, that just about any person can use in the event that they need to assess themselves or someone else's training progress. Here are some examples of these types of forms.
For Safety Training Evaluations
Safety Training Evaluation Forms are the kind of forms that are used in the event that someone wishes to evaluate how well a certain safety training was performed. Safety is important no matter where you are or what you do. Which is why it's also important to see how well someone is able to teach you about certain safety rules. So whether it's safety rules for driving, swimming, or even skydiving, these training sessions have to properly evaluated.
It's to see if the information that was given by these training was sufficient enough to help you make sure that you stay safe. What these forms evaluate are the methods that were used during the training such as by means  of video or a personal speaker.
Then it rates how well prepared the information was and if there are certain parts that were either very useful or not. So if you plan on evaluating any kind of safety training, then make proper use of these forms to help you out.
Course Training Evaluation Forms
Example Course Training
Web Based Course Training Form
Industrial Course Training Evaluation Form
Induction Course Training Evaluation
Cycle Training Evaluation Forms
Sample Cycle Training
Adult Cycle Training Assessment Form
Field Training Evaluation Forms
Field Skills Training
Child Training Evaluation Form
Child Welfare Training Evaluation
For Employee Job Training Evaluations
Employee Job Training Evaluation Forms are the kind that are made use of those supervisors in the event that they need to properly assess how certain employees are at performing a certain job. All supervisors have to make certain that these employees know what they're doing and they have to see that they're doing it well. Which is why these forms can do just that.
These supervisors use these forms to evaluate certain aspects of the employee to see if he or she is performing well at the job he or she was assigned to. And that means seeing the extent of their skill and knowledge of the job and properly rating it in these forms. It's so that superiors of these supervisors can properly assess which employees are doing a good job in their training, or which needs more improvement.
Employee Development Training Evaluation Forms are forms used by those supervisors who have to evaluate the development training of their employees. Making sure that an employee develops to become someone that can keep up or exceed company standards is what all supervisors intend to aim for.
The information that they have to place in these forms are the name or names of the employees being evaluated, along with their position and the department that they're from. The supervisor must also state his or her name in these forms so that manage can assess as to who evaluated  these employees. Once that's all done, the supervisor may then properly rate the development process employees.
So they can either show that the employee's training is going rather well, or if the employee has areas that could use more improvement. In any case, these are very useful for the employee so that he or she will know all the strengths and weaknesses during the development and training.
So if you plan on evaluating how far your employees are in the development process, then make good use of these forms to help you out.
For Training Effectiveness Evaluation
Training Effectiveness Evaluation Forms are the kind that are used by just about every participant in any kind of training course or program. The point of any kind of training is to make sure that these people develop or inherit the necessary skills and improve in the very thing they're training for. Which is why they have to use these forms to see if the training was helpful in any way.
These rate the kind of method that was used in the training, along with other aspects that affect the effectiveness of the training such as the duration of the training or how the instructor was able impart knowledge to the trainees.
So in the event that you need to measure how well a training sessions had gone or how useful it was to you, then make sure you that you take full advantage of these forms.
Practical Training Evaluation Forms
Practical Work Training Evaluation Form
Free Practical Training Evaluation
Training Effectiveness Evaluation Form
Sample Training Effectiveness Evaluation Form
Training Session Evaluation Form
Personal Training Session Evaluation Form
Staff Training Session Evaluation Form
For Workshop Training Evaluations
Teacher Workshop Training Evaluation Forms are used by just about every person for whenever they attend a workshop that focuses on training people on how to be better teachers. Teachers are very important in the educational system as they're the people that imparts knowledge to students in class.
The better the teacher, the better the student learns which means a better image for the school. So in that case, these people attending these workshops can evaluate whether or not the training was good enough for them to become better teachers.
These forms evaluate all the knowledge that was imparted from the speakers and sees if the programs and activities in these workshops were effective for current or would-be teachers. So if you enter a workshop that discusses on ways to becoming a much more effective teacher, then you'll have to use these kind of Workshop Evaluation Forms to assess how these workshops are at doing so.
Parent Workshop Training Evaluation Forms are the kind that are used by just about every parent or would-be parent in the event that they entered any kind of workshop that focuses on how to become a better parent. Being a parent isn't easy. There are many different types of responsibilities that comes into being one such as learning how to handle the child and raising him or her responsibly.
Which is why there are workshops that intend to train people to get them ready for parenthood. And the people that participate in these parent workshops can use these forms to properly assess the kind of training they received. That is to say that they look into all the aspects of their training such as the presentation of the topic of parenthood and how much the speakers knew about parenting.
Because parents or would-be parents expect that if they enter these workshops, they get information on things that can help them in becoming better parents or prepare them for parenthood. So if you plan on joining any kind of Parent Training Workshop, then these kind of Workshop Evaluation Forms will be useful after you've participated in them.
The Importance of  Having These Training Evaluation Forms
In the event that you receive any kind of training, then it's best that those in charge of the training use these forms. With these, they'll be able to look into just how well your training went. They can see all the areas that you're good and bad at, and act accordingly. If they think you're having trouble in a certain part of your training, then the both of you can focus on that area to improve yourself.
It is not only useful for the trainee but for the trainer as well. The participants of these training sessions can evaluate everything about the training for them activities being done to even the trainer itself. This will let the people in charge of handling the training understand which areas should be improved so that other trainees in the future will have a better experience.
So if you plan on doing any kind of Training Evaluation, then there many different forms here for that specific purpose. It all depends on how you use them and when you want to use them.