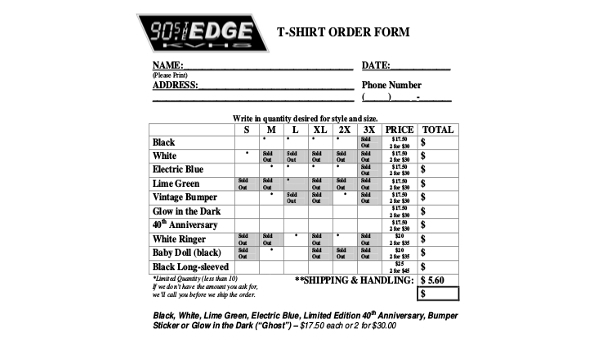 The use of Order Forms in a business is an integral part of monitoring and managing cash flow and itemizing orders and their quantities. An Order Form or a Purchase Order Form helps streamline business operations while saving time in the process.
An Order Form is a form utilized in a business transaction and indicates the product and its quantities being ordered. Order Forms or Purchase Order Forms can be easily downloaded on the internet; however, finding a template that offers efficiency and functionality can be a challenge. Our Sample Order Forms are tailored specifically to meet your business needs and can be downloaded or printed out in a matter of seconds!
Blank T-Shirt Order Form
T-Shirt Fundraiser Order Form
T-Shirt Pre-Order Form
T-Shirt Order Form in PDF
The Ins and Outs of an Order Form
Order Forms are tools used by a business owner to properly track orders. Such forms are essentially useful for buyers because it gives them the opportunity to properly relay their demands or their orders to the sellers.
Order Forms and the Edge of Using One
In order for a business to stay afloat, it needs to be properly managed. In order for a business to be properly managed, proper dissemination of information has to be practiced. In order to circulate correct information, proper documentation has to be implemented.
As with invoicing, proper payroll documentation, and signing proper contracts and agreements, a smart and savvy business owner should utilize an Order Form, here's why:
Serves as a Security Blanket
Order Forms allow a seller to protect himself from customer complaints or misunderstandings.
Outlines Orders
Order Forms serve as a checklist of the products that a buyer has ordered and the specific instructions they have included.Whether you're running a small or a big business, making sure that orders are organized is the key to having happy and content customers and guarantees customer service.
May Be Used for Billing
Order Forms carry almost the same amount of information as with an invoice and a bill. By using an Order Form, you could easily be hitting two birds with one stone by pre-structuring your invoice and bill of statements with the help of your Order Form.
Printable T-Shirt Order Form
Free T-Shirt Order Form
Generic T-Shirt Order Form
Family Reunion T-Shirt Order Form
Printable T-Shirt Order Form
General T-Shirt Order Form
Saves Time and Energy
Utilizing an Order Form helps save time. Using Sample Sales Order Forms for buyers and employers to easily fill out can save everyone a lot of time and energy.
Reference Guide
Since Order Forms outline a client's specific order, its quantities, and further requests, Order Forms can serve as a means of references to sellers before they manufacture the product. Order Forms can also serve as evidence when misunderstandings arise.
The Difference Between and Invoice and an Order Form
Although an Order Form helps support an invoice and vice versa, it must be understood that the two are both important documents needed to manage a business but have different uses.
An Order Form is usually generated before processing or manufacturing products or services. An invoice, on the other hand, is a document that provides an outline of materials used and the total cost after the production of orders.
Also see: Sample T-Shirt Order Form